Outdoor Landscape Lighting – Houston, TX
What is better than admiring a beautiful landscape on a sunny day? A wonderfully illuminated home, even at night! Outdoor landscape lighting will immediately enhance the overall appearance of any lawn, landscape design, or water feature. Houston Landscape Pros is a professional outdoor landscape lighting company that can help you enjoy a well-lit property today. In addition, you can give yourself the gift of a long-term outdoor lighting investment that will add value to your property for years to come. It will also differentiate your home from a similar listing when selling your home. In fact, it could be a home buyers make it or break it. Improve the enjoyment, curb appeal, and usability of your outdoor space today! Please speak to our friendly staff at (713) 396-3320.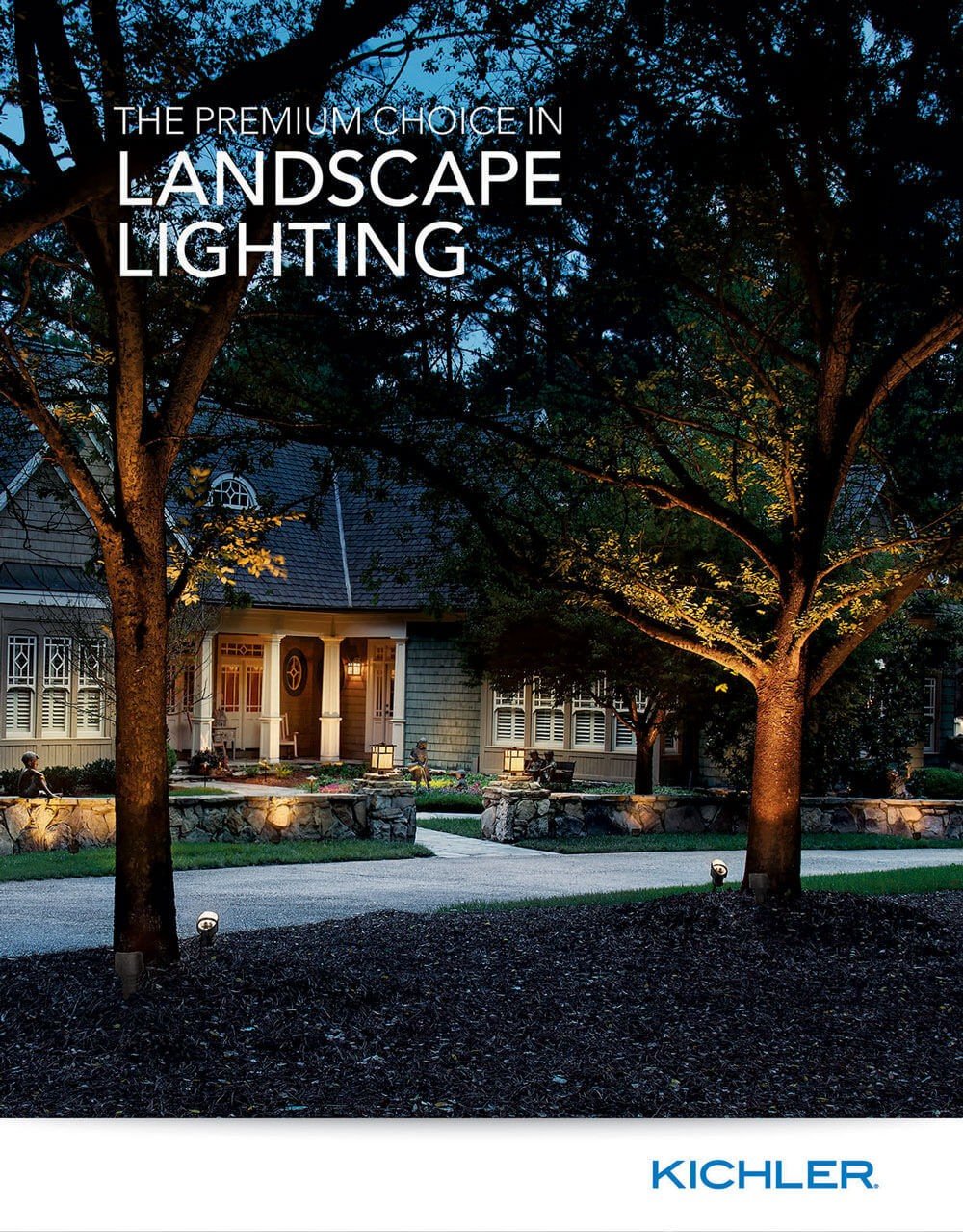 Improve your Outdoor Space & Landscaping with lights.
There are endless possibilities and techniques to improve your front yard or backyard landscaping with light. For example, moonlighting, shadowing, path lighting, uplighting, and downlighting are all lighting techniques. At HLP, our integrated LED outdoor landscape lighting installation will certainly improve the overall look of your home and landscaping. Below, you will see front yard and backyard outdoor landscape lighting examples.
Front Yard –
LED Outdoor Landscape Lighting
Adding LED outdoor landscape lighting to your front yard is a smart move for curb appeal. Indeed, installing front yard landscape lighting will leave a great impression on your home. In addition, well-lit front yard will make your guests feel more welcome and safe. Please refer to our photos for front yard outdoor landscape lighting ideas.
Backyard –
LED Outdoor Landscape Lighting
Don't forget about backyard outdoor landscape lighting. You can certainly turn a boring backyard into a work of art by executing a few of our backyard lighting ideas. In addition, you can make your backyard a perfect spot to relax and invite your friends. Please refer to our photos for backyard outdoor landscape lighting ideas.
Highlight your side yard with a low-voltage LED landscape lighting pathway.
A landscape lighting pathway can help navigate you or your guests through the night, while providing a seamless and beautiful landscape walkway. In addition, an illuminated side yard will prevent you from stepping on predators or falling. At HLP, we install the lighting along the pathway subtly with well-placed accents. Moreover, our landscapers can install many types of landscape pathways such as flagstone, patio or concrete pavers. You can improve your side yard and landscaping with light today.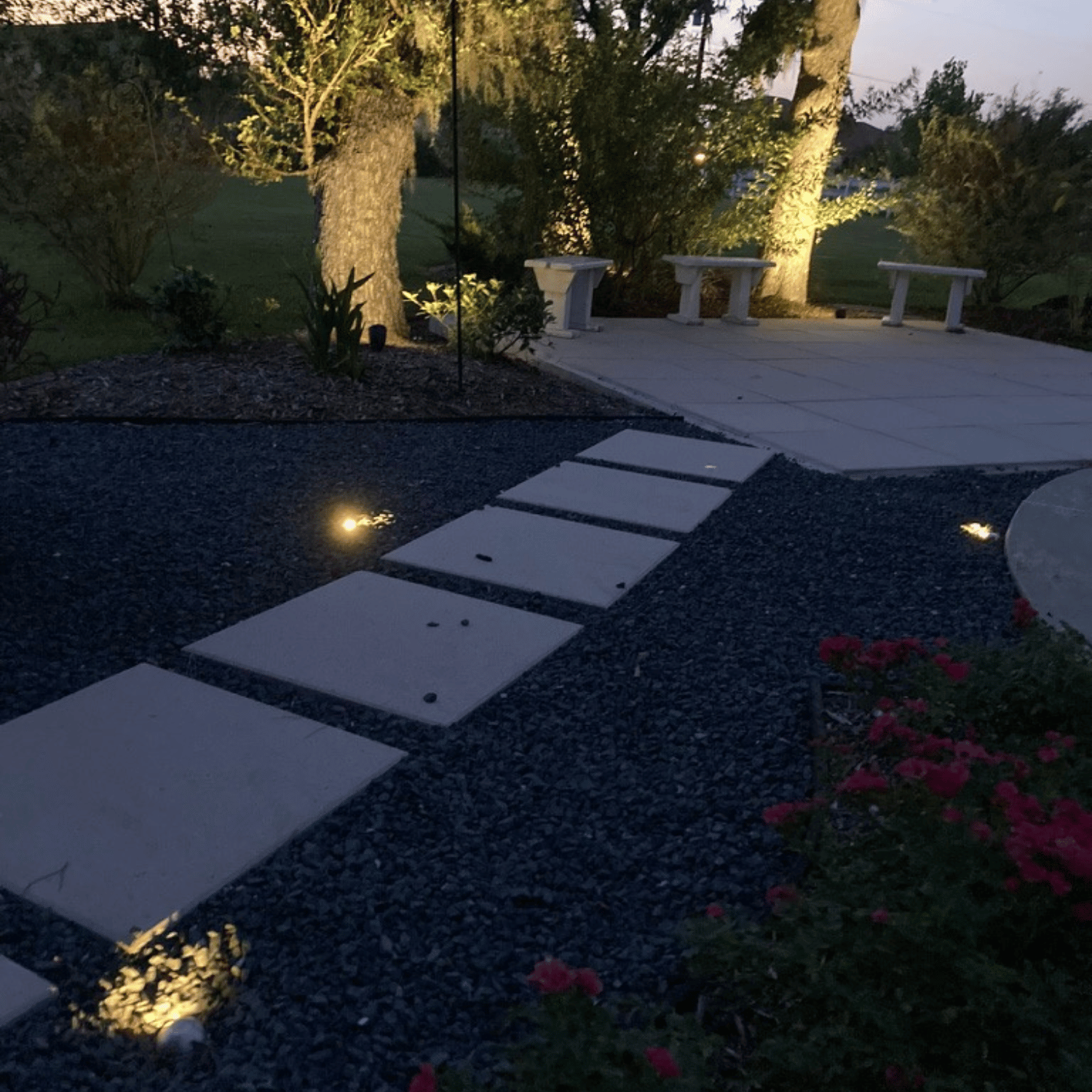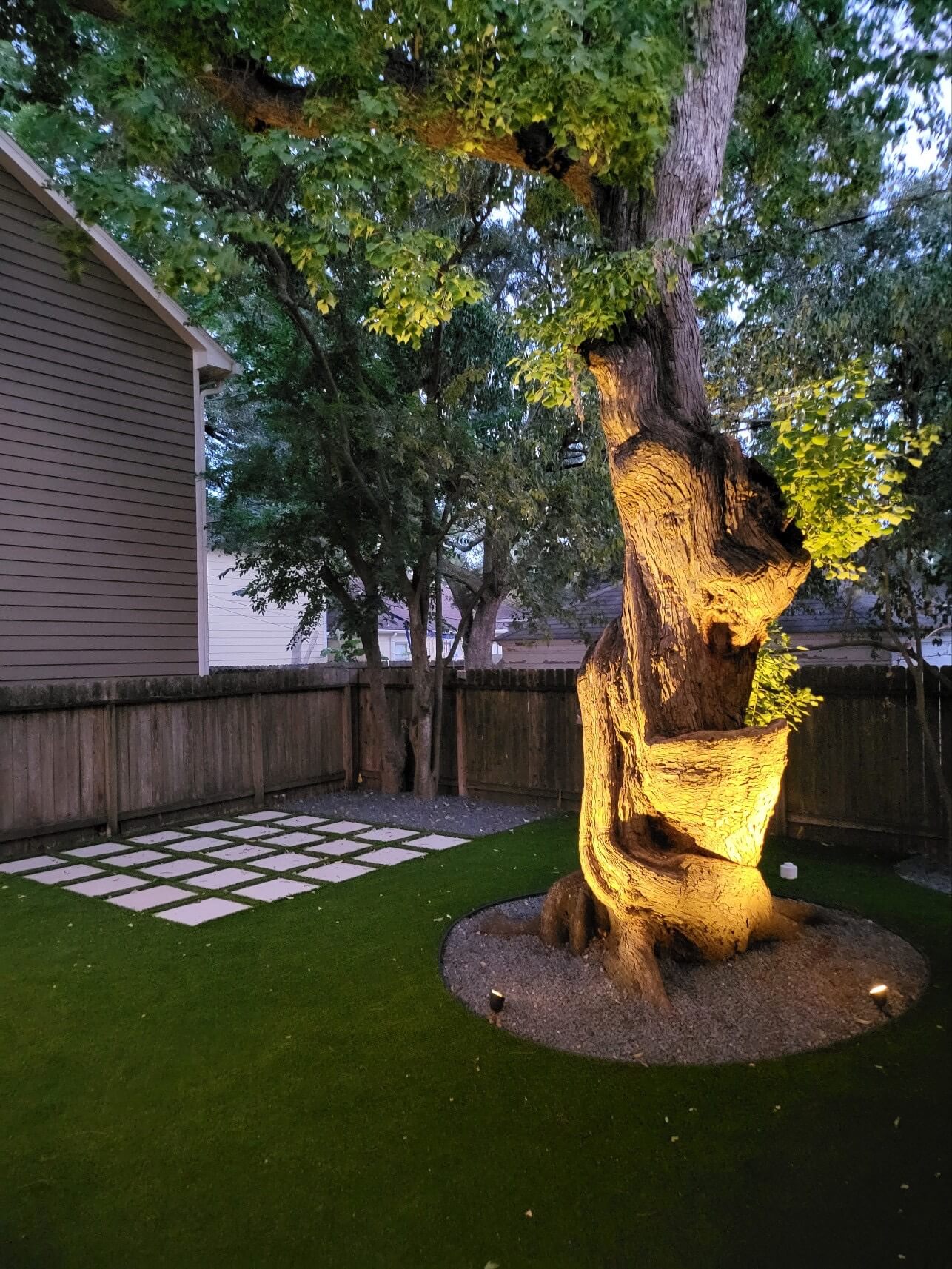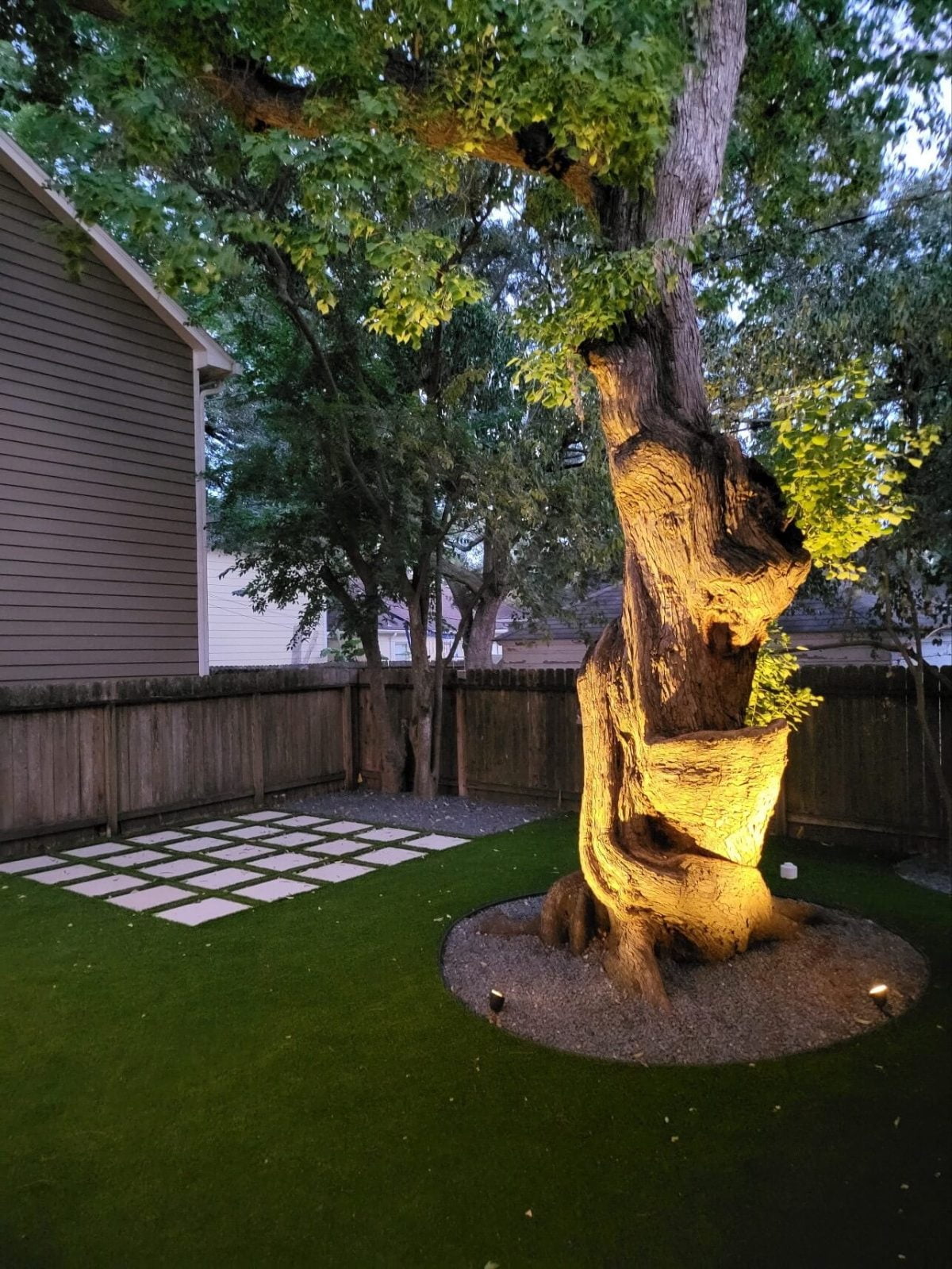 There are many Outdoor Landscape Lighting benefits.
There are many outdoor landscape lighting benefits. The most common question client ask us are: "how will outdoor lighting increase the enjoyment of a home?" Professional Outdoor Landscape Lighting adds curb appeal when the day turns to night. Also, it will extend your outdoor living space by making it more inviting. Most entertaining occurs at night, so it should be safe and welcoming for your guests.
Outdoor lighting can enhance the ambiance of your outdoor space. Whether the occasion is a romantic evening on the patio, a backyard barbecue, or a graduation party. Many activities happen at night. Therefore, landscape path lighting can be a good investment. Why? Because it keeps your family and friends safe from tripping on steps or a dark walkway. Indeed, your home is precious; therefore, safety must come first. Outdoor lighting will undoubtedly decrease the chances of a break-in. Even at night, your home will be safe from harm.
Additional Benefits
You might be wondering, "how will landscaping lighting boost the property value of my house?" Many studies have shown that a good landscape design paired with outdoor lighting can increase property value as much as 20%. Outdoor lighting will boost the property value of any home because curb appeal goes hand-in-hand with property value. Thus, landscape lighting is a worthy investment for your home. Houston Landscape Pros is ready when you are!
Outdoor lighting ideas
Are you having trouble deciding on the best landscape lighting ideas for your home? If you are struggling to find beautiful and effective lighting ideas, our landscape designer can assist you! Perhaps you would like landscape accent lighting to showcase the architecture of your house. Our certified landscape lighting professionals can show you wall lighting, wash lights, and more. There are endless options for outdoor landscape lighting. Some homeowners also forget the importance of lighting for security and safety reasons. Additionally, add proper lighting to help your cameras to catch good footage of any intruders! Whatever the reason, Houston Landscape Pros is here to help improve the outdoor lighting in Houston! To learn more, please visit our outdoor landscaping lighting ideas page to look for more.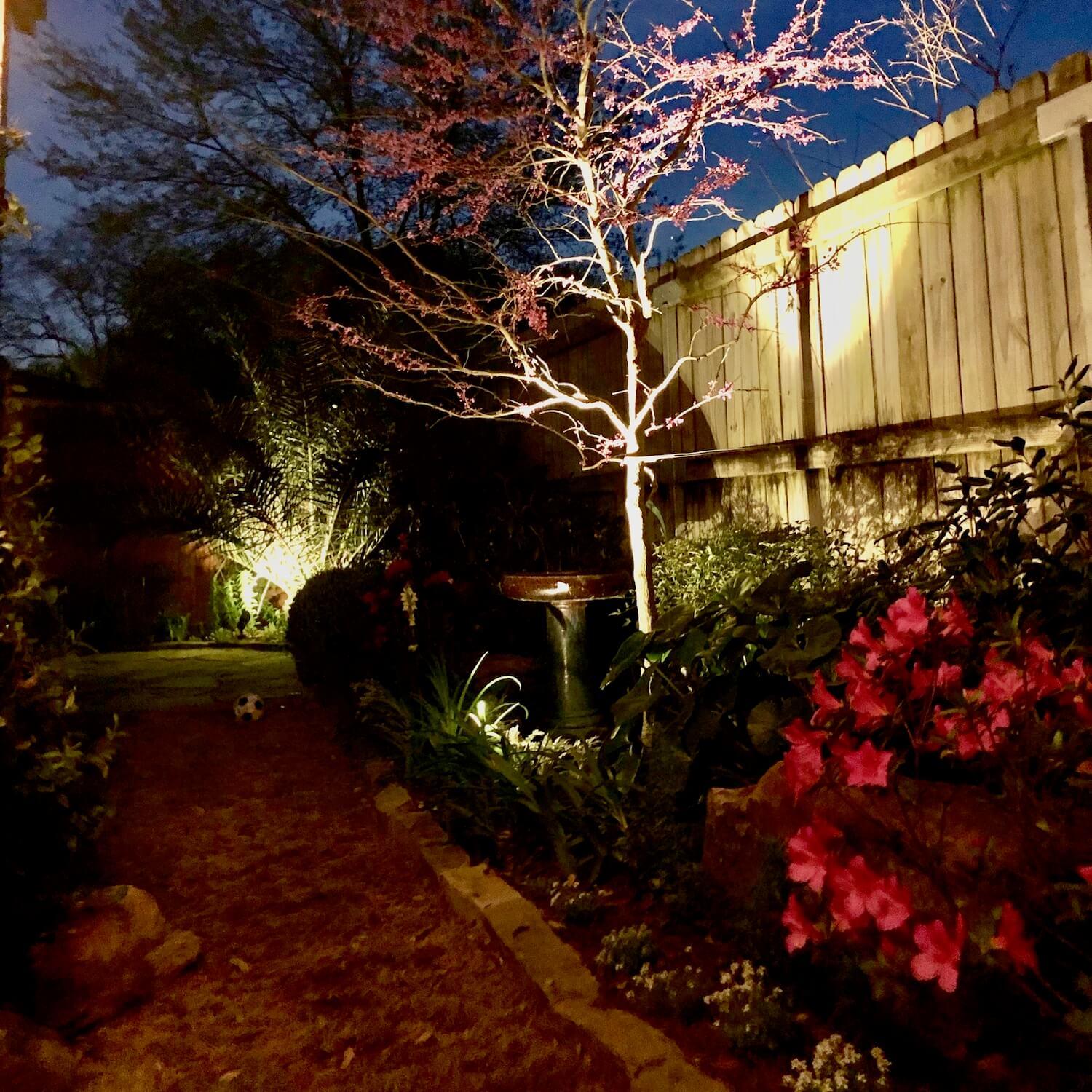 Outdoor Landscape Lighting Installation Kits
Houston Landscape Pros is an outdoor landscape lighting company that provides professional outdoor landscape lighting installations in the surrounding Houston area. We offer outdoor landscape lighting your landscaping and trees, such as uplighting, downlighting, floodlights, step lights, garden lights, bollard lights, and string lights. Our trusted landscape lighting contractors can provide fee estimates and consultations. View our outdoor landscape lighting kits below.
Call us at (713) 396-3320, and we would be happy to talk more about your lighting needs.
Outdoor Landscape Lighting Installation Company
Going with an outdoor landscape lighting contractor in Houston is the way to go for many reasons. Firstly, you will get a beautiful landscape lighting design along with an elegant balance of light for your front and back yard. Houston Landscape Pros will achieve the best outlook placement for walls, trees, pathways, fountains, landscape beds, and xeriscape lighting. Furthermore, you will get an efficient landscape lighting installation without the headaches. Give yourself peace of mind because we do professional outdoor lighting installations in Houston!
Outdoor Landscape Lighting FAQ

In the reading below, you will find some frequently asked questions about outdoor landscape lighting from our Houston customers. In addition, we provide helpful answers to common outdoor lighting common problems. We will discuss is the benefits, warranty, and cost. Before attempting a DIY outdoor landscape lighting installation, consider a professional install with free consultation. Indeed, Houston Landscape Pros, has you covered!