Houston Landscape Pros tree trimming services consists of three products: tree removal, tree trimming/pruning, and stump grinding. Although, tree trimming service will help and allow more screen sunlight on your landscaping plants and lawn area flourish. Nevertheless, we recommend to trim them at least every two years. On the other hand, to prevent the tree roots coming up looking for water, install a tree mushroom babbler when installing a lawn sprinkler system.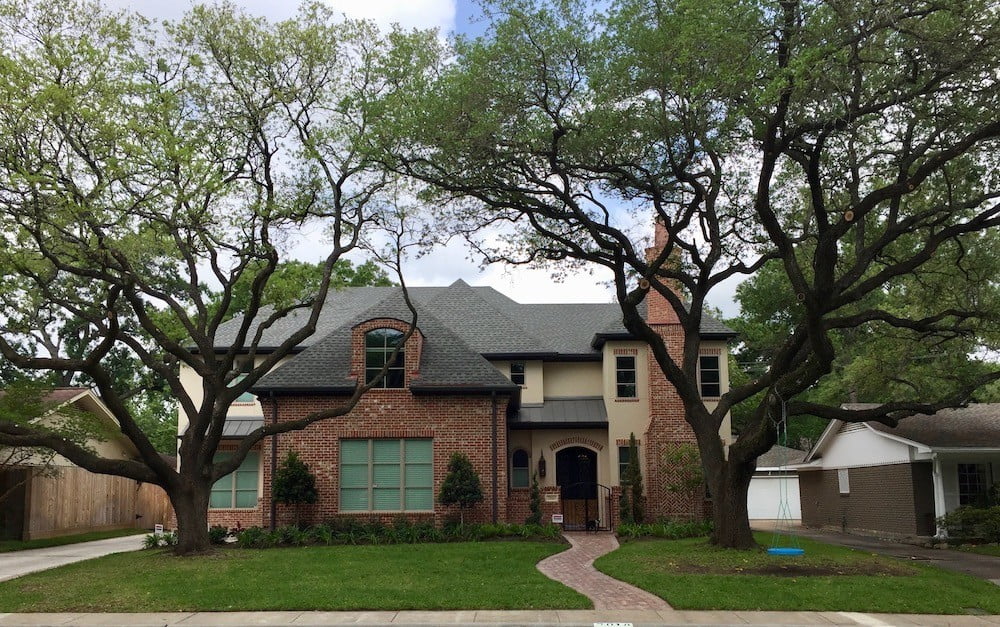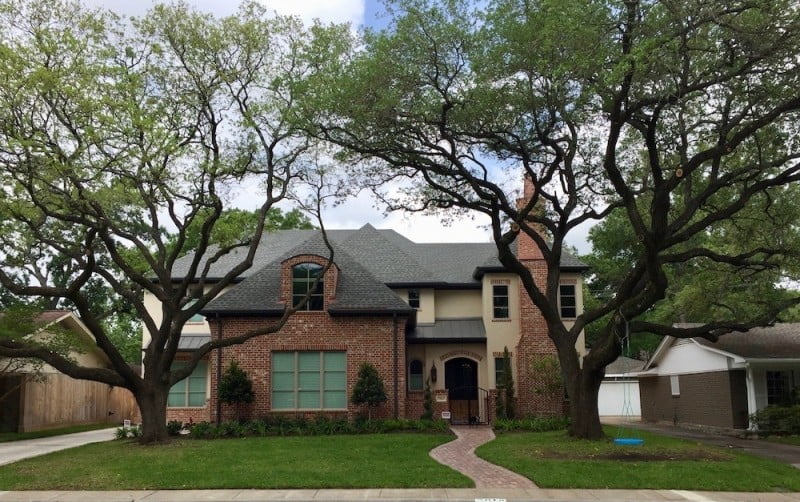 A professional Texas license irrigator will be able to let you know how many mushroom babbler to install base on the size of the tree. Please visit our limited service area map link at the bottom of the page to view our complete service area map. Our service area is limited to Houston, Sugar Land, Richmond, and Katy, TX.
Houston Landscape Pros can help you determine whether you need to cut a tree to its stump and remove the tree from your property. Although, in some cases you may not want to remove the stump removal because of the cost, some HOA may want you to remove it. With this purpose in mind, stump removal will have a positive outlook on your front and backyard landscaping. For the same reason, let more of our friendly staff  help you determine the health of your tree. Fill out a free quote or give us a call today!
Regular tree trimming consists of raising the tree canopy to 12 feet and separating the tree branches from any building or structure by 4 to 6 feet. In fact, with smaller trees, it also consist of pruning the branches inside the tree. But, on larger trees, it is a separate service. Otherwise, if you are also outdoor landscape lighting to light up your front and backyard outdoor living area. Consider Houston Landscape Pros for any up or down lighting installation. We are certified installers for Kichler product.
When quoting, we consider the tree type. Each tree type will have a different cost structure.
After determining the tree type, we separate them in size by small, medium or large.
With the above information, we will provide you with a detailed Free tree trimming quote for your approval.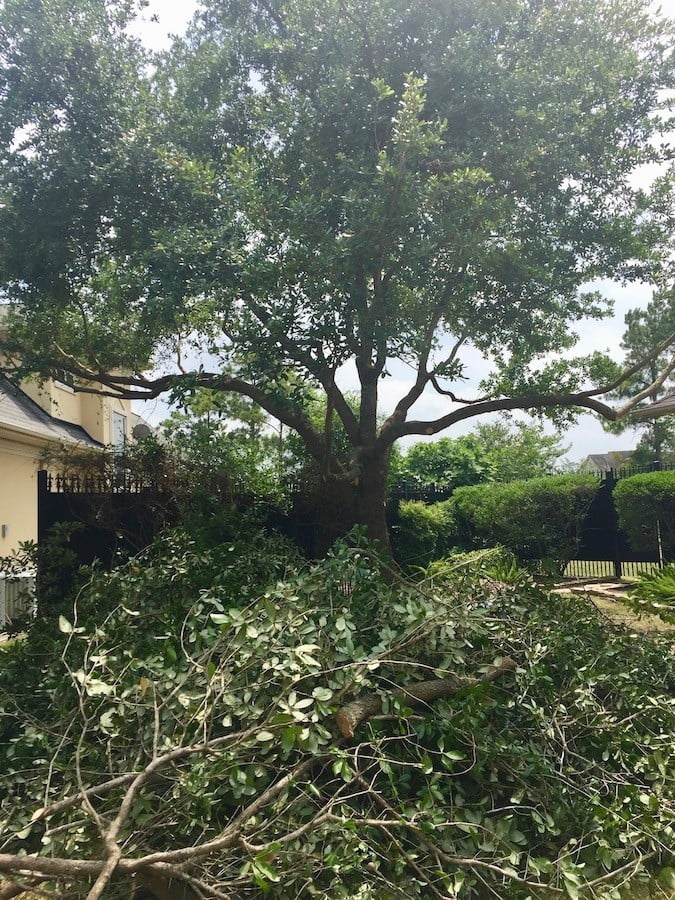 There are many reason to remove a stump. A stumps is not a pretty sight see. Most important, it may attract pests and diseases to nearby plants. In fact, tree removal is a separate service form stump removal. For the same reason, we provide this service separately because in many situations, the tree was cut down a long time ago and the stump was left in the ground. Of course, when Houston Landscape Pros provids a quote we will also include the itemized cost of stump grinding removal. In the light of, landscape drainage system is concern, the stump maybe in the way of the installation. By all means, the stump has to be remove.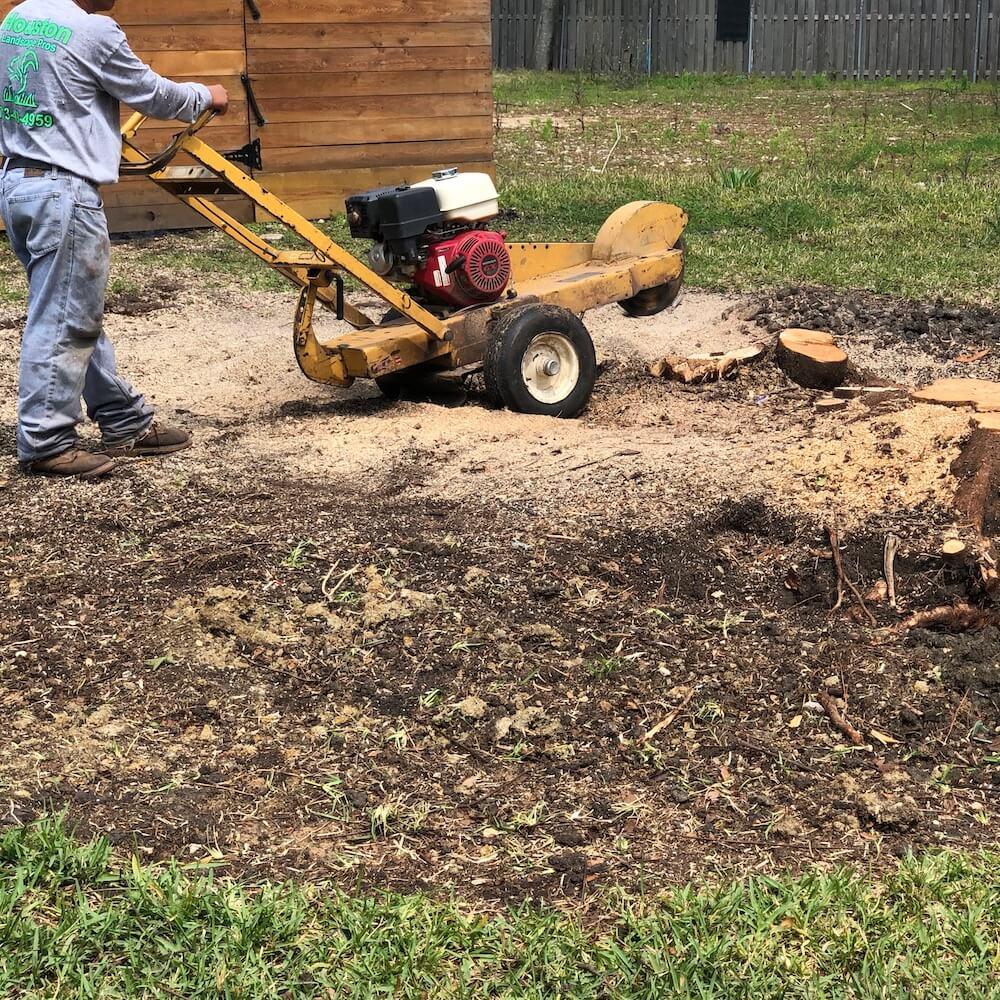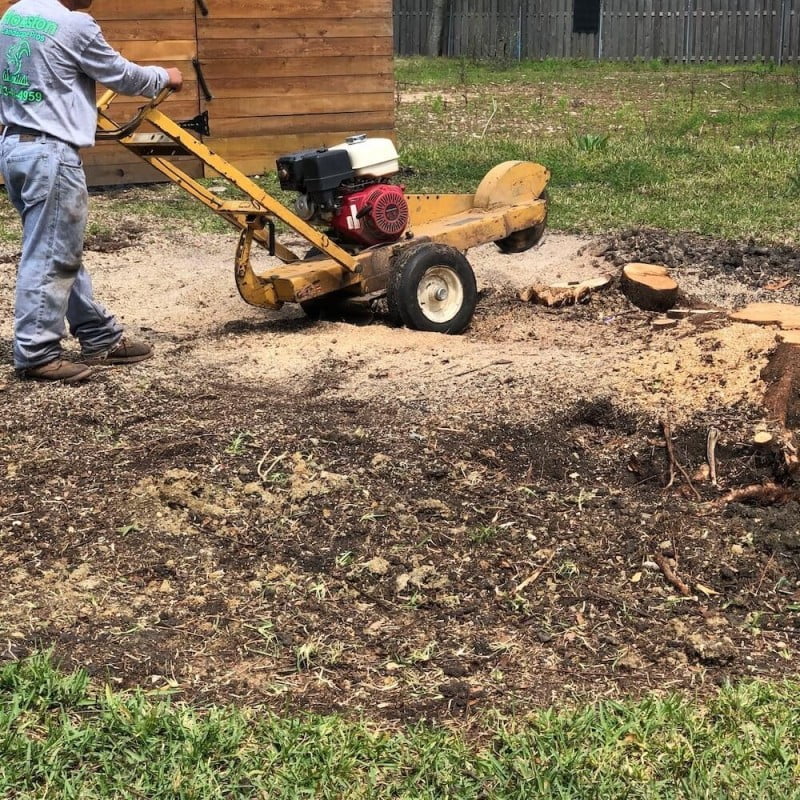 Stump grinding a tree in front-yard landscaping.