Construction Turnover: Lawn Sprinkler System
Question: how long does a residential lawn sprinkler installation take to complete? A underground sprinkler system it generally takes two days to complete a standard residential installation in Houston, TX. If there are other landscaping improvements along with the contract, it may take a day or two longer. We count the start of the installation as the time we start digging the trenches. However, the end of the job is when the time comes to testing the sprinkler system. In addition, the actual process takes longer as we need to call the city to mark existing water lines, gas lines, and electric lines. Harris County is usually good, and that may take only two to three days. During peak times, it may take longer. Please note that we will not schedule the start of the lawn sprinkler installation until the city gives us the green light.
Your Lawn's Recovery Time

How long will it take for my lawn to recover after sprinkler system is installed? Houston landscape Pros trenches are all bug by head only. It causes less damage to the lawn. For San Augustine grass, it typically takes 4 to 6 weeks depending on the time of year. However, after the first few weeks, the only sign of your new lawn sprinkler system installation will likely be a green lawn like you've never seen before. For more information on how much to water your grass, go to our page in lawn water needs-Texas.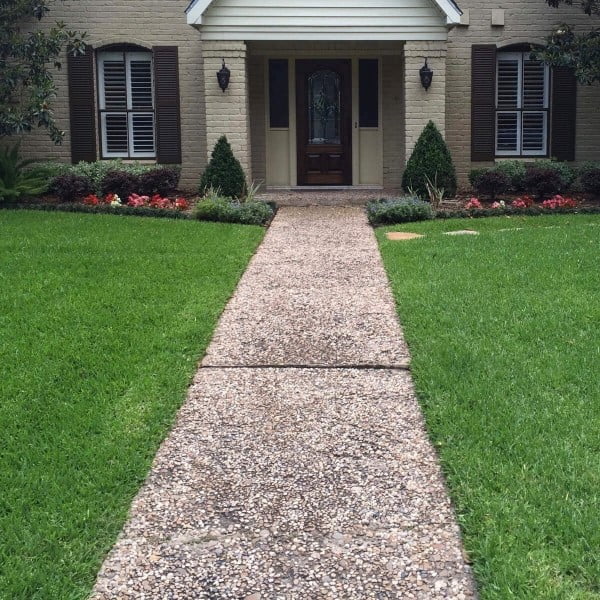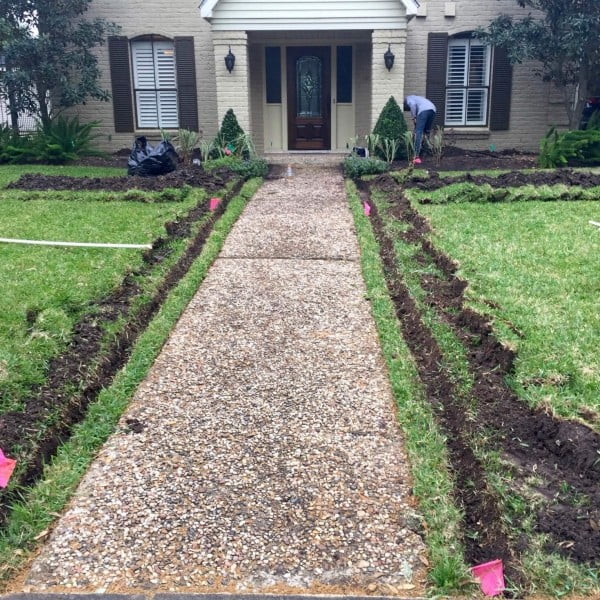 Lawn Sprinkler Stations: Residential Homes

Question: How many lawn sprinkler system installation stations does my house need? The number of stations that your home requires is base on the square footage. After that, the location of the meter, the location of the water main, and your home's water pressure. For example, if the water pressure is below 55 psi, the sprinkler system will need to be designed with more stations than average. We will tell you how many stations you will need based on your current lawn area plus landscape bed area. If you have future expansions, let us know so that we can adjust the sprinkler design based on the expected upcoming landscaping layout.
Interesting Facts:
Many not so reputable sprinkler installers company in Houston, TX, try to sell or price the underground irrigation system based on the number of stations. They provide an artificial dollar value and then say you only need "X" amount of stations. In other words, the problem with this methodology is that they end up designing or installing a sprinkler system that is not efficient or technically sound to match the quoted price. Sometimes they end up combining the stations that should be separated or splitting stations that can easily be combined. Usually, the companies that price like this do not a Texas licensed irrigators. These companies often use someone else's irrigator license, estimate and install jobs without sound knowledge. In other words, it is illegal and should be reported to the appropriate authorities if you find a company that does this practice.
How Much Sprinkler System Cost?
Frequently asked how lawn sprinkler system cost for new installation. Basically, the basic formula is as follows:
Price = Part Cost + Labor Cost + Profit
However, there are other important various factors that Houston Landscape Pros consider for every installation.
1. Size of the Area Needing Water
More Landscaping will require more stations. The more sprinkler stations needed, the more valves required, the larger the controller need for the installation. Of course, square footage will determine the amount of pipe necessary and the amount of digging involved.
2. Water Pressure
Low water pressure results in the need for more sprinkler stations.
3. Tree Root System
Older homes with large trees, the root system is extensive. The more roots there are, the harder it is to dig the trench. Of course, that will increase the labor hours required to complete the installation.
4. Location/Accessibility of the Water Meter
Is not a significant factor for most homes. However, occasionally you run into a situation where lots and lots of concrete floors surround the water meter. There are only two options to reach the water meter. The first option is to dig. The second option is to demolish the concrete area. Again, this is very rare in residential sprinkler installation.
5. Type of pipe on the Main
In conclusion, Some older homes have copper piping. When that is the case, you need to convert to PVC piping, and that will add some cost. Not a significant factor on the overall installation cost, but it will add cost when compared to a standard installation.
Warranty For New Lawn Sprinkler System
What kind of Warranty do you offer for new sprinkler installations? For new residential sprinkler systems installations, we provide a 3-year full warranty. However, For commercial new sprinkler installations, we offer a 1-year warranty. Both residential and commercial new lawn sprinkler installation warranties cover parts and labor for their respective warranty duration. For instance, if any part of the installation goes bad during regular operation, we cover it. Of course, if you happen to run over a spray head with your car, that would not be covered. In addition, extraordinary acts of God are not under our warranty. In addition, the lawn sprinkler system warranty will be written in each and every contract.
Need A Professional Lawn Sprinkler System Contractor?
Houston Landscape Pros is here to answer any doubt you might have in lawn sprinkler- FAQ page! Indeed, we are a full landscaping company. Please check on our service area map on the blow of the page. We also do virtual consultations. Call us: (713) 396-3320