Landscape Drainage
Does your property lawn or landscaping bed retain water in all the wrong places? Do your landscape beds erode quickly losing mulch and topsoil? In other words, your home has a landscape drainage problem and you are in need of a solution. We are a local landscape drainage contractor company, that provides Houston landscape drainage solutions and services in most surrounding communities. Without a doubt, Houston Landscape Pros will help you keep your property dry and safe with the next heavy rainfall. This page will will teach you the different techniques to implement in you property for a landscape drainage system.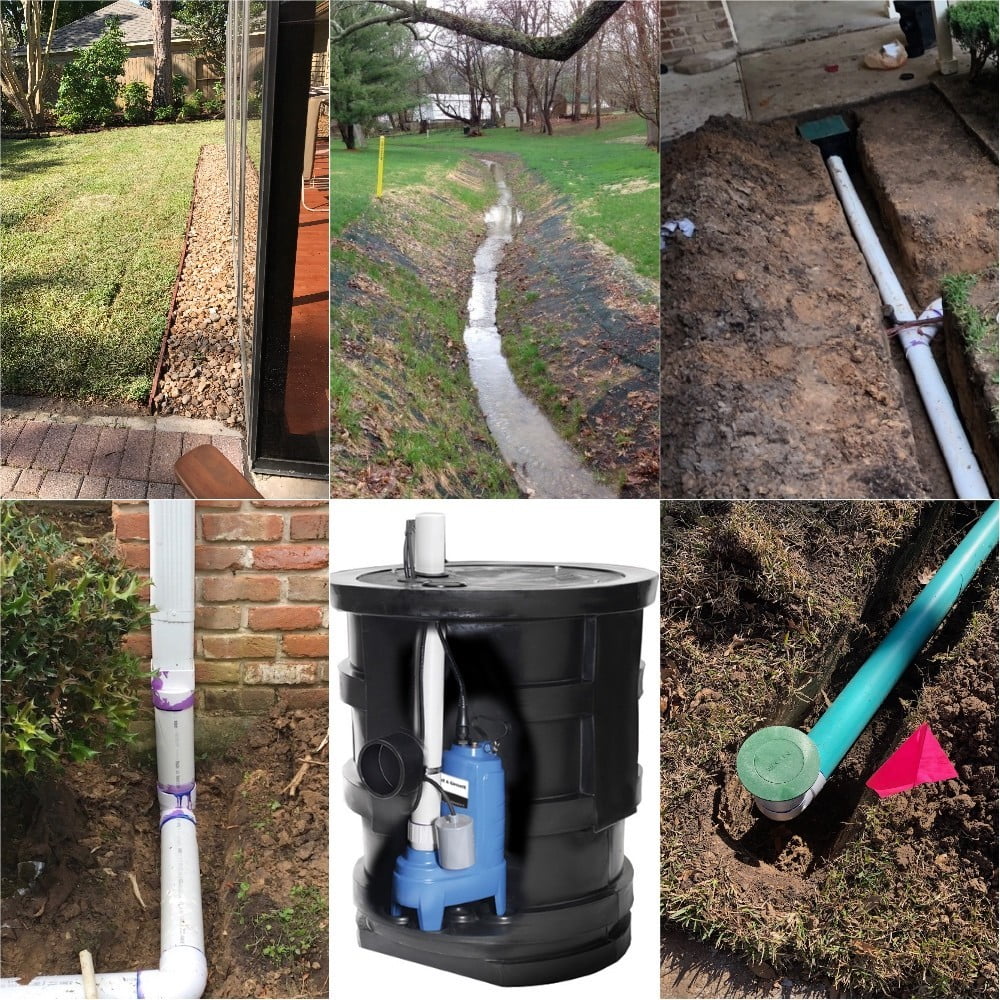 Landscape Drainage Installation & Solutions
There are various landscape drainage installation techniques to removing unwanted water from your home or commercial property. Point often overlooked, that water always flows downhill and takes the path of least resistance. If the water does not have a way to flow out, it will set into the property, causing your yard to flood. Our primary goal as a yard drainage contractor is to build a water flow system that lets the water out of your property by taking advantage of gravity. There are multiple types of drains system to remove water from your property. However, in Houston, most residential properties can use one or more of the following landscape drainage solutions to fix their water retention problem.

Downspout Drainage and Diverters
Landscape Drainage Pop-Up Emitter
French Drain Installation
One of our landscape drainage solutions is a french drain installation, which is a slightly sloped trench that uses a PVC or plastic pipe with perforations over river rocks or washed gravel. Moreover, it is used to divert water out of your house in a controlled fashion. Understanding how to install a french drain properly will save you from running into issues. As a matter of fact, a properly built and designed landscape French Drain system will prevent water from penetrating a building or home's foundation. In addition, the dimensions of a French Drain will vary depending on the terrain and volume of water. However, a typical residential Houston landscape drainage system is 18" deep and 8" wide with a 4" PVC perforated pipe.
PROS: French Drains are proven to work extensively. They can solve most or all of Houston's residential drainage problems. When constructed properly, they are easy to maintain, and last for many years without repairs.
CONS: The French drain cost can be costly to build as it requires piping, rock, and lots of labor. In a residential French Drain installation, it can easily cost $3500 for a well made French Drain System.
Catch Basin Drain Installation
We use a catch basin drain system to divert water away from your home by taking the water from the home's gutter system. It can also be used to channel water out from a low spout section of your lawn. Furthermore, the Catch Basin consists of plastic and PVC or plastic piping to channel out water. Certainly installing a catch basin is a great investment into your property.
PROS: In many cases, this alone can fix excess water problems. If the existing water problems are not drastic, a Catch Basin Drain System is the way to fix it at an affordable price.
CONS: Occasionally, the Catch Basin Drain System needs to work in conjunction with other drainage solutions such as a French Drain and downspout drain. In conclusion, the Catch Basin System is only part of the solution.
Sump Pump Drain Installation
In the Houston area, most people are unfamiliar with a sump pump drain. Unlike any other landscape drainage system, a sump pump drain is a multi-purposeful, submersible, and electric-powered pump. Indeed, if you are experiencing abnormal flooding, more likely you need to install a sump pump.
PROS: Pumps more water than a traditional 4-inch pipe and used in conjunction with any of the conventional drainage system. However, increases the value of the property. In addition, if necessary, it can drain water uphill instead of relying on gravity to drain out water. Another thing is that there is No cost in maintenance.
CONS: The entire drainage system is too dependent on power, which can be a problem in case of a power outage unless you decide to go with the pump with a backup battery. Also, if the pump gets clogged, the whole system fails. Regular maintenance checkups of the residing reservoirs are necessary to ensure freedom from all debris that can potentially clog the system.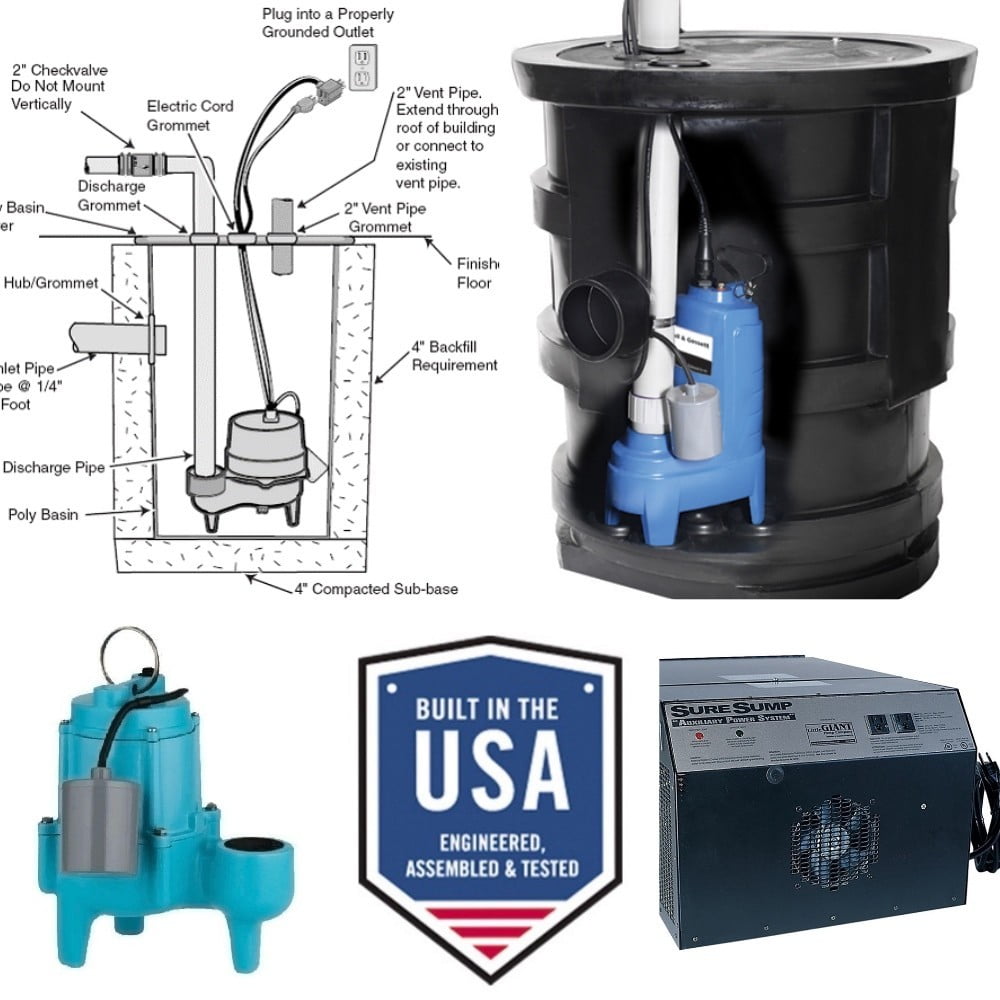 Landscape Drainage Pop-Up Emitter
A pop-up emitter is a point that releases the water from a more extensive drainage system. The water pressure causes the top to "pop-up" and release the excess water. It closes on its own when there is a lack of pressure. The pop-up emitter activates when there are no cuts to the curbs. It works very well with the downspout drainage system. Do not forget to submit a FREE quote today!
PROS: Since it works exceptionally well with downspouts, cuts are not necessary to the curbs.
CONS: Because the pop-emitter uses water pressure to allow water to escape the pipes, it will not use the maximum capacity of the 4-inch PVC pipes. Because of the flash floods that are known to occur in the Houston area, if more than 11 inches of rain come into the system in less than 4 hours, the pop-emitter will not let water flow out fast enough, and excess water will resurface in the original problem area.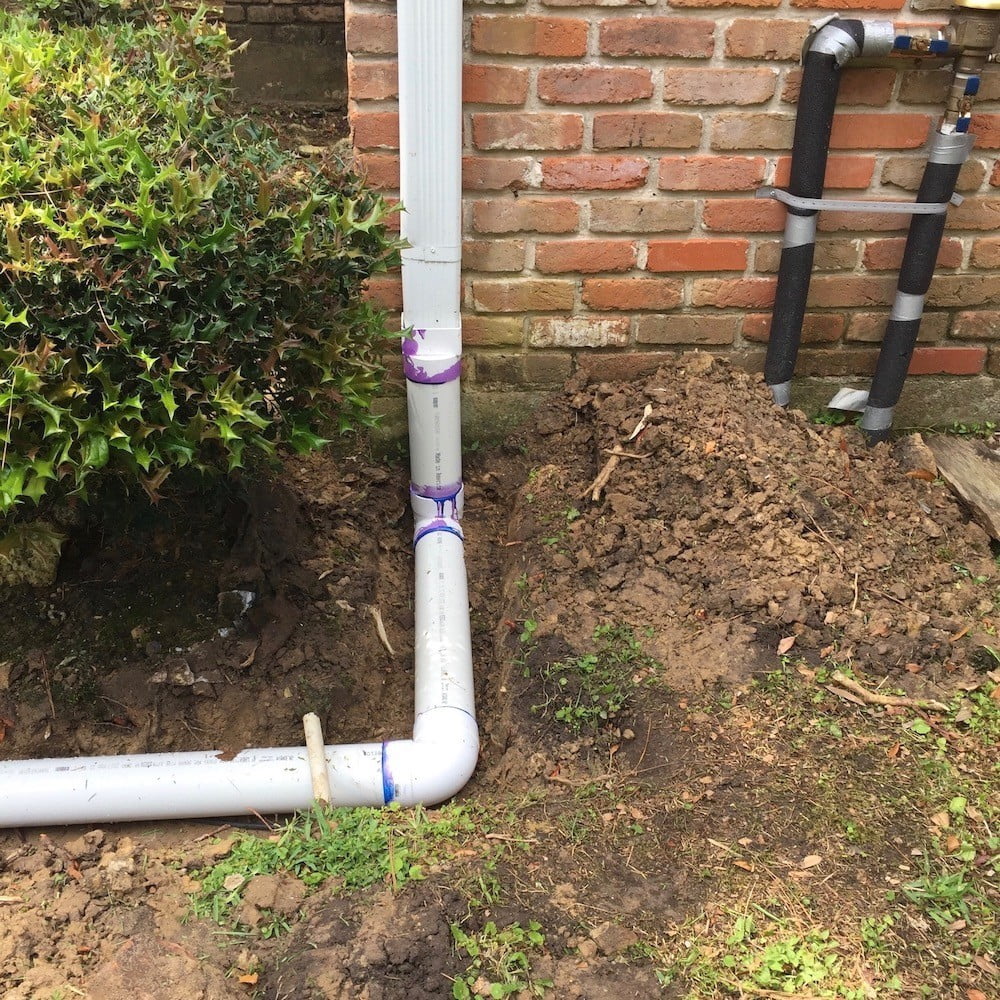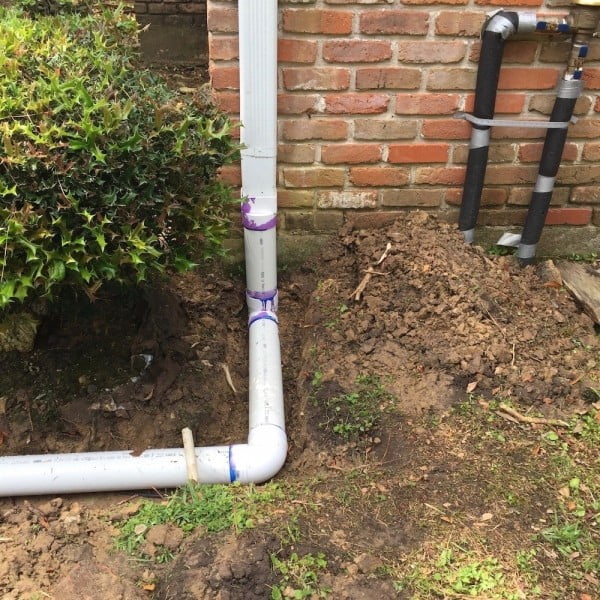 Downspout Drainage and Diverters
The first task a landscape drainage contractor does, is examine downspouts and diverters of a building. In most cases, roofs are the primary source of excessive water during rainy times. If the water is not guided away from the building, it can cause foundation problems and water retention problems. It will also tend to erode mulch and dirt from landscape beds or cause muddy grounds. Fill out our FREE drainage quote so we can better assist you in your drainage needs.
PROS: Easy to install and identify problems that will need downspout drainage and diverters.
CONS: It may need to be in use of conjunction with other drainage solutions. It is not necessarily a comprehensive lawn drainage solution.
Over 800+ Drainage Jobs Done
Houston Landscape Pros had been proudly servicing the Houston, Taxes and the surrounding areas since 2010. If you want to see our work or view our landscape drainage videos, please visit

Houston Landscape Pros' landscape gallery

. By all means, we love hearing from our valued clients and sharing their experience with prospective customers. In fact, Here are some authentic reviews from happy customers.
" Highly Recommend!!

Hire Houston Landscape Pros for our drainage landscape, front yard, backyard projects. From the beginning they was very professional and answered all of my questions thoroughly. Also, informed us a couple of days before the project began, and team showed up exactly when said they would (maybe I've had bad luck in the past, but this is extremely important to me). Project was finished faster than quoted and looks amazing. I highly recommend this company!!
" Professionally Done!


Houston Landscape Pros did a wonderful job installing our French drain at my property! It was affordable, professionally done and, so far, very effective. Would highly recommend them any in need of landscape drainage and all landscaping needs!
"Excellent Job

Houston Landscape Pros crew did a lot of work: installing gravel, trenching a drainage pipe, removing old plants and planting new ones, and an "spring cleanup". Roughly $6k worth of work. They did an excellent job, the crew worked hard and the proposal before work began went smoothly considering all the questions I had.
Landscape Drainage Contractor in Houston, TX
Houston Landscape Pros' team only consists of professional and experts landscape drainage contractors. Indeed, we are professional landscape drainage company that services the local Houston area. Our landscape drainage contractors will make sure the job is completely taken care of. However, HLP does not repair any pre-existing landscape drainage. We cannot guarantee the functionality of its performance.
Need an appointment for landscape drainage in Houston? Call us: (713)396-3320