Does your property's lawn or landscape retain water in all the wrong places? Do your landscape beds erode quickly and lose mulch and topsoil? If so, your home has a landscape drainage problem. We are drainage contractor that provide Houston landscape drainage solutions and service in most surrounding communities.
Remember that water always flows downhill and takes the path of least resistance. If the water does not have a way to flow out of your property, it will just sit there. The basic goal of landscape drainage is to build a water flow system that lets the water out of your property by taking advantage of gravity. There are multiple types of drains to remove water from your property. In Houston, most residential properties can use one or a combination of the following draining systems to fix their water retention problem.
French Drain
Landscape Trench Drainage
Catch Basin Drain System
Downspout Drainage and Diverters
Sump-Pump Drainage System
Landscape Drainage Pop-Up Emitter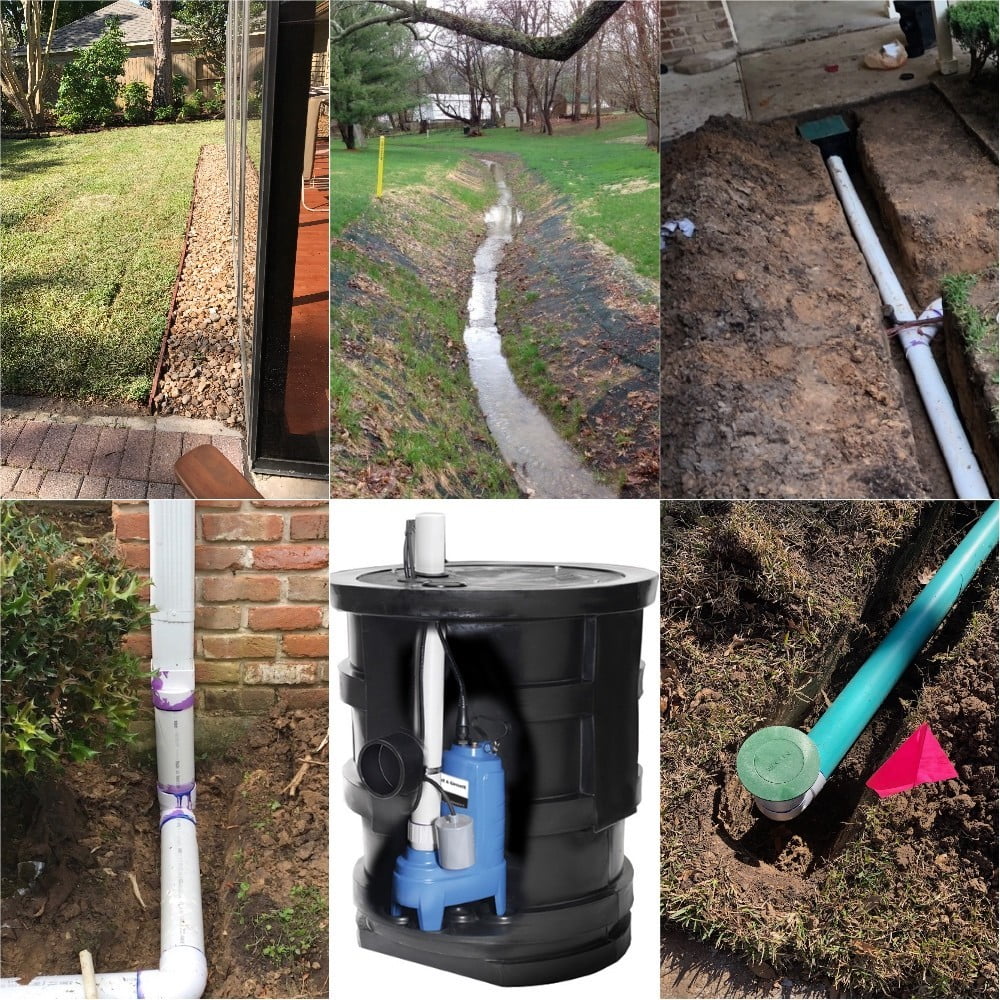 A modern version of a french drain is a slightly sloped trench that uses a PVC or plastic pipe with perforations over rock or washed gravel. It is used to divert water out of your house in a controlled fashion. A properly designed and build landscape french drain system will prevent water from penetrating a building or home's foundation. The dimensions of a french drain will vary depending on the terrain and volume of water needing to be redirected. However, a typical residential Houston landscape drainage system is 18" deep and 8" wide with a 4" PVC perforated pipe.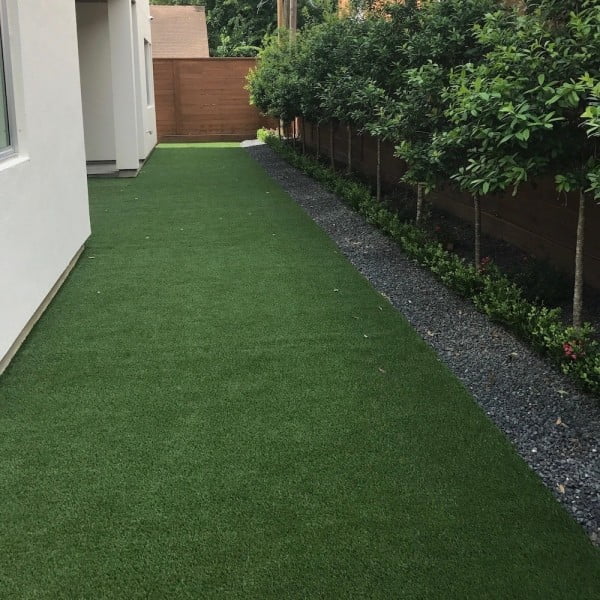 PROS: French drains are proven to work and can solve most if not all Houston's residential drainage problems. When constructed properly, they are easy to maintain and last for many years without repairs.
CONS: They can be costly to build as it requires piping, rock and lots of labor. In a residential french drain installation, it can easily cost $1800 for a well built french drain system.
Trench Landscape Drainage
If your property surroundings allow it, you can build a trench to channel the water out. It can be as unsophisticated as sloping the terrain to form channels for the water to flow out of the property. You can also dig a shallow trench and line it with river rock that will channel the water out of the property. The use of landscape liner needed to keep the gravel clean from mud and other small debris. The use of landscape fabric will also prevent erosion. Water will flow downhill, so all you need to do is direct it out of the property. You usually want to maintain a minimum of a three-degree slope so water will flow properly.
Pros and Cons
PROS: The benefit of using this method is that it is often the most cost-effective method of fixing water problems. If the property layout allows it, it is an excellent affordable method to divert excess water.
CONS: The problem with this method is that most residential properties in Houston, Katy, Richmond or Sugar Land, TX have neighbors around them. If you redirect water using this method, you could be sending water to your neighbor and potentially causing a feud. The other major problem is that it may not be enough when a large amount of water flows into your property during hard rains. Water may not flow out fast enough and cause temporary water retention that may damage your house if it rises too much. Furthermore, it may not protect the foundation of your home correctly over time due to erosion.
Catch Basin are typically used to divert water away from your homes by taking the water from the home's gutter system. It can also be used to channel water out from a low section of your lawn. The catch basin is usually constructed of plastic and uses PVC or plastic piping to channel the water.
PROS: In many cases this alone can fix excess water problems. If the existing water problems is not drastic, a catch basin drain system can be used at an affordable price.
CONS: In many cases, the catch basin drain system needs to be used in conjunction with other drainage solutions such as a french drain and downspout drain. Many times, the catch basin system is only part of the solution.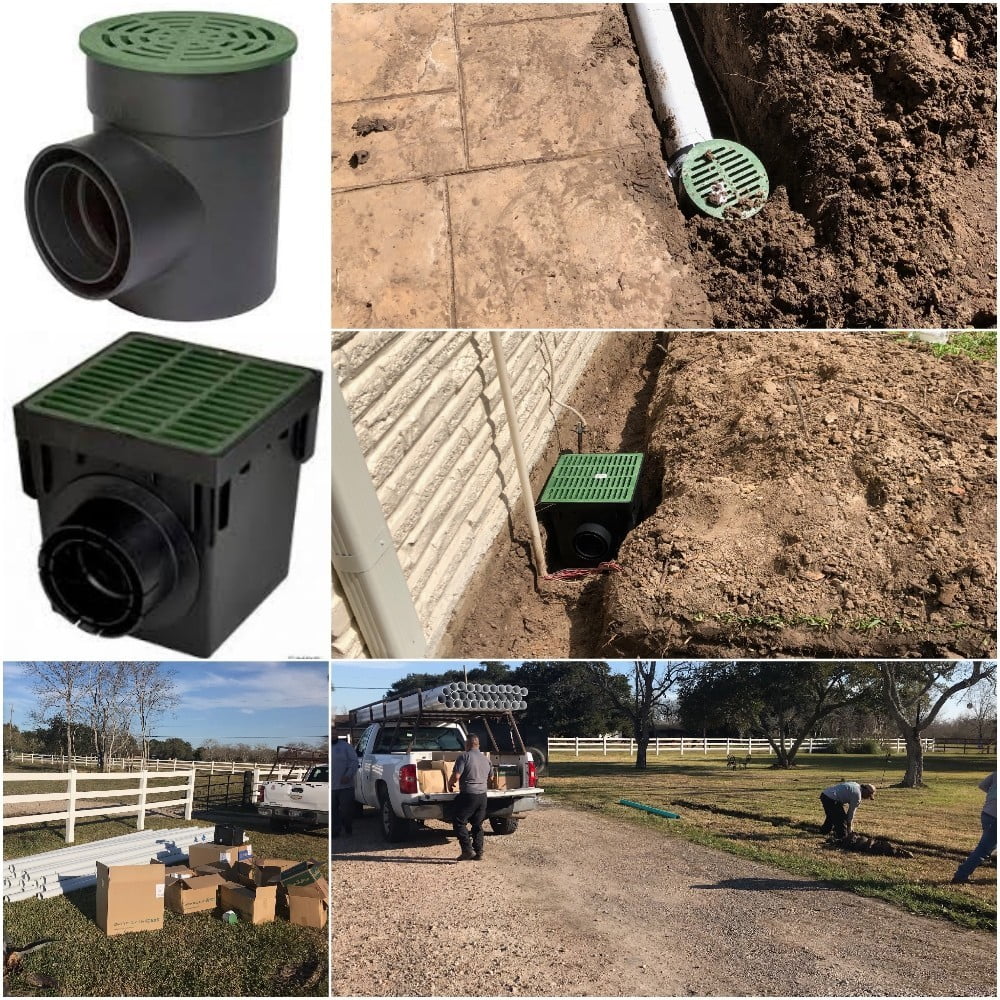 Downspout Drainage and Diverters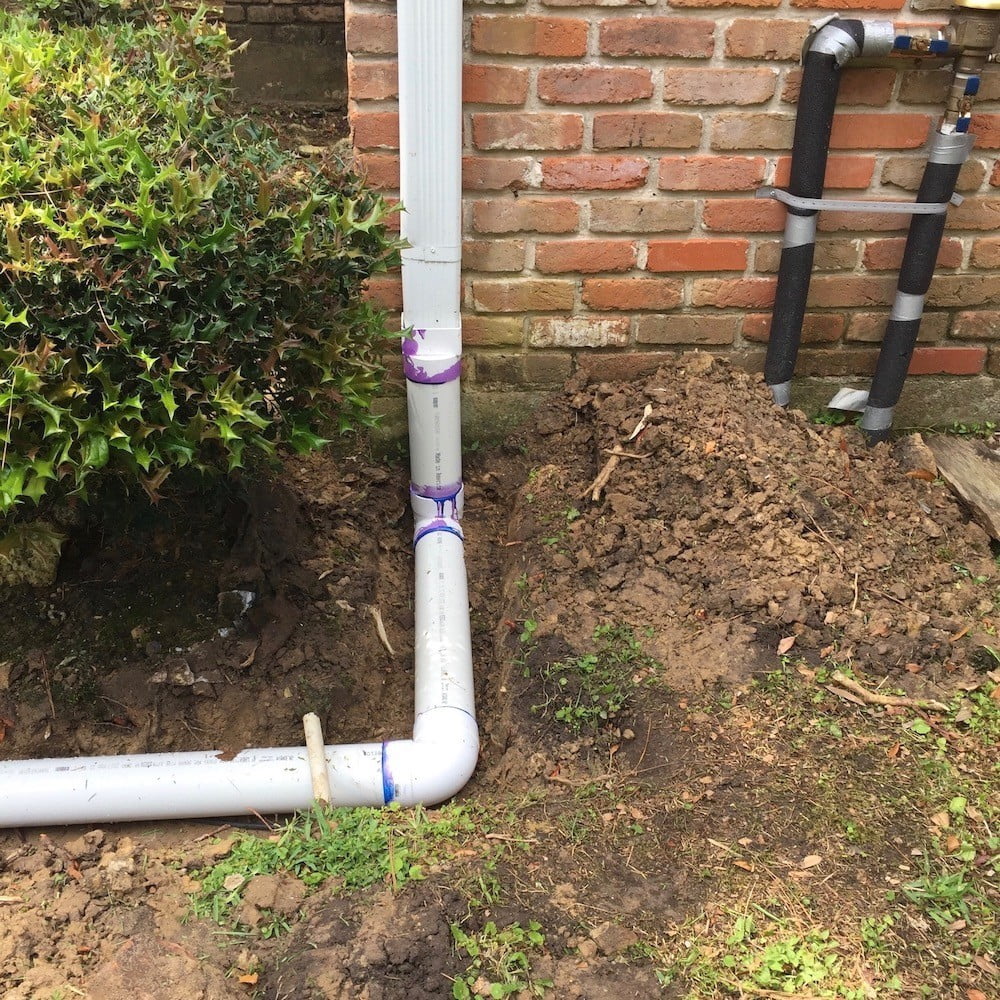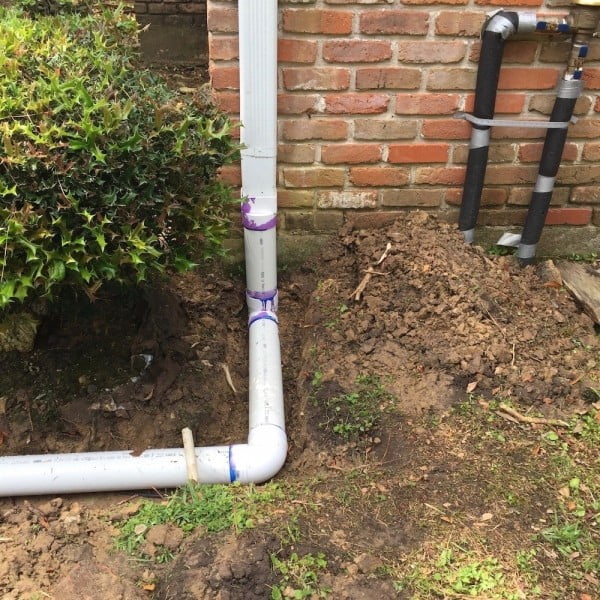 The first thing a good landscape drainage professional will do when visiting your home or commercial property is to look at the downspout and diverters of the buildings. In most cases, your roof is the major source of excess water during rains. If the water is not being properly diverted away from the building, it can can cause foundation problems and water retention problems. It will also tend to erode mulch and dirt from landscape beds or simply cause muddy grounds.
PROS: Easy to install and spot problems that will need a downspout drainage and diverter.
CONS: It may need to be used in conjunction with other drainage solutions. It is not necessarily a comprehensive lawn drainage solution.
Sump-Pump Drainage System
In the Houston area, most people are unfamiliar with a sump-pump drainage system. Unlike other landscape drainage systems, a sump pump drain is multi-purposeful, submersible, and electric-powered—requiring a licensed electrician to run the power source to the drain. Typically, most standard residential homes only require a half-horse power pump, which can pump 70 gallons per minute (more than enough for ordinary homes). With several horsepower, performance, and switch options, the sump pump drain can be adjusted to fit your specific residential needs. Houston Landscape Pros uses the best product available for the job, hence "do it first the first time". Established in 1941, Little Giant has been around for 75 years, having the greatest portfolio in the market. 100% American made in Oklahoma, Little Giant is also known world wide for their innovation, efficiency, and quality.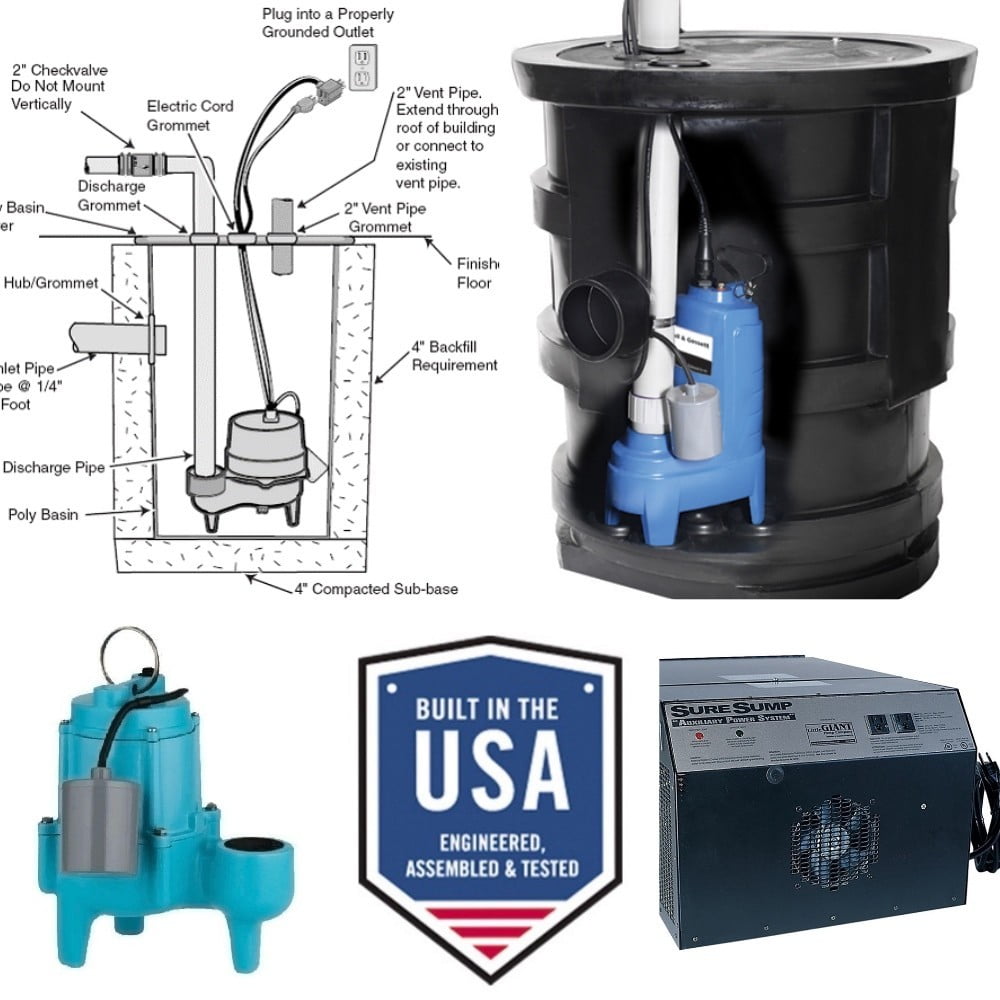 Houston Landscape Pros will install the sump pump in compliance with the manufacturers recommendations and will warranty for 3 years from the date of installation.
PROS: Pumps more water than a traditional 4-inch pipe and used in conjunction with any of the traditional drainage systems. Includes a sump, effluent, and sewage back up power system adapter that allow contractors to provide homeowners with the peace of mind that their property is protected from flooding in case that the electricity goes out.
CONS: The entire drainage system is too dependent on power, which can be a problem in case of a power outage. Also, if the pump gets clogged, the whole system fails. Regular maintenance checkups of the residing reservoirs are necessary to ensure freedom from all debris that can potentially clog the system.
Landscape Drainage Pop-Up Emitter
A pop-up emitter is the point that releases the water from a larger drainage system. The water pressure causes the top to "pop-up" and release the excess water. It closes on its own when there is a lack of pressure. The pop-up emitter is used when the curbs cannot be cut. It works really well with the downspout drainage system.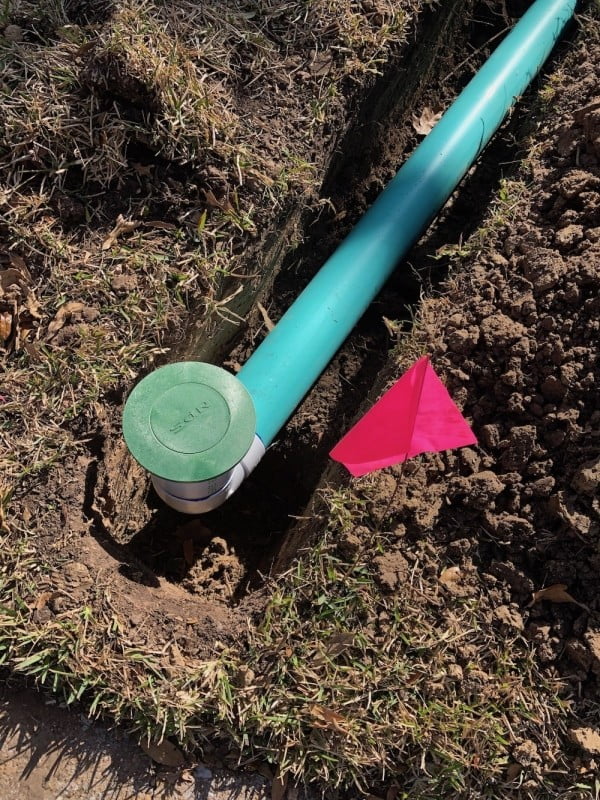 PROS: The curb does not need to be cut, and it works really well with downspouts.
CONS: Because the pop-emitter uses water pressure to allow water to escape the pipes, it will not use the maximum capacity of the 4-inch PVC pipes. Because of the flash floods that are known to occur in the Houston area, if more than 11 inches of rain come into the system in less than 4 hours, the pop-emitter will not let water flow out fast enough and excess water will resurface in the original problem area.