Transform Your Outdoor Space with a Beautiful Patio Pergola
Houston Landscape Pros is proud to introduce the perfect addition to your outdoor living space – our stunning patio pergola! Our pergolas are appealing, functional and provide the perfect amount of shade for all of your outdoor gatherings. We install outdoor patio pergolas throughout the Houston, TX area.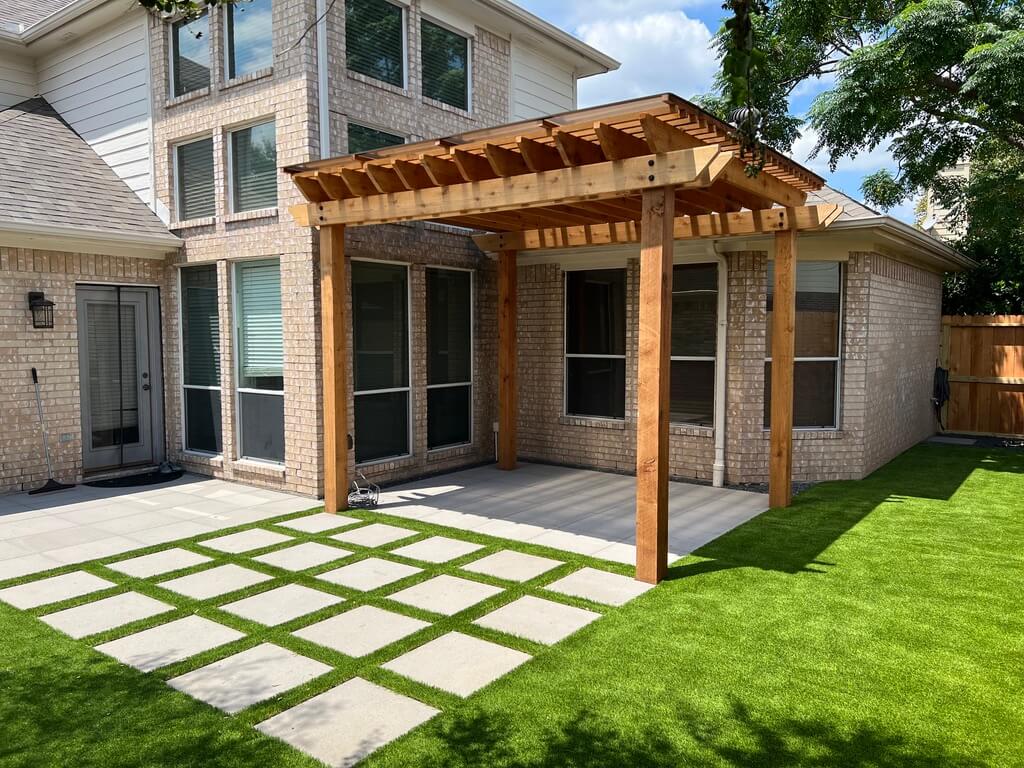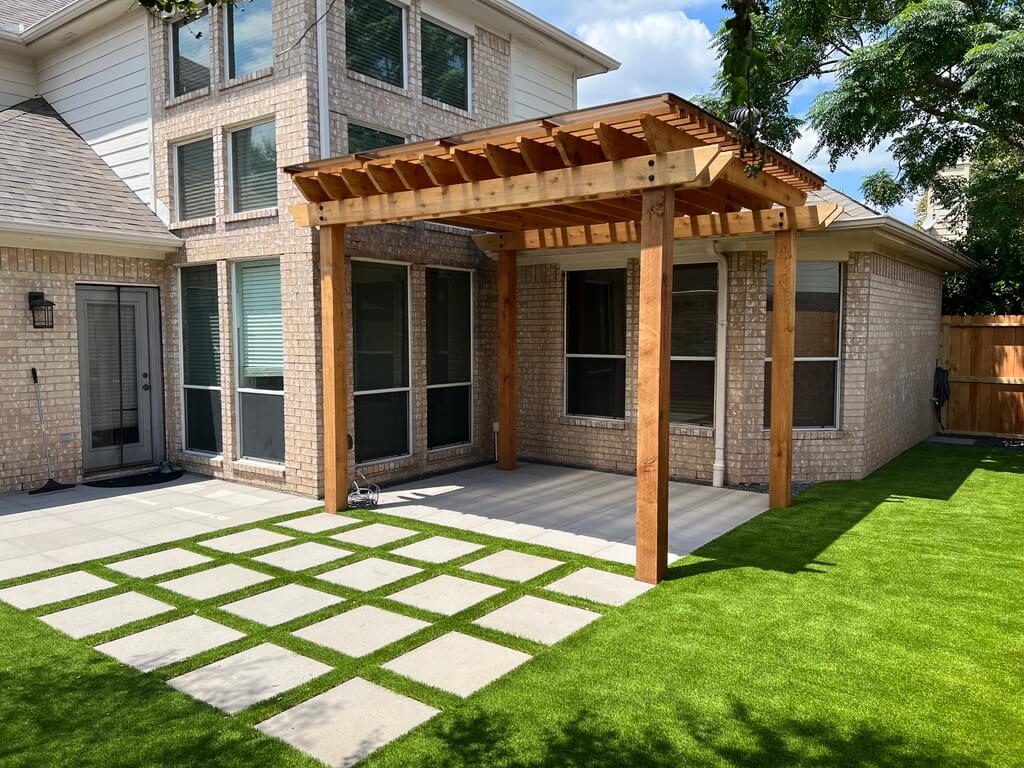 Custom Hand Built Wooden Patio Pergolas

The Benefits of an Outdoor Patio Pergola
An outdoor patio pergola is a beautiful and practical addition to any patio or outdoor landscaping. Not only does it add visual appeal and a touch of elegance to your outdoor area, but it also provides a host of benefits that can enhance your overall outdoor experience. From creating a comfortable and shaded area for relaxation to adding value to your property, a patio pergola is a wise investment that can bring joy and practicality to your outdoor space for years to come. In this section, we'll explore the many benefits of an outdoor pergola and why you might consider adding one to your outdoor living space.
If you're looking for a wood pergola in the Houston, TX area, look no further than our high-quality products. Contact us today at (713) 396-3320 to learn more and schedule your consultation!
Timeless Design
The design of a pergola can greatly enhance the aesthetic appeal and functionality of your outdoor space. With a variety of materials and styles to choose from, you can create a custom patio pergola that complements your home's design and your personal taste. The spacing, height and roof's design of your outdoor pergola can also be tailored to provide the desired level of shade and privacy. Adding accessories such as fabric, outdoor landscape lighting, and climbing plants can further enhance the beauty and ambiance of your pergola.
Built to Last

A high-quality pergola installation will ensure that the structure is sturdy and durable, which is crucial for its long-term performance and safety. HLP has the knowledge and experience to properly anchor the pergola's posts, level the structure, and securely attach the beams and rafters. In addition, we have the necessary tools and equipment to complete the job efficiently and safely. A well-built pergola not only adds to the aesthetic appeal, but also provides peace of mind knowing that it was installed with expertise and care.
Low-Maintenance Care
One of the benefits of installing a patio pergola is its low-maintenance care. While some maintenance may be required, such as occasional cleaning or applying protective coatings to wooden pergolas, the overall upkeep required for a pergola is minimal. Indeed, the open-air design of a pergola allows for natural ventilation, which reduces the risk of mold or mildew buildup. This means that homeowners can spend more time enjoying
Value-Added Investment
Investing in a patio pergola kit is a smart decision for homeowners, as it adds value to their property. A well-designed and well-maintained pergola can improve the curb appeal and functionality of the outdoor living space, which can increase the overall value of the property. Additionally, a pergola can serve as a selling point when putting a home on the market, attracting potential buyers who value a well-designed outdoor space.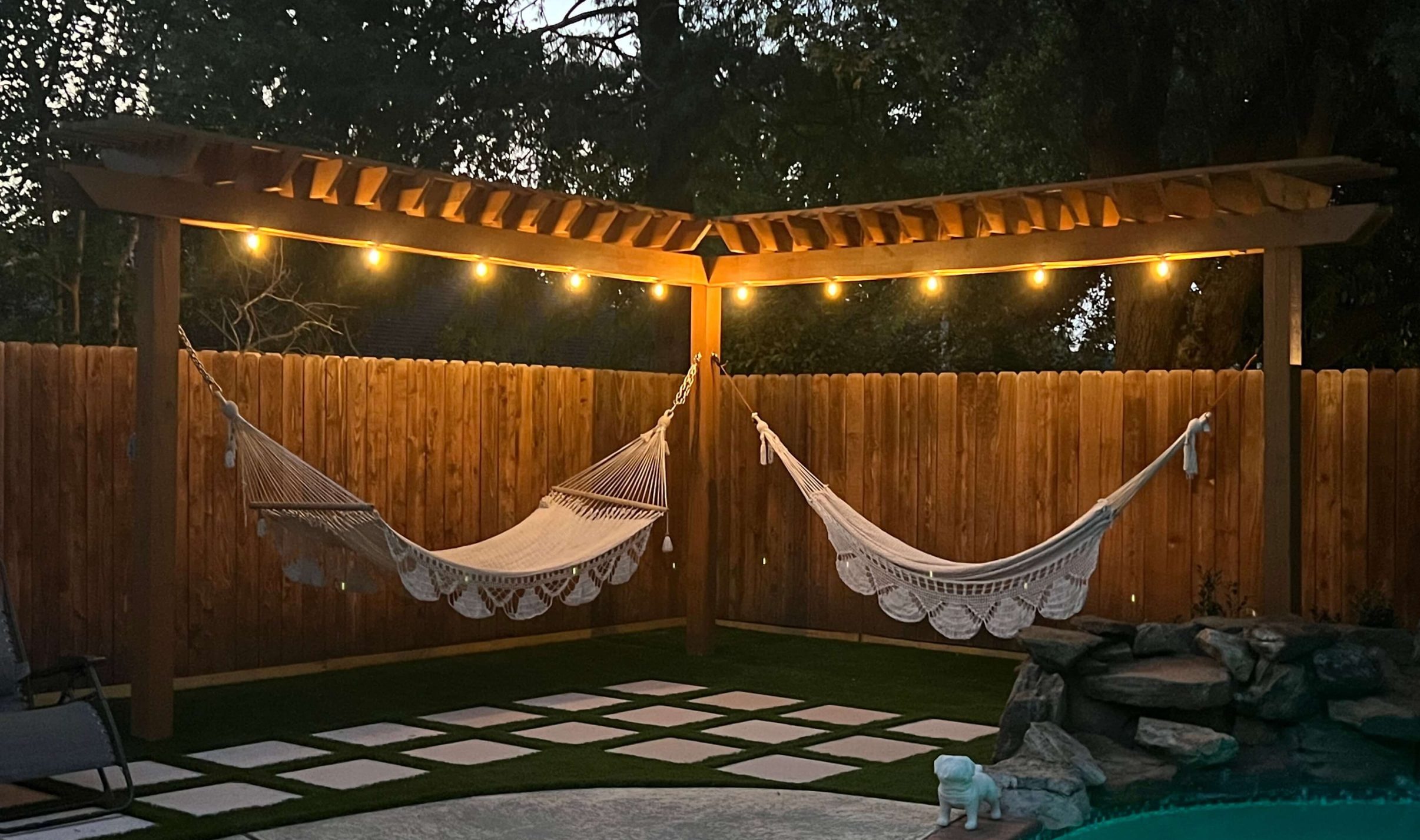 Patio Pergola with Hammock

The patio pergola with a hammock offers an unmatched fusion of relaxation and aesthetics for your backyard. It features two independent hammocks, providing a serene lounging spot for friends or family. Skillfully crafted from premium materials, its sturdy structure ensures safety and longevity. The pergola's overhead latticework casts a perfect blend of shade and sunlight, creating an inviting ambiance.
Modern Pergola with Cover

The Modern Pergola with Hercules Cover is a stellar addition to contemporary outdoor spaces. This design marvel not only adds architectural appeal but also promises resilience against weather elements. Its cutting-edge Hercules Cover has many benefits, including that it lowers temperature by 15 degrees, UV protected, leak proof, hail resistant, endures winds up to 125 mph, handles snow loads up to 40psf. Made from durable materials, it ensures longevity. The design encapsulates minimalist aesthetics, yet offers robust functionality. Enjoy outdoor living under the comfort of this pergola, knowing that it blends modern design and durability in a package that stands the test of time.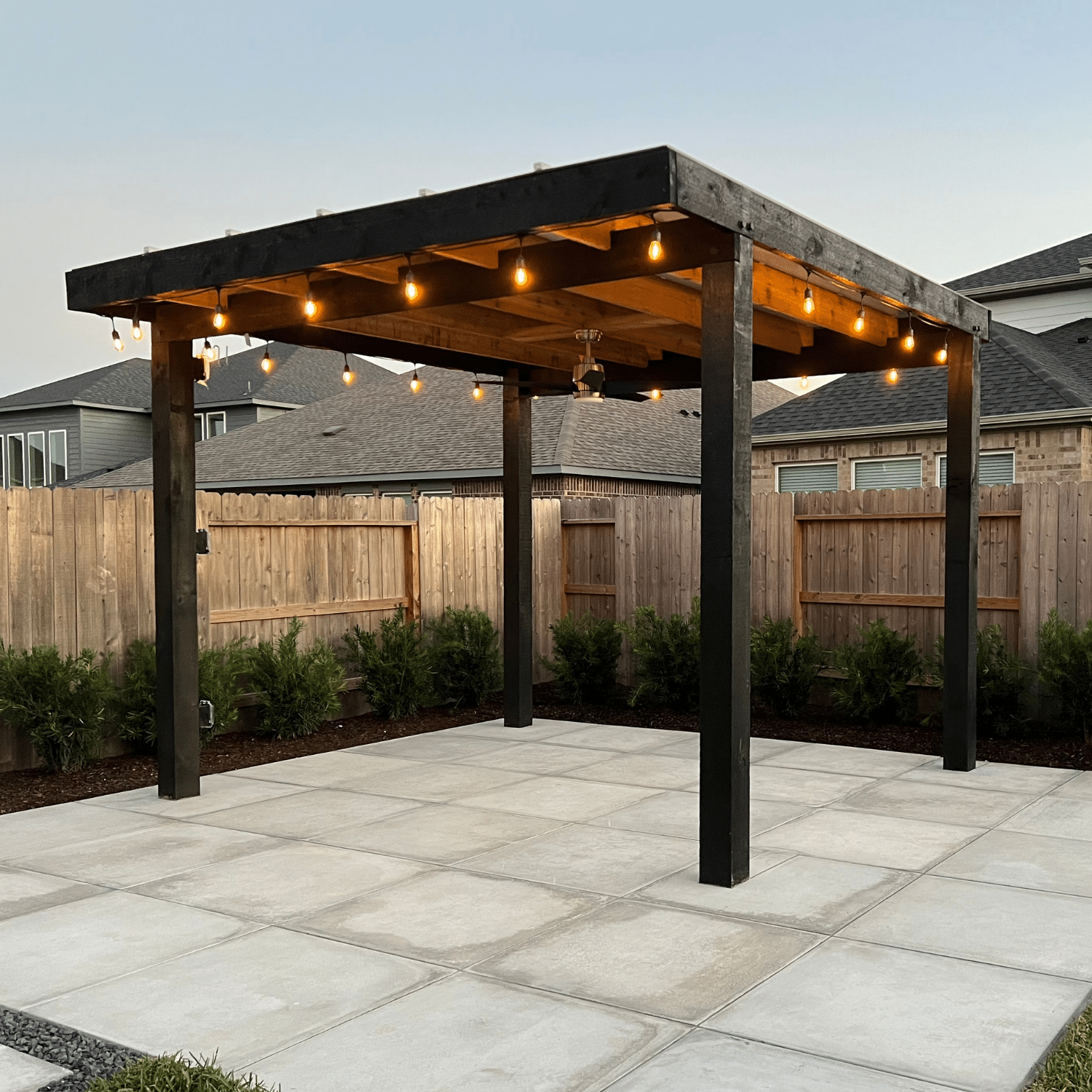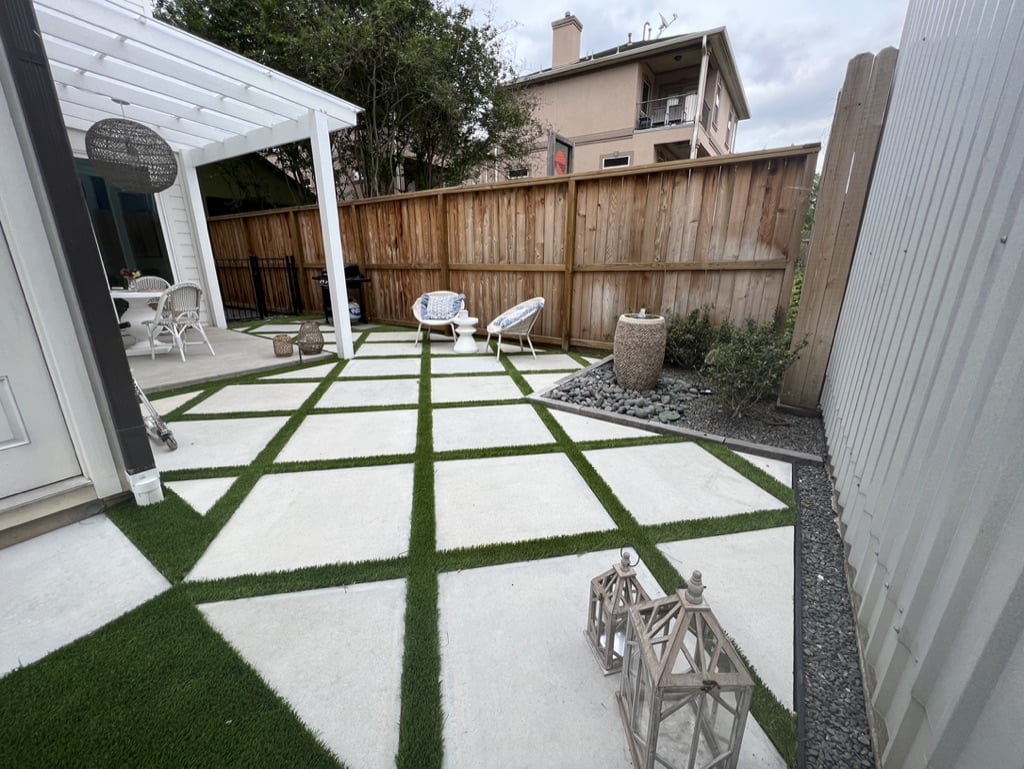 Backyard Pergola Attached to Home

A backyard patio pergola, attached to your home, can enhance your outdoor living space significantly. It offers shade, increases property value, and adds aesthetic appeal. Our expert team at HLP is adept in designing, attaching, and installing such pergolas to homes. With top-notch materials and robust construction methods, we ensure durability and style. Enjoy your outdoor spaces with confidence, knowing that your pergola, an extension of your home, was built with utmost care and professionalism.
Pergola Installation Service in Houston, TX

HLP is dedicated to ensuring that you receive the best possible service from start to finish. We will certainly work with you to design and install the perfect pergola for your outdoor space, taking into consideration your specific needs and preferences. In addition, we pride ourselves on our exceptional customer service and commitment to quality, so you can rest assured that you're making a wise investment when you choose our pergola. So why wait? Enhance your outdoor living space with our beautiful and functional pergola today!