Artificial Grass Houston
Houston Landscape Pros is proud to present Artificial Grass Houston, the new and improved alternative to natural grass. Artificial turf has a consistent modern look, reliable installation, and provides ultimate customer satisfaction. Fake grass, made in the USA, is created from 100% lead-free recycled materials to support an eco-friendly America. Conveniently, it does not require lawn fertilization, a lawn sprinkler system, or heavy maintenance.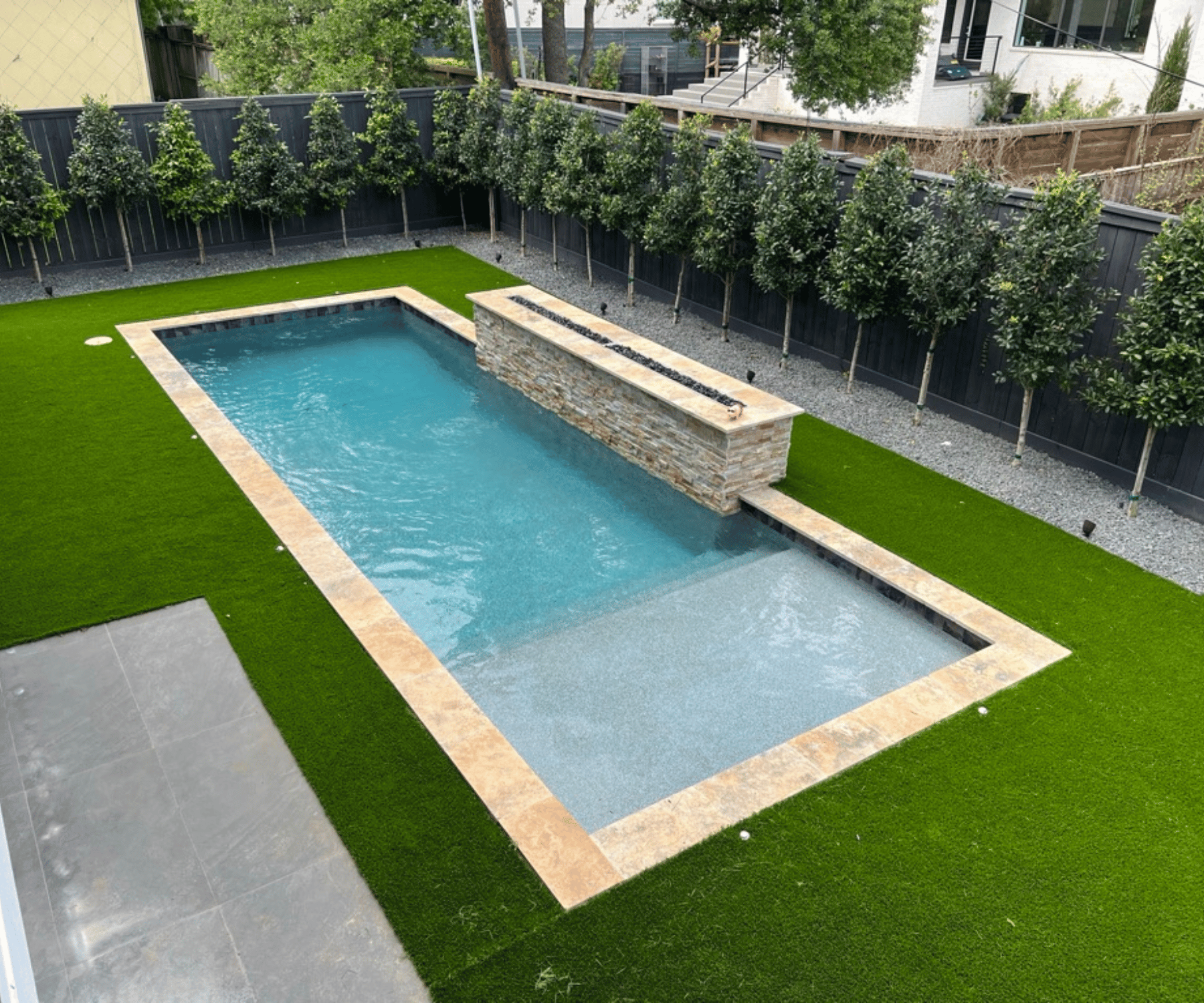 Additional Features & Benefits of Synthetic Turf
We at Houston Landscape Pros maintain a close collaboration with trusted local distributors, who source environmentally responsible materials for our synthetic turf. Consequently, we offer an extensive selection of USDA-certified products, each comprising over 60% bio-based contents in our turf.
]Additional features and benefits of synthetic turf includes:
Made from 100% Recycled Materials

High Durability to Withstand Heavy Foot Traffic

Premium Quality Turf that Resembles Real Grass

Non-slip, Non-Abrasive, and Offers Good Cushioning, Reducing the Risk of Injuries.

The Color Doesn't Fade Under the Sun As Artificial Grass is UV Protected.

Promotes Environment Friendliness, Water Conservation, and Carbon Footprint Reduction

Adds to the Aesthetic Appeal and Functionality of a Property, Potentially Increasing its Value.

Built-In Drainage Systems, Making Them Less Likely to Become Waterlogged During Heavy Rains.
Pet-Friendly Artificial Grass: A Game Changer for Houston Pet Owners
One of our most popular fake grass products is our Pet-Friendly Artificial Grass. This synthetic grass is very popular due to the vast benefits it offers. Firstly, it is non-toxic and hypo-allergenic, meaning your pets are free to lay around and play safely on the lawn. Secondly, it also allows animals to urinate on the synthetic turf since it will drain, not stain. Since the grass is not real, pet owners do not have to worry about their animals killing or discoloring the grass. Lastly, the color is estimated to lose only 8% of its intensity over ten years. Indeed, due to its superior durability, a pet-friendly artificial grass is a great choice for dogs or cats.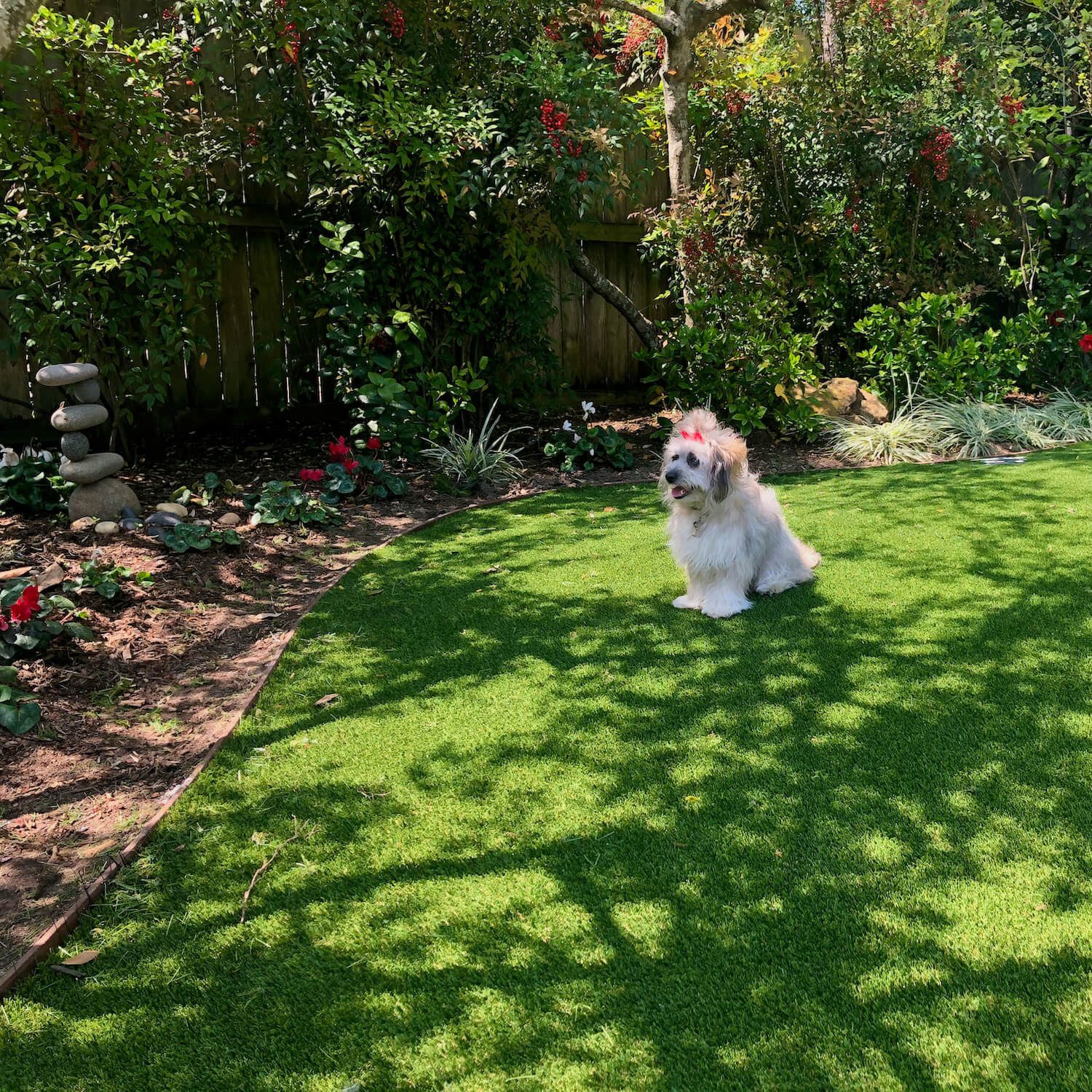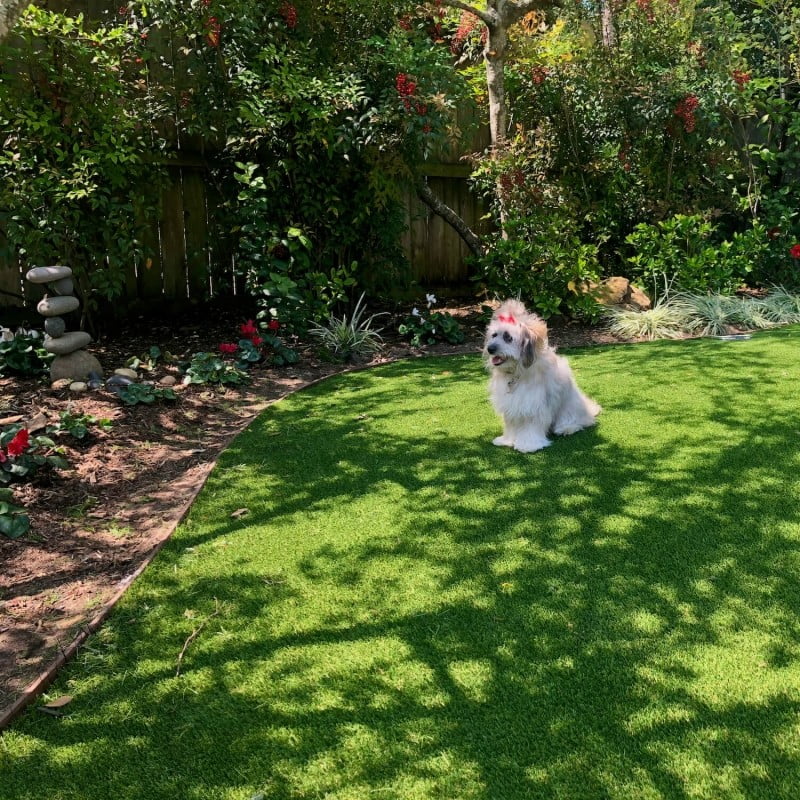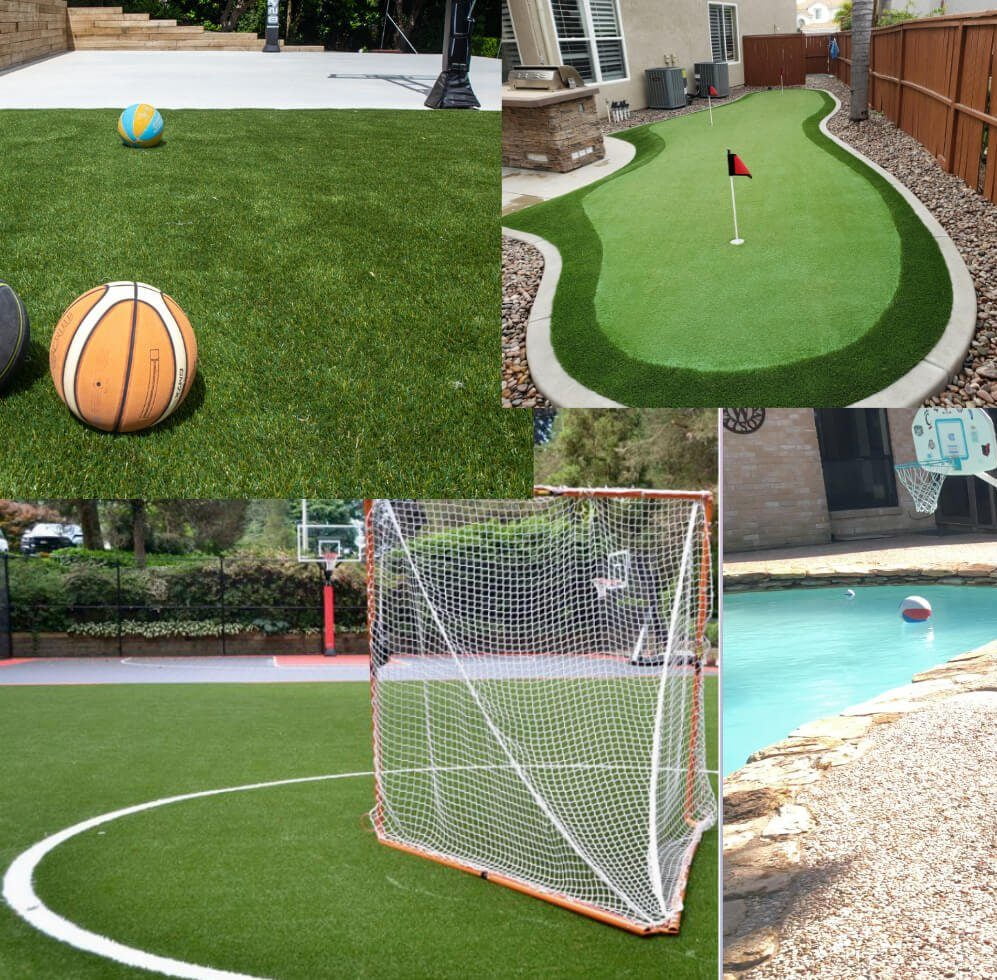 Custom Outdoor Field Installation using Fake Grass
Our custom outdoor fields using fake grass brings the game home to you. Whether you're a budding soccer star, or a weekend basketball warrior, our soccer pitches and basketball courts blend professional design with superior craftsmanship. Turn your Houston home into your personal sports paradise – contact us today.
Authentic outdoor field experience with little-to-no maintenance requirements
Extremely durable surface to practice on
No water can settle beneath the field and wash the base out
Artificial Grass Outdoor Putting Green
Artificial grass outdoor putting greens have gained immense popularity among golf enthusiasts. These synthetic turf surfaces provide a convenient and low-maintenance solution for honing one's putting skills in the comfort of home.
With realistic textures and consistent ball roll, they mimic the feel of natural grass greens. Easy to install and durable, these putting greens can withstand all weather conditions, allowing golfers to practice year-round. Whether it's for recreational fun or serious practice, artificial grass outdoor putting greens offer an enjoyable and convenient golfing experience right at your doorstep.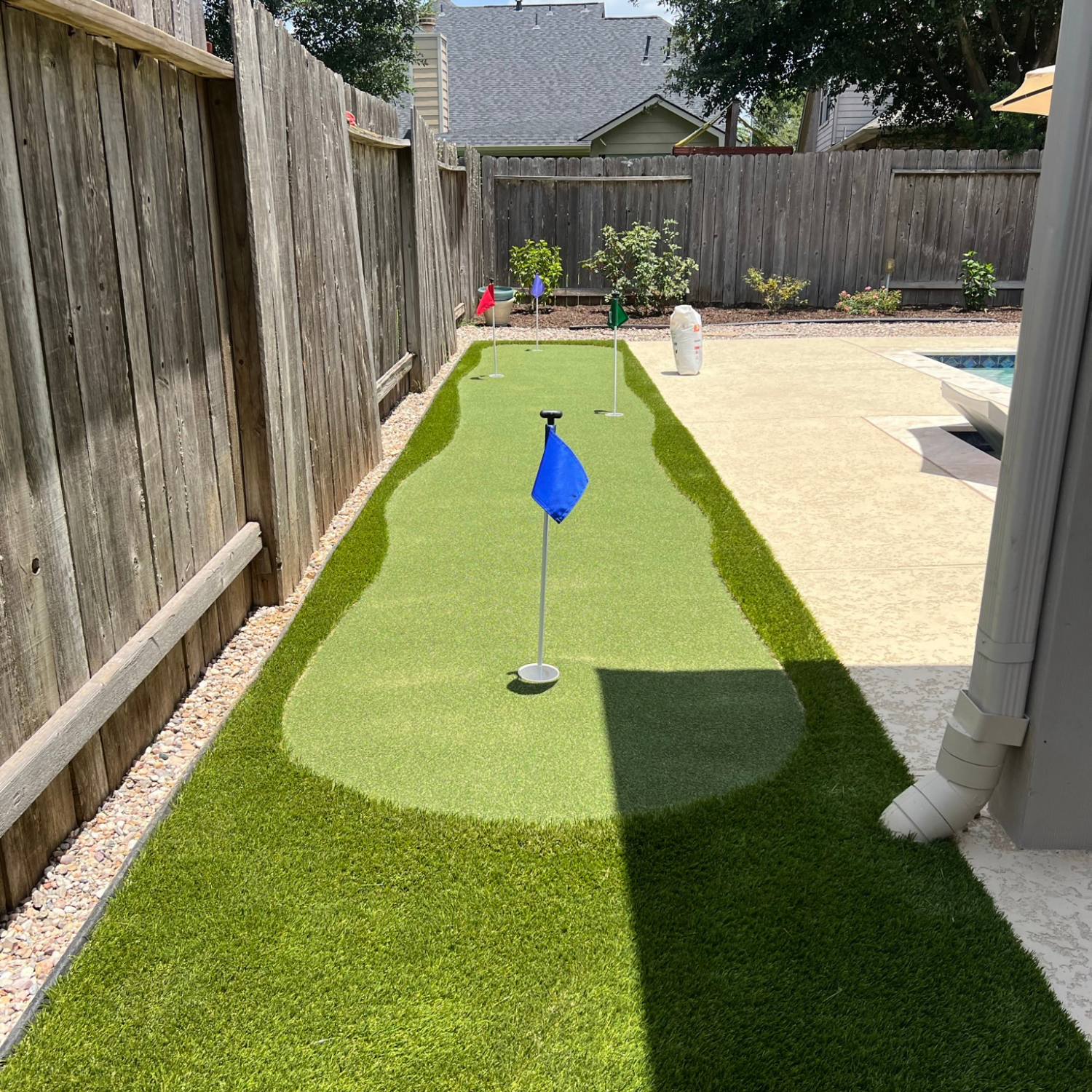 Artificial Grass Installation Service – Houston, TX
Houston Landscape Pros is a Houston landscaping company that provides artificial grass installation service throughout the Houston area. Artificial grass is perfect for investors searching for a one-time investment that raises the home's value. Our company motto: "Always done right the first time" will guarantee customer satisfaction for our artificial grass installations.
In addition, Houston Landscape Pros offers padding options for security and comfort along with air drainage that better directs water flow. Please feel free to call (713) 396-3320 and an HLP representative to be happy to help you.

Artificial Grass Installation
How is artificial grass installed? Our step-by-step guide includes our four-step installation process: Planning, Preparing the Base, Cutting and Placing, then lastly, Laying the Infill.
Installation: Planning
The planning process begins by first determining what type of turf our customer needs for their property. Will we be installing fake grass for pets to run around on? Or will we be introducing a new sport field (like soccer, practice your batting for baseball or softball or even football player such as quart back)? We need to determine this information to ensure we bring the right artificial turf to the project.
Installation: Preparing the Base
When creating our foundation for synthetic grass, we must first remove the existing vegetation surface. It includes any remaining grass, hard surfaces such as concrete, bricks, and anything else. We will then cap existing sprinkler systems and install any drainage necessary at this time. Secondly, we will dig out 2-4 inches into the surface, depending on the work area. Thirdly, we will make the foundation even and set grade using a landscaping compactor and lawn roller, and other necessary equipment. Now the base is complete and ready for cutting and placing the artificial grass. However, in some cases, the customer wants to lay the synthetic grass on top of the concrete area.
Installation: Cutting & Placing
With a clean and even base setup, we are now ready to unroll the turf. Since the artificial turf has been rolled up for some time, the fibers tend to lay at an angle. To avoid this problem, we allow the fake grass to sit in the sun for a few hours. The sun helps the grass fibers return to a standing position, and helps the backing even itself out.
Once the fake grass blades return to their normal position, we begin cutting our artificial grass. We use our measurements, which we established during our planning phase of the installation process. Then we make the proper cuttings to start placing the synthetic grass on the property. Once the artificial turf is all set in the appropriate spots, we will secure the seams. This step binds each cutting of the fake grass together. We will use a mechanical fastener to secure the seams. We aim to place the least amount of seams possible for your property. However, the seams required varies based on the size, shape, and location of the yard. Once the seams fasten together, we can trim around the lawn's border to remove any excess turf.
Now that our team has cut the artificial grass to fit the property, we will use a galvanized staple to bond it to the land. We will use this staple around the perimeter until every strip of fake grass is secure. Lastly, our crew will scan the area for any errors. If we notice any mistakes, we will correct them accordingly before proceeding to the final step.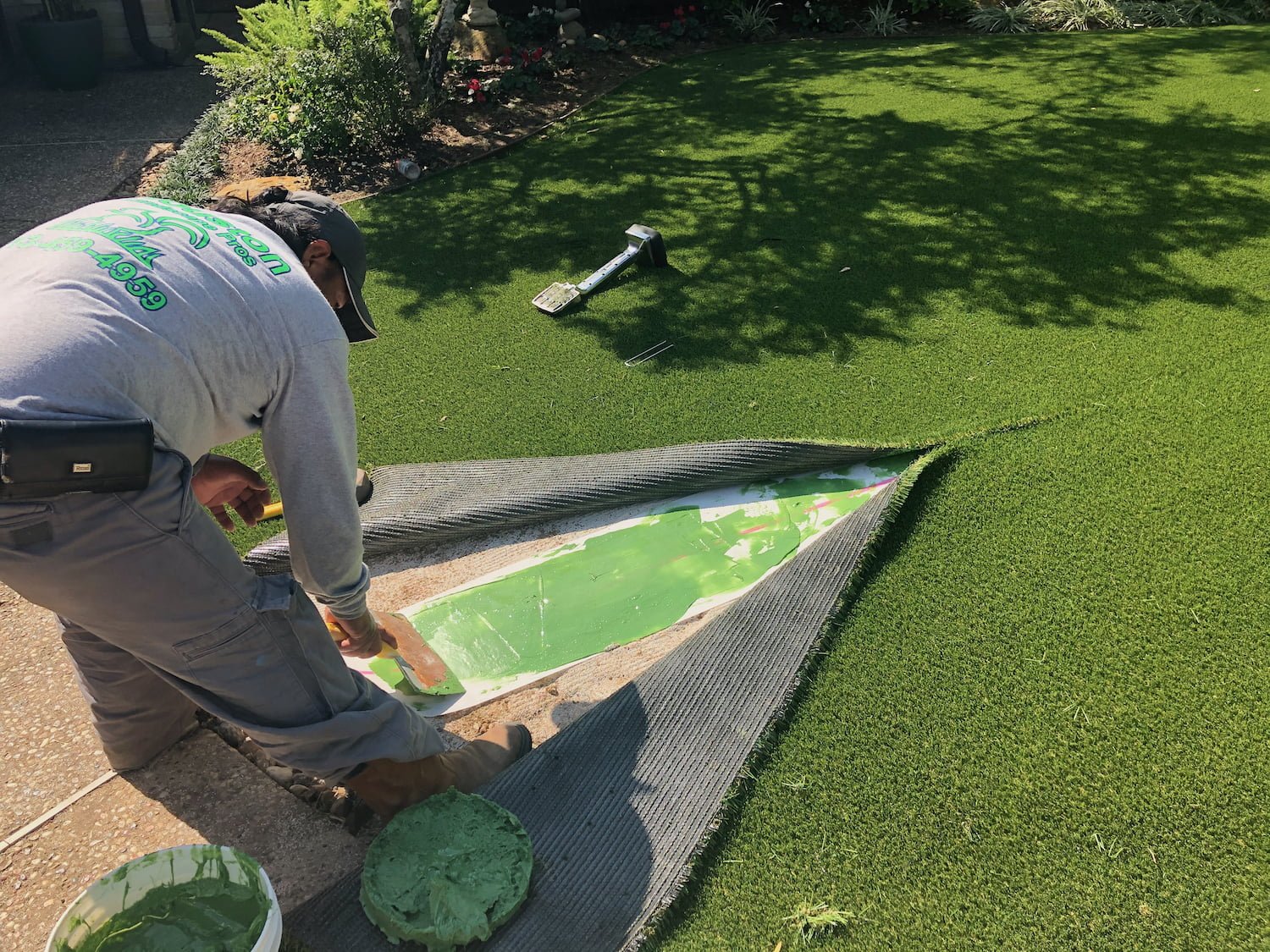 Installation: Laying the Infill
Our team uses infill on all artificial turf jobs that we complete. Infill is essentially gravel, sand, or coarse stone. It is a dense material that will add an extra sense of security to the foundation. Incorporating the infill protects the backing of the turf while correcting the structure of the artificial turf blades. We apply the infill by using a drop spreader, which slowly releases the ballast across the fake grass. It also creates an even more compact lawn. Once the infill spreads across the entire surface, we will need a power broom. The broom will knead the ballast deeper into the foundation. This final step makes the artificial grass stand up even straighter than before. Finally, our team will use either a leaf blower, broom, or plastic rake to tidy up the final product.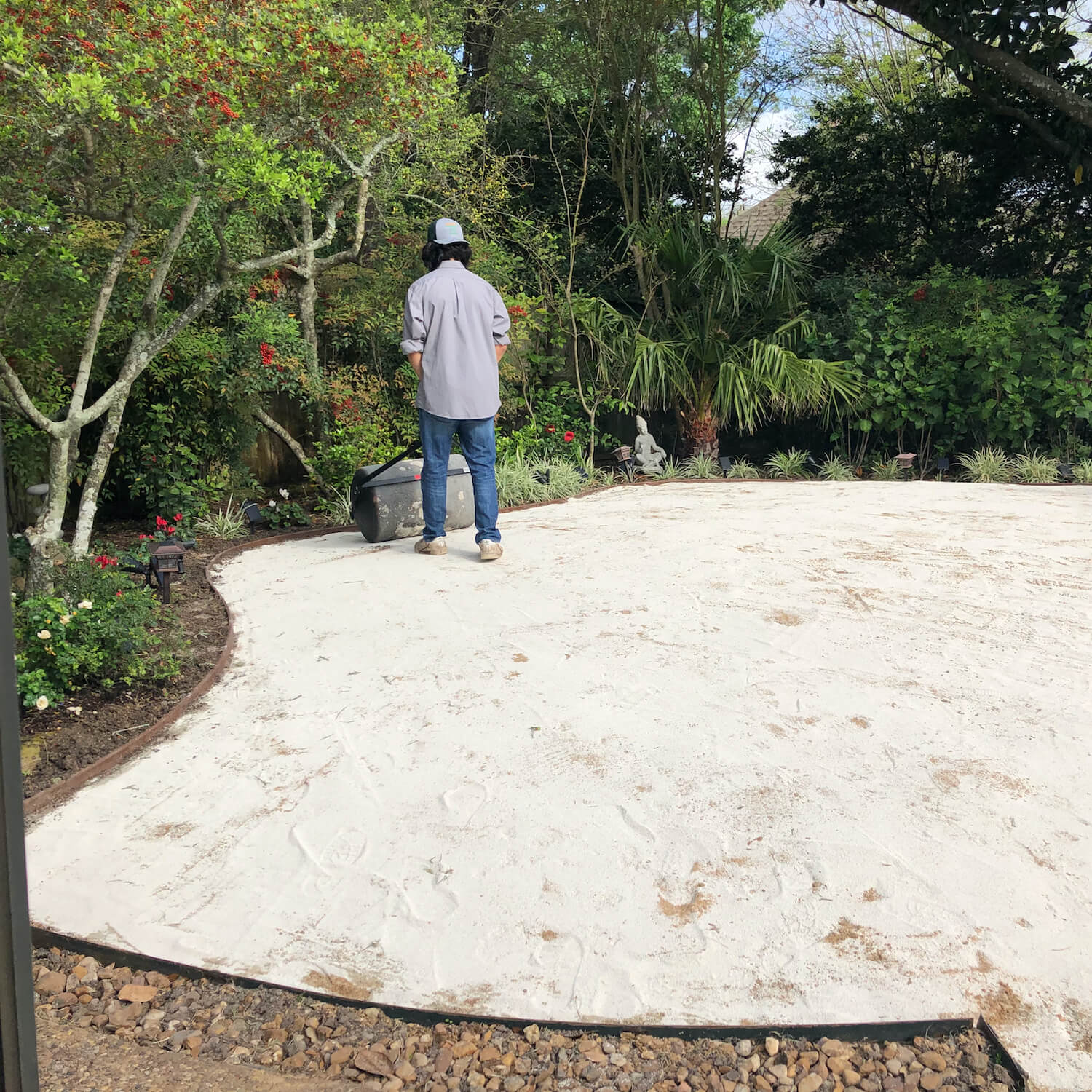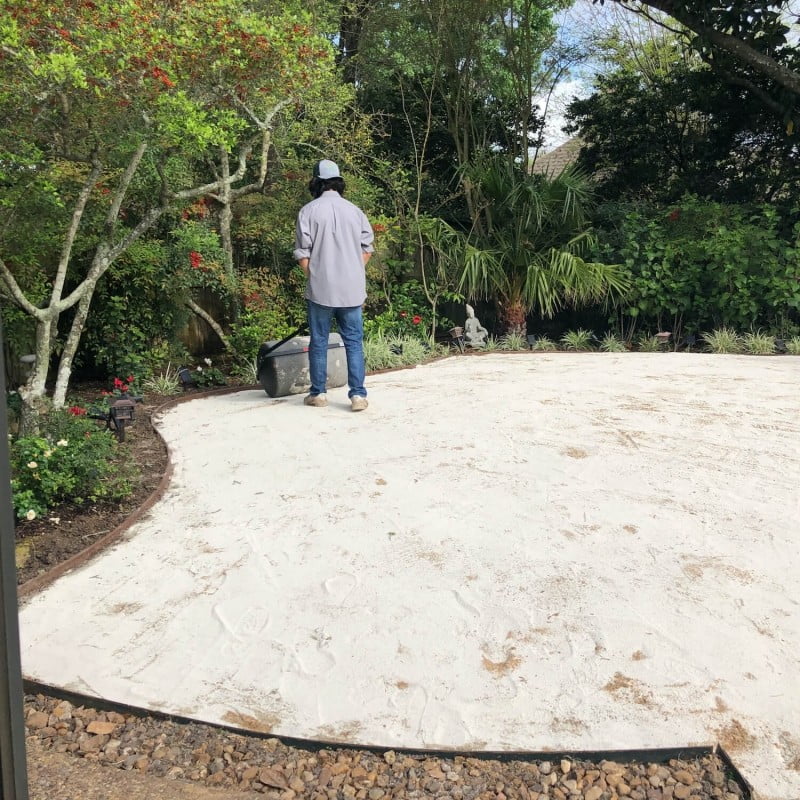 Artificial Grass: Cost Factors
Houston Landscape Pros has competitive prices when it comes to landscape for artificial grass cost. With that in mind, we still make our artificial grass cost as affordable as possible with materials and labor included. Also, keep in mind the price showed is only a base price. Therefore, the artificial grass cost may vary when using a more expensive artificial grass type or if the landscape project area has any difficulties. In addition, we can give better deals if you are also getting other types of landscaping done. It all depends on what landscape installation is best for your landscape design.
Professional Artificial Grass Installers
Houston Landscape Pros can help transform your backyard in something you would be proud to entertain family and freinds! We do onsite consultation by appointment. Our offices are located in Houston, TX 77042. However we cover almost all parts of Houston such as Katy, Richmond, Bellaire, Pearland, TX and surrounding communities.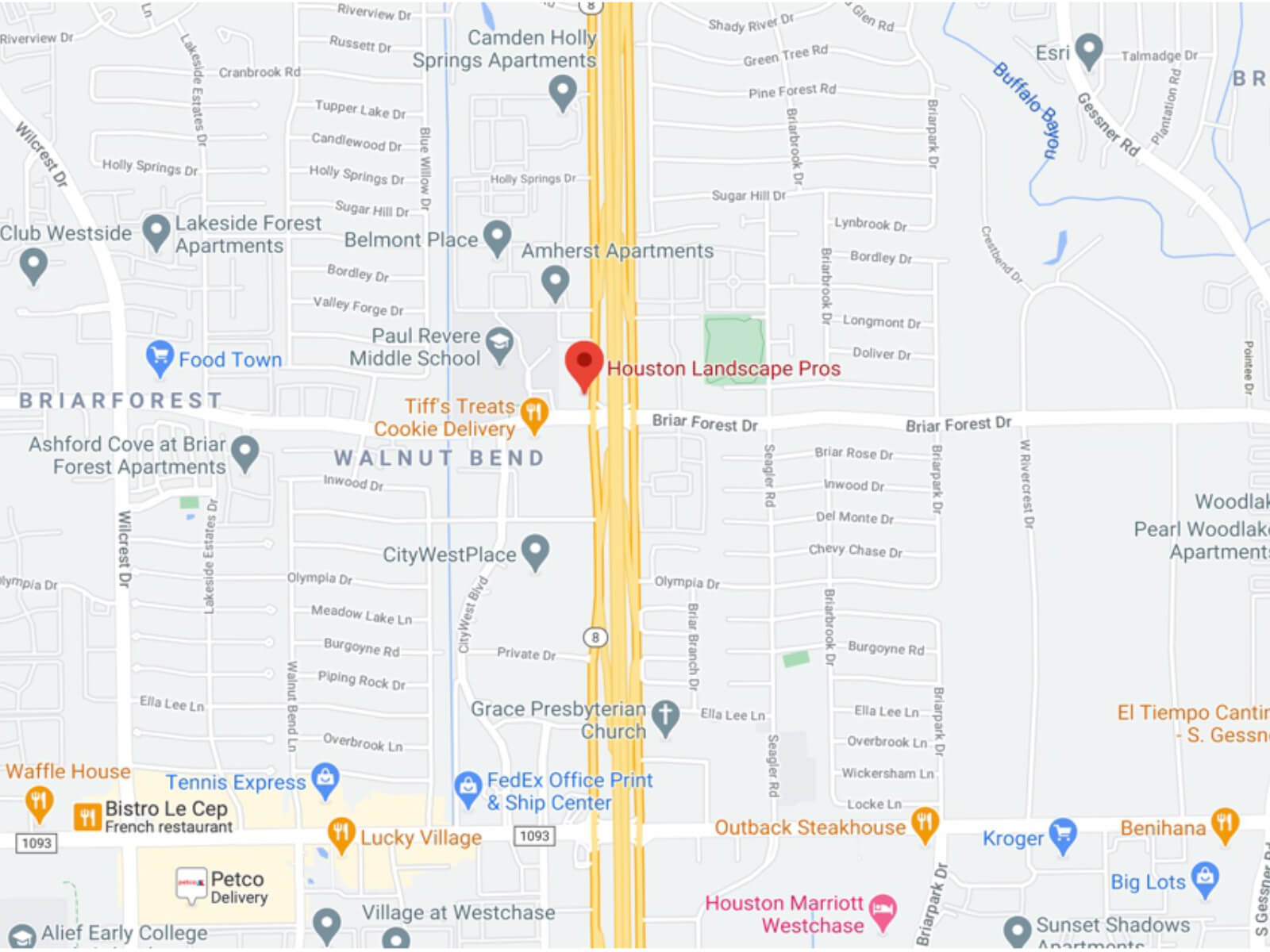 Artificial Grass Frequently Asked Questions