Lawn Sprinkler System
Here in Texas, lawn sprinkler system installation is regulated. Equally important, by Texas law, only licensed installers are allowed to connect to city water. This page shows a component list based on a standard residential lawn sprinkler system installation for the Houston area. By all means, Houston Landscape Pros is licensed in the State of Texas and conforms to all  state laws. This list is to show you what Houston Landscape Pros will use to install your lawn sprinkler system.
For more information, visit our Texas Licensed Irrigator and learn more. Call us today or fill out a Free Sprinkler Quote. Above all, remember that we come to you for free on new lawn sprinkler system installation on-site consultation! However, we do charge $45 for sprinkler repair check. For more question, please feel free to call us today!
New Sprinkler Components
Sprinkler Controller
Pressure Vacuum Breaker (aka PVB)
Isolated Valves
Electric Valves
Wiring and Electric Connectors
Rain Sensor
Rotors and Pop-ups
PVC Piping
Trenching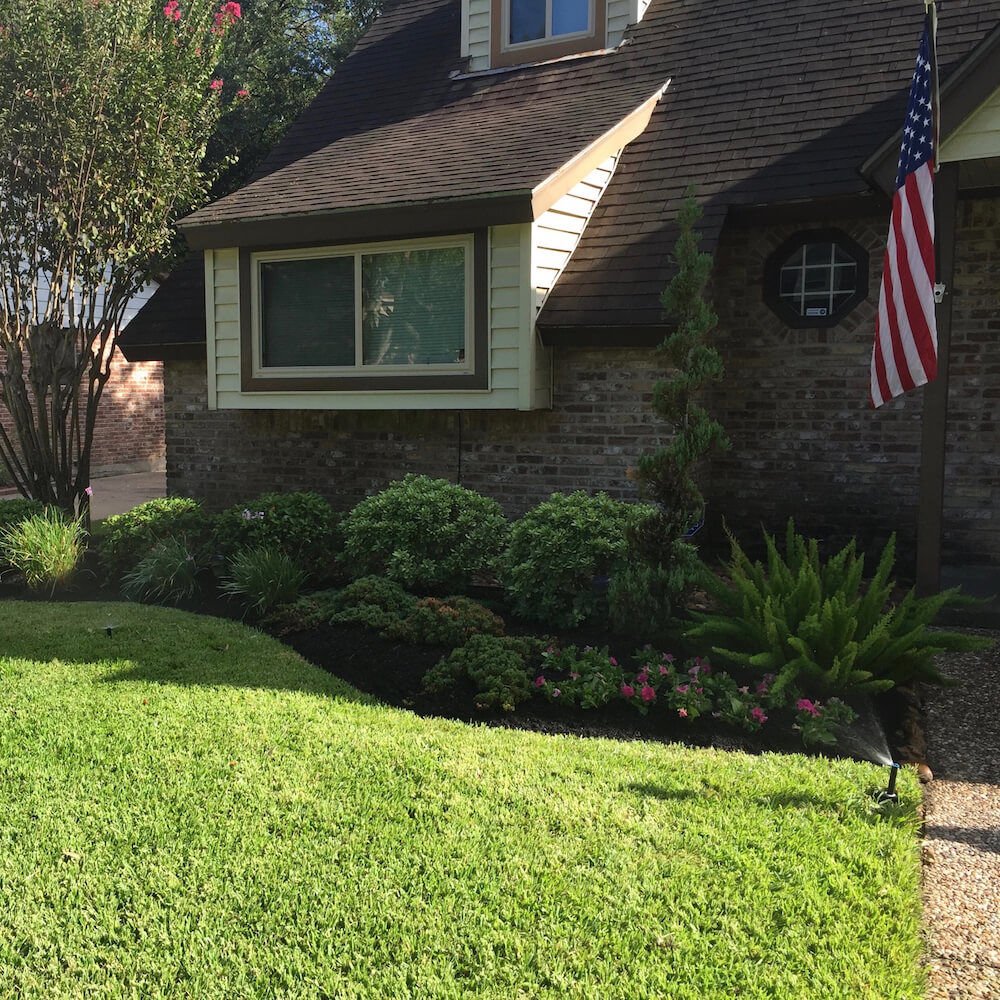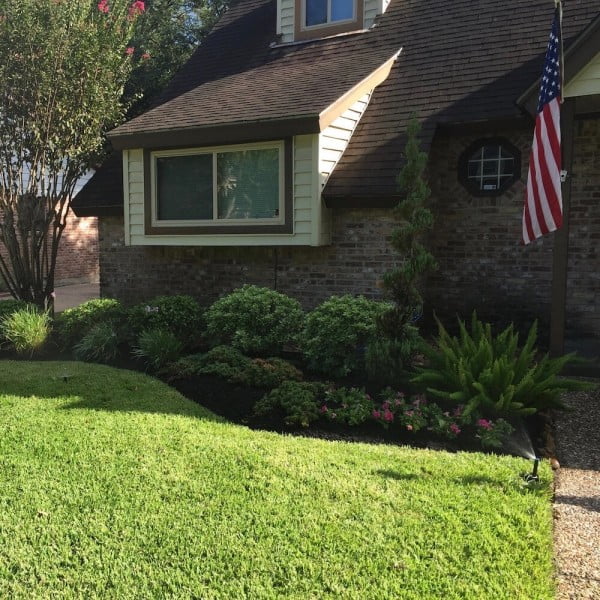 There are a wide variety of landscape sprinkler controllers on the market. However, for residential lawn sprinkler controllers, we use Rainbird and Rachio. We use both of these due to their high reliability and design flexibility. The two most recommended sprinkler controllers on the market are the Rainbird ESP-TM2 with the Wi-Fi Module and the Rachio Smart controller. These are the most high-tech lawn sprinkler controllers that connect to Wi-Fi. Thus, allowing the user to control them with a mobile device through an app. With that being the case, the app makes scheduling very convenient.
In addition, this app makes adjustments by checking the weather through Wi-Fi. These two models are suitable for four to twelve station sprinkler systems. We use the 3rd Generation Rachio Wi-Fi controller because this controller is the best in its class. In conclusion, if you are wondering how much water your lawn requires, visit Lawn Watering Needs-Texas.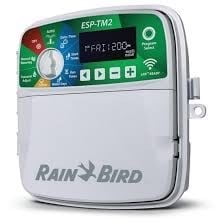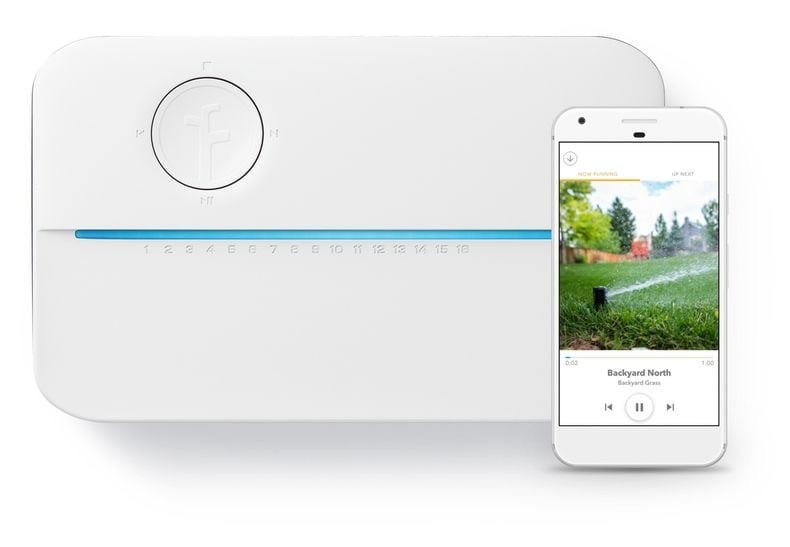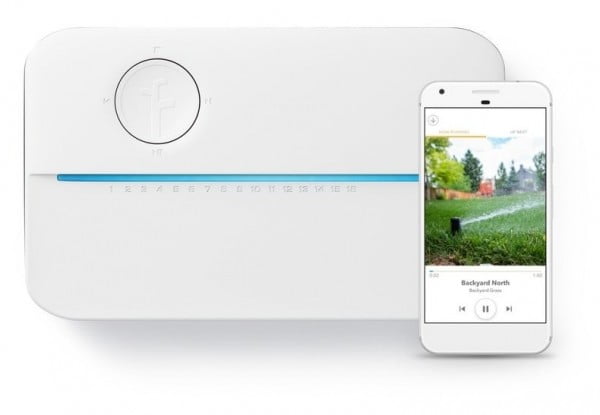 Rainbird EESP-TM2 and Rachio Smart Controllers
The Rainbird ESP-TM2 can serve as a basic lawn sprinkler system without installing the extra Wi-Fi module. However, this controller is for smaller sprinkler systems with four to eight stations. All of these controllers have indoor and outdoor models.

This controller focuses on properties that would need eight to fifty-four stations. It has an optional smart controller feature called the Solar-Sync. This feature measures local weather and has a rain sensor that will turn off the sprinkler system if it starts raining.

We can also install a more basic controller for a lawn sprinkler system without the Wi-Fi feature. Keep in mind that a base controller includes seasonal adjustment programming. In other words, flexible schedule times, a run time calculator, and other functions. In conclusion, schedule yourself an annual check-up!
Sprinkler Rain/Freeze Sensor
A rain/freeze sensor monitors the amount of rainwater in a yard. It detects when rain has gone beyond the preset level. The sensor also notices if the conditions are below freezing. If the controller detects that the surrounding area is still wet, the monitor will stop watering the lawn until conditions are dry. The use of a rain/freeze sensor will conserve water and protect plants/turf from oversaturation. With this in mind, our standard quotes include the Mini-Click Rain/Freeze Sensor by Rainbird®. It is a reliable sensor that will work for many years without giving the homeowner problems. It can be preset to shut off the system after 1/8" to 1" of rainfall.
1" Pressure Vacuum Breaker (PVB)
A Water Back-flow Prevention Unit is one of the essential parts of a lawn sprinkler system installation. It prevents water from going back to the main city line. Therefore, it prevents water contamination.
After installation is complete, it will be inspected and certified by a TX licensed back-flow inspector. The inspector will confirm that the unit installation is correct and that it works. They will also check the vacuum breaker against a database. In the event there is water contamination in your area, city inspectors investigate houses with pressure vacuum breakers. If the vacuum breaker is not certified, it could cause significant problems for the homeowner.
In any proper sprinkler installation, you will have isolated valves that allow an emergency shut-off. These valves will shut off water to the vacuum breaker in case of damage. Most Houston contractors do not install these isolated valves. However, Houston Landscape Pros deems isolated valves essential; therefore, we always include them. They are especially useful because they are installed relatively quickly and cost very little.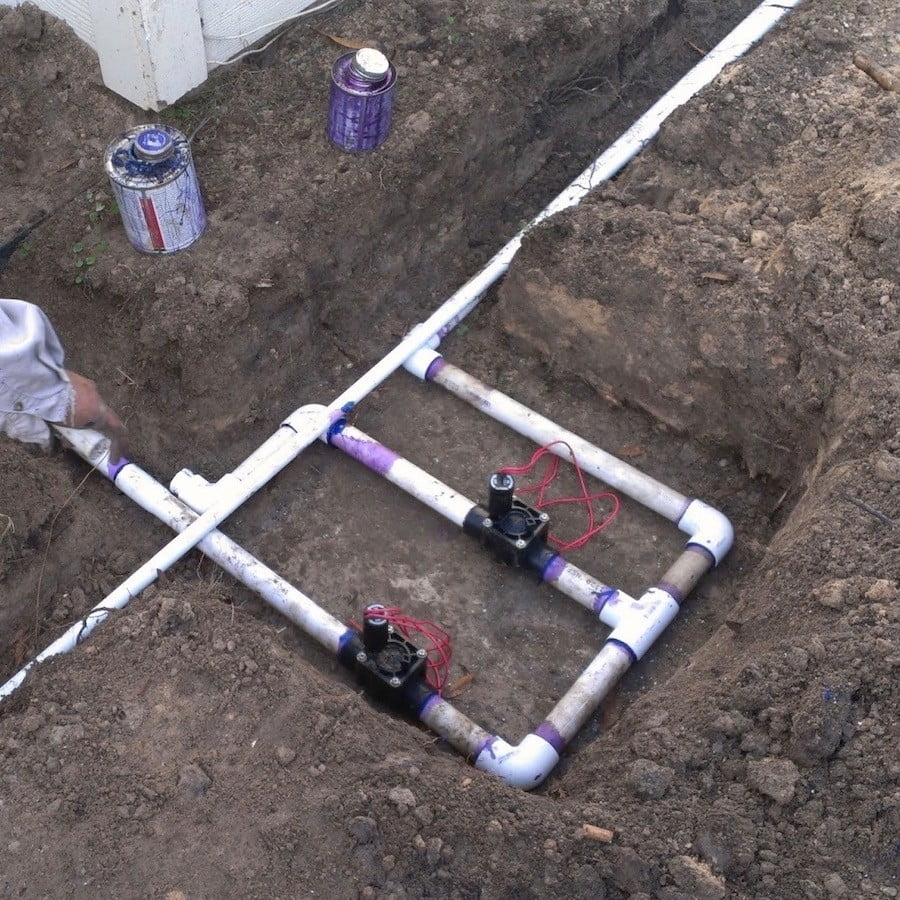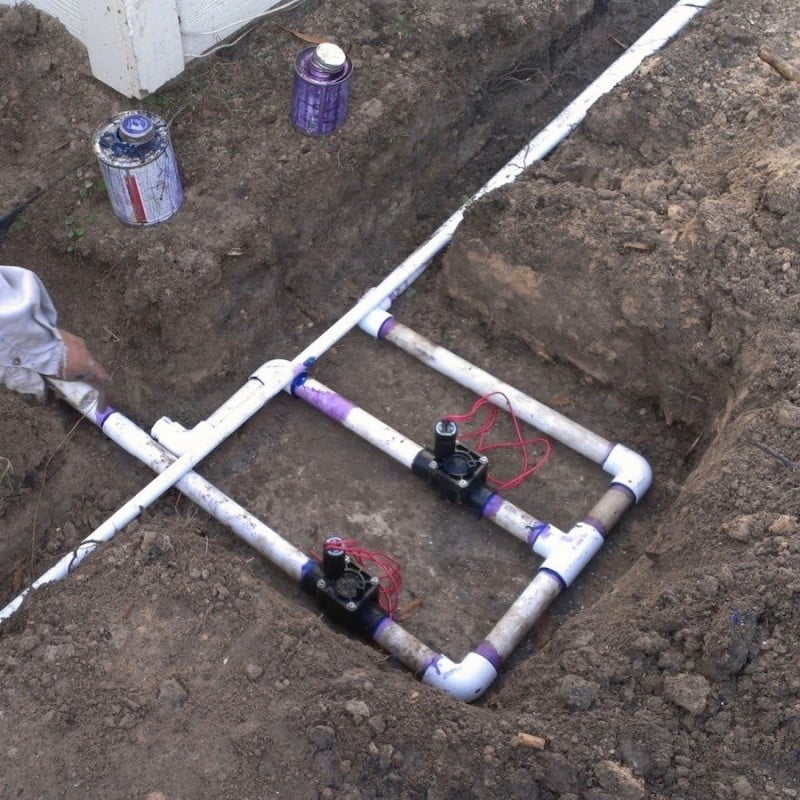 Electric valves open and close to allow water flow to specific landscape sprinkler stations. Therefore, we use Rainbird® Electronic Valves in our lawn sprinkler system due to their reliability in the industry. Additionally, they last longer and cause fewer problems. A second electric valve has a high potential for leakage. Above all, it results in expensive subsequent repairs and maintenance costs. You will have one electronic valve per landscape station. For more information, check out our contact us form.
Wiring and Electric Connectors
The use of proper wires and electrical connectors is crucial in a lawn sprinkler system installation. The reason is that these wires are underground. Therefore, over time, they can deteriorate. Using the proper wire gauge and appropriate electrical connectors will minimize or eliminate future costly repairs. Furthermore, they are underground, so finding problems years later can take lots of digging. In that event, Houston Landscape Pros also offers lawn sprinkler system repairs for clients that have an existing system.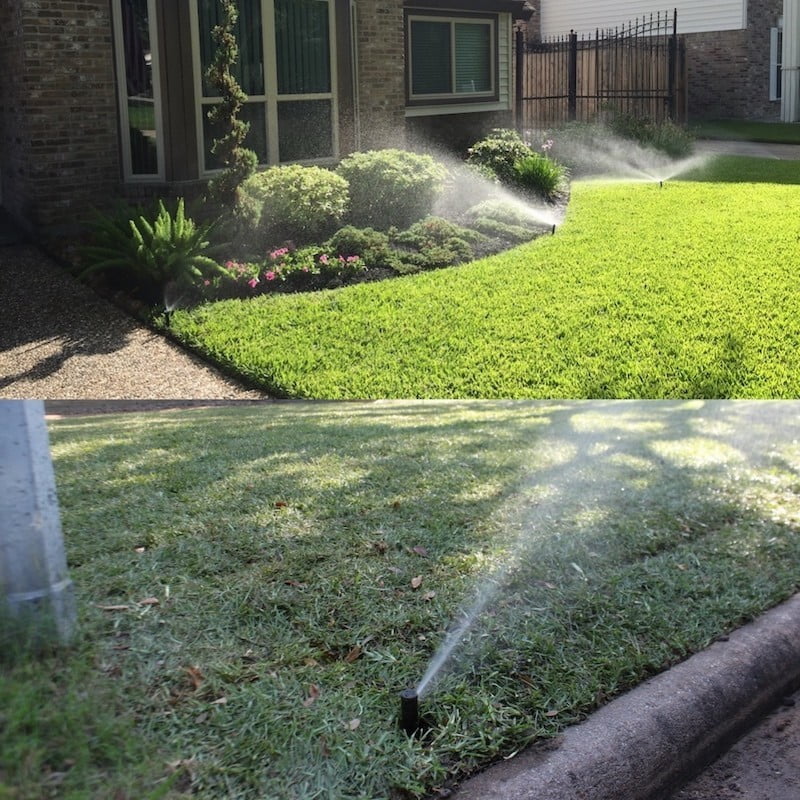 When designing most residential sprinkler systems, we use Rainbird® rotors and pop-up spray heads. In other words, with any lawn sprinkler system installation, we select components with high-reliability and proper water delivery. We choose the best materials available. After so many sprinkler installations, we know which parts will last and which ones will potentially cause problems. For this reason, Houston Landscape Pros devotes a lot of time to carefully selecting our products. In summary, if you have any unanswered questions, please visit the Lawn Sprinkler- FAQ page to learn more.
Houston Landscape Pros uses PVC Piping. However, it comes in a variety of grades that determine long-term reliability. When installing a lawn sprinkler system, the schedule of piping refers to its wall thickness. For instance, in Houston, we use Schedule 40 for any connection to main lines and electric valves. The rest of the PVC Piping can be composed of Schedule 20 class pipes.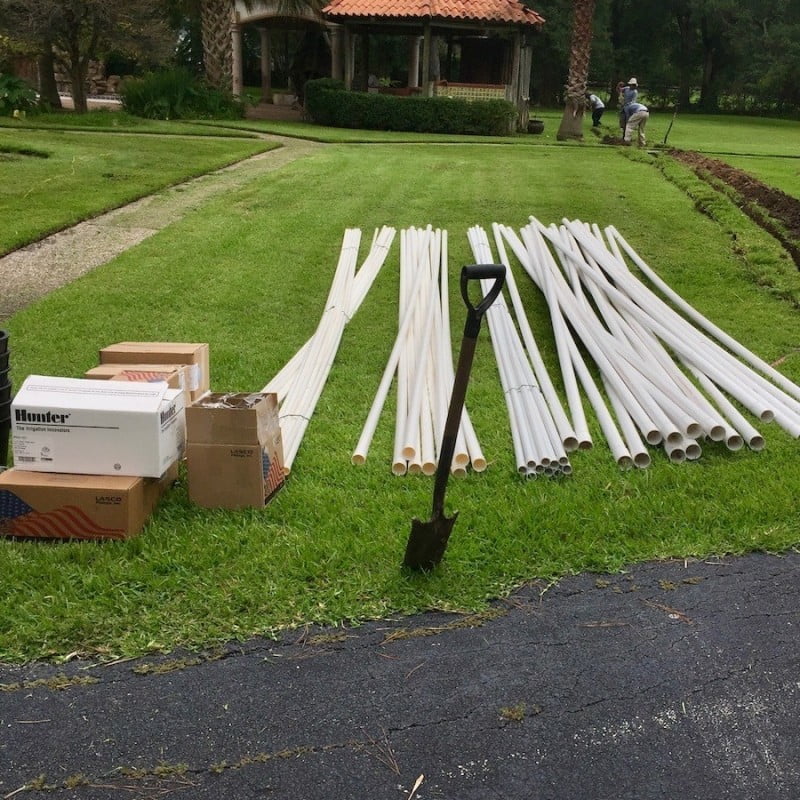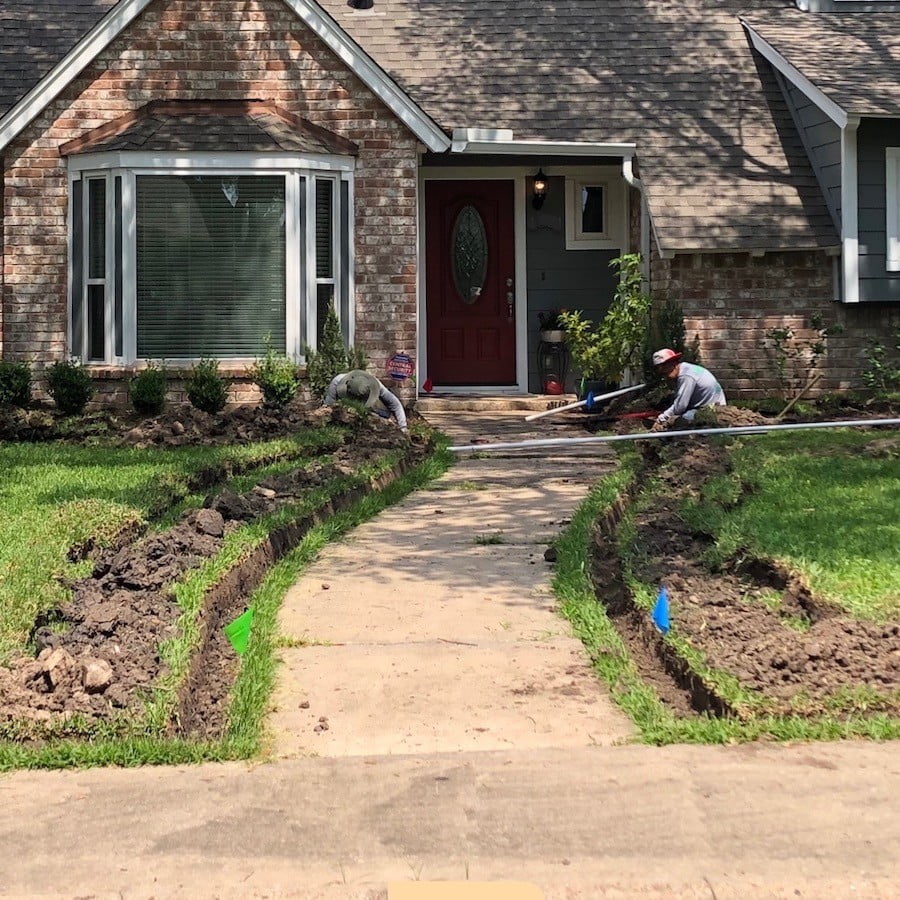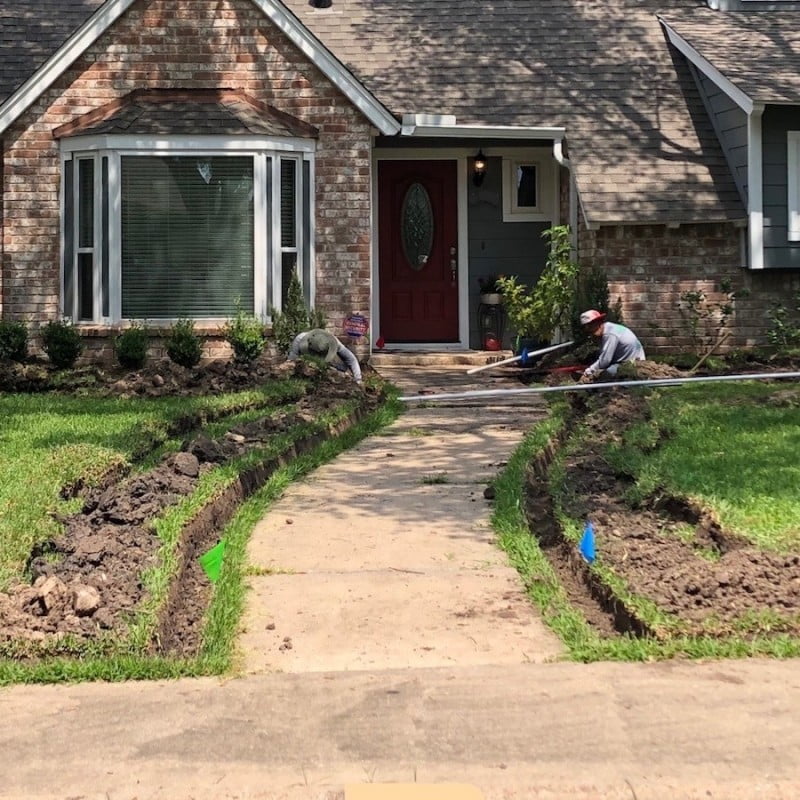 Trenches are not a physical component of a Lawn Sprinkler System. However, the pipes and electrical wires will go inside of them. With this intent, the proper depth and width of the channels are necessary. Trenches in Houston's mild climate should be a minimum of 6 inches deep. For more questions, call us, and one of our Texas licensed irrigators would be happy to help you!
Sprinkler System cost installation averages $2,706.25 for a 5 zone system. However, since each property is unique in the water pressure, tree root, location, and accessibility of the water meter Houston Landscape Pros would be happy to come out to your property on-site for a free Quote or send your property survey and picture. Also, the yard size and materials make the most significant price difference.
Please contact us or fill out a free irrigation quote!
Learn more on our Lawn Sprinkler-FAQ!
Lawn Sprinkler System Installation
Sprinkler System Service Area
Our main service areas in Houston, Katy, Richmond, and Pearland, TX.  Nevertheless, we do service other areas please refer to out Service Area Map page on the bottom of this page or call us at 713-396-3320. On the other hand, if you need a Lawn sprinkler Repair click on the link to learn more. In case, for an existing system repair we do charge a fee to see what is going on, additional fee to fix system. On the other hand, for a new sprinkler system installation would come out for Free of charge.