Proper landscaping can immediately improve the curve appeal of your home. Here at Houston Landscape Pros, we are happy to help you maintain or improve your home's outdoor living area. For instance, we can help you with the focal points of your home like a fountains or landscape flagstone pavers patio for your front yard or backyard landscaping. However, we can also install a dog friendly artifical turf, fence, tree trimming, and much more. Below you will learn more about our other services. Please follow the links on the products listed below to learn more or contact us to speak to one of our service team members.
However, please keep in mind that we are a locally owned company with two full maintenance crews and landscape crew, and we only service certain areas. For more information, please visit our limited service area map page. Here are some of the service area South Houston, Katy, Richmond, Sugar Land, Missouri City in Texas (TX).
Why Houston Landscape Pros?
Professional Crews with Uniforms
Top Quality Plant Materials
Proper Plant Fertilization
a. Promotes Healthier Growth
b. Use Specific Fertilization Ratio for Plant Type
c. Improper Fertilization will Scar a Tree for Life
Proper Amendments to Soil
a. Granular Insect Killer
b. Granular Disease Preventer
Experts in Landscape Drainage
Experts in Lawn Maintenance
Licence Lawn sprinkler system
Written Contract and Quotes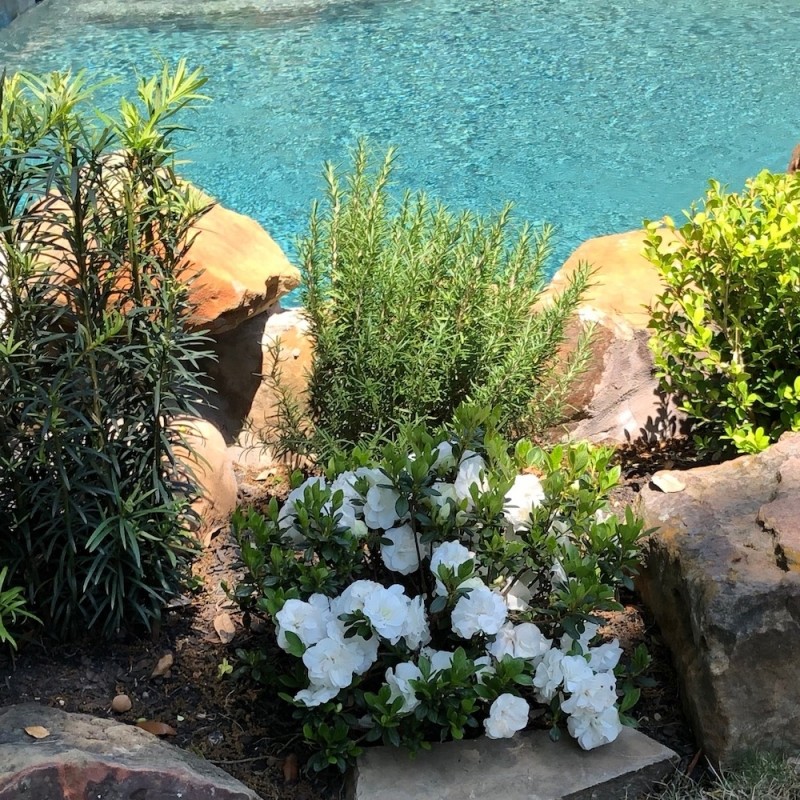 Why Is Landscape Design Important:
When designing your front and back yard landscape, you should consider 3 things.
 Have you thought why landscape design is important? Well, here is several reasons and tips about why you need to hire a Houston Landscape Pros. We succeed in doing it right the first time. First, install landscape drainage, whether it is a french drain or a catch basin drain system, to stop foundation issues or flooding around the property. Also, retaining too much moisture in the landscape beds is a "big no-no." Second, install a lawn sprinkler system to water foundation and plants. This is essential for the dry season. A good sprinkler design is also important for water conservation and a long life span for your sprinkler system. Third, a professional landscape designer can plan your front and back yard design so that plants will thrive. A landscape designer will assess whether your property has full sun, partial sun, or shade and choose plants that can thrive. Placement of the plants is an equally important consideration so that plants have enough room to grow in the future. Lastly, consider landscape lighting. Outdoor landscape lighting will not only add curb appeal but also boost your home value. Another thing is that you can enjoy a beautiful landscape at night, not to mention that it adds safety. Call us today!
Landscape Outdoor Fountains
Whether you are looking for a serene backyard focal point or entertaining safe haven for your kids or furry best friend, a landscape outdoor fountain could be the right touch for your landscape design. Houston landscape Pros installs fountains for your residential and commercial property. Learn more by going to our fountains page.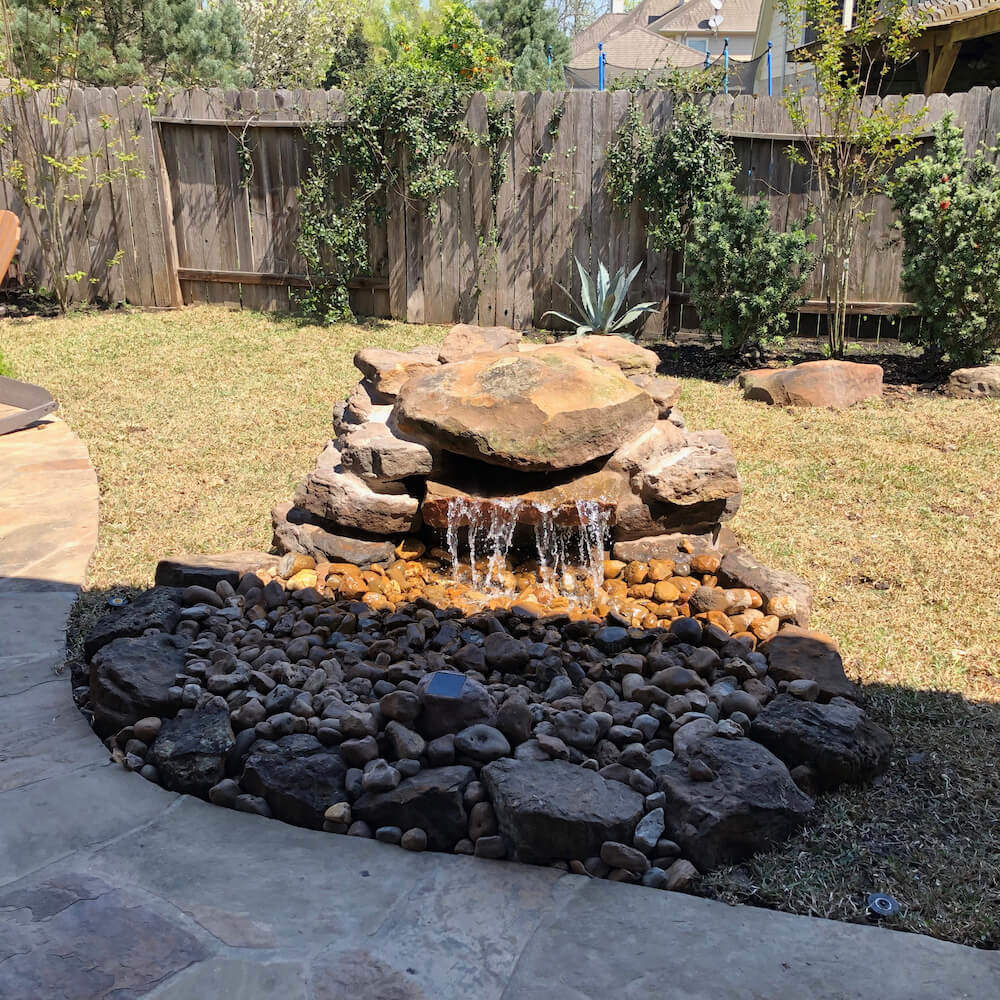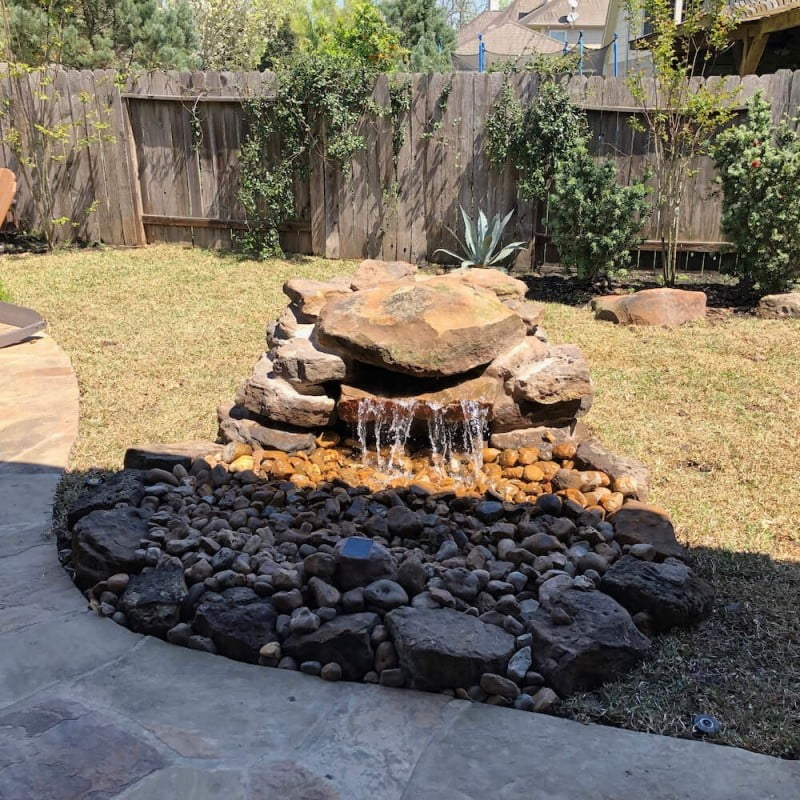 Fence With Houston Landscape Pros VS Other Companys
Many Houston fence companies will offer you lower priced fences by using two vs. three frame support boards, untreated pine pickets, natural nails vs. galvanized nails, less cement per post, more space between pickets and more space between posts. It reduces the material costs and lowers the overall cost, but it also makes the fenceless structurally sound and provides less privacy due to significant gaps between pickets. Cheaper fences are often less attractive due to the nails stains on the pickets. When you are getting prices from other Houston Fence companies, make sure you ask how the fence will look and what type of materials they will use. It makes a considerable difference in the longevity of your wood fence. Houston Landscape Pros quotes descriptions will list the materials we use to build each fence offered. Don't pay more for less! Check out out fence page link or Call us Today at (713) 396-3320.
Why Tree Trimming helps the Landscape?
Homeowners may neglect tree trimming, thinking they are saving money or that this service is not critical. The reality is that giving your trees a regular trim is an investment in their health and longevity. It will also help your grass and plants because it adds sunlight. Also, maintaining the structure of the tree helps to mitigate the risk of broken limbs and falling branches. In other words, structural pruning can also significantly improve the general look of the tree. In additional, trees in your front or backyard add beauty and value to your property, and maintenance is essential to protect that value.
If you are tempted to skip regular tree trimming services, take a moment to consider all the reasons you should not. Below are three reasons why not Houston Landscape Pros recommence tree trimming. To learn more about tree trimming or removal, click on the tree trimming link.
Tree Appearance
Landscape Aesthetics
Tree Health
Safety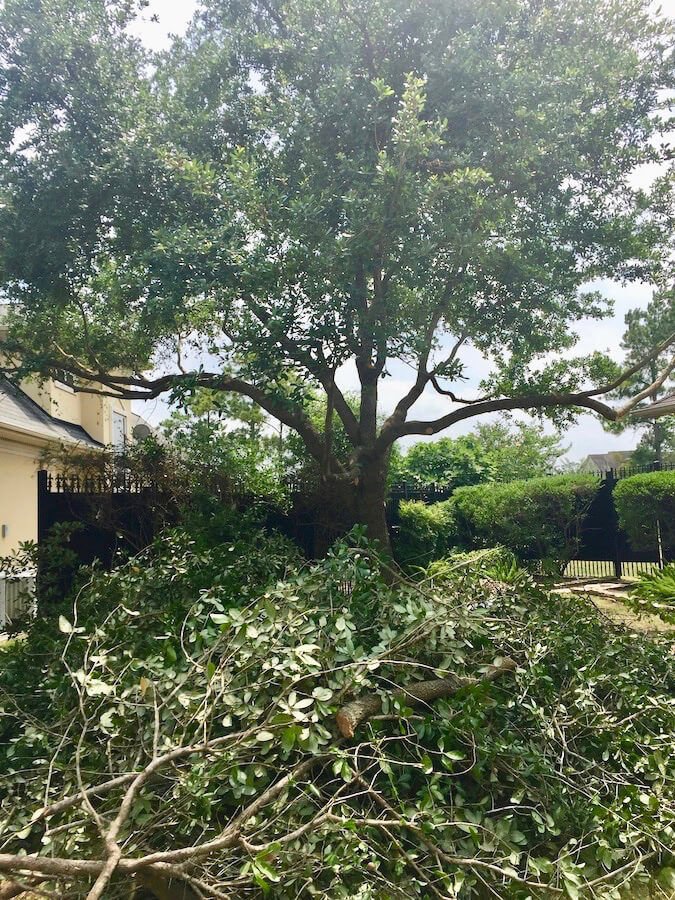 Landscape Flagstone Pavers
Are you looking into adding a flagstone pavers to your front and backyard or even in the side of the home to make it functional? Houston Landscape Pros can transform those areas into a space of function, such as a walkway or paver patio. Go to our landscape flagstone paver page for more information.