Proper landscaping can quickly improve the curb appeal of your home. Houston Landscape Pros is happy to help you maintain or improve your home's outdoor living area. For instance, we can help you create a design that will make your outdoor living experience truly beautiful. We will help create focal points for your yard or garden, such as a fountain or landscape flagstone pavers patio. Also, we install dog-friendly artificial turf (fake grass), fence, tree trimming, and much more. Please follow the links on the products listed below to learn more or contact us to speak to one of our service team members. 
However, please keep in mind that we are a locally owned company. Therefore, we only service certain areas. For more information, please visit our limited service area map page. Here are some of the service areas South Houston, Katy, Richmond, Sugar Land, Missouri City, Bellaire, and Pearland in Texas (TX).
Why Houston Landscape Pros?
Professional Crews with Uniforms

Top Quality Plant Materials

Proper Plant Fertilization

Promotes Healthier Growth

Use Specific Fertilization

Ratio for Plant Type

Improper Fertilization will Scar a Tree for Life

Proper Amendments to Soil

Granular Insect Killer

Granular Disease Preventer

Experts in

Landscape Drainage

Experts in Lawn Maintenance

License

Lawn Sprinkler System
Certified Led Outdoor Landscape Lighting Installers

Written Contract and Quotes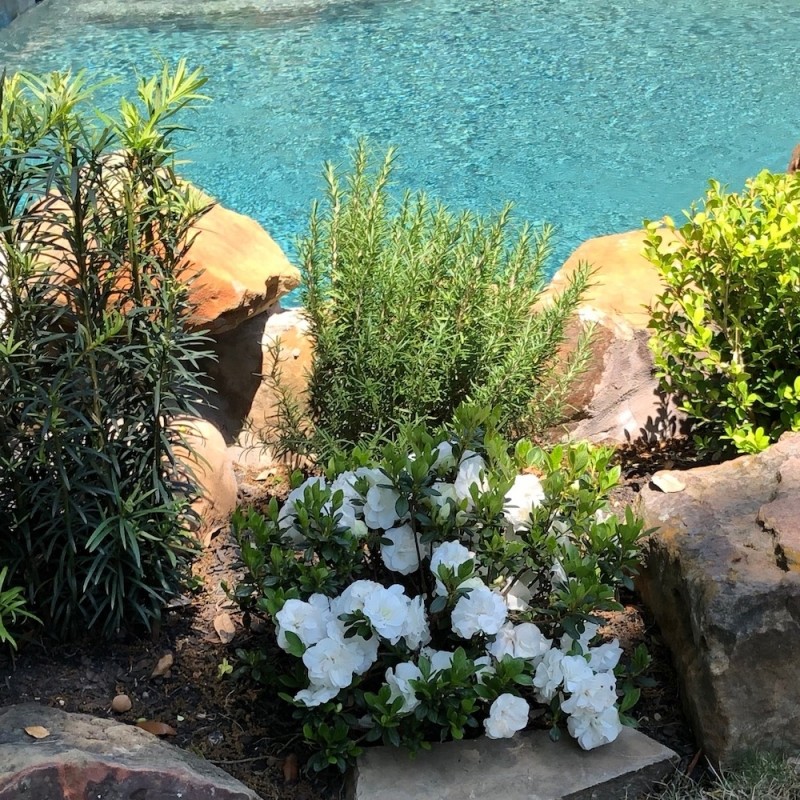 Artificial grass or "fake grass" has gained lots of popularity in the greater Houston area in recent years. It is the perfect solution for shady yards that cannot grow healthy grass. Many people also choose fake grass because it keeps a yard always looking green without the maintenance or water involved in regular grass. There are several different synthetic turfs designed for any landscaping need. The three types are Pet Turfs, Landscaping Turfs, and Sport Turfs. Each kind of artificial grass includes unique features making it suitable for any homeowner's needs. Houston Landscape Pros is committed to using the best quality product from local companies that manufacture in the U.S. and offer the best warranties. Please schedule a landscaping quote and ask about our synthetic turf options if you're ready to learn more!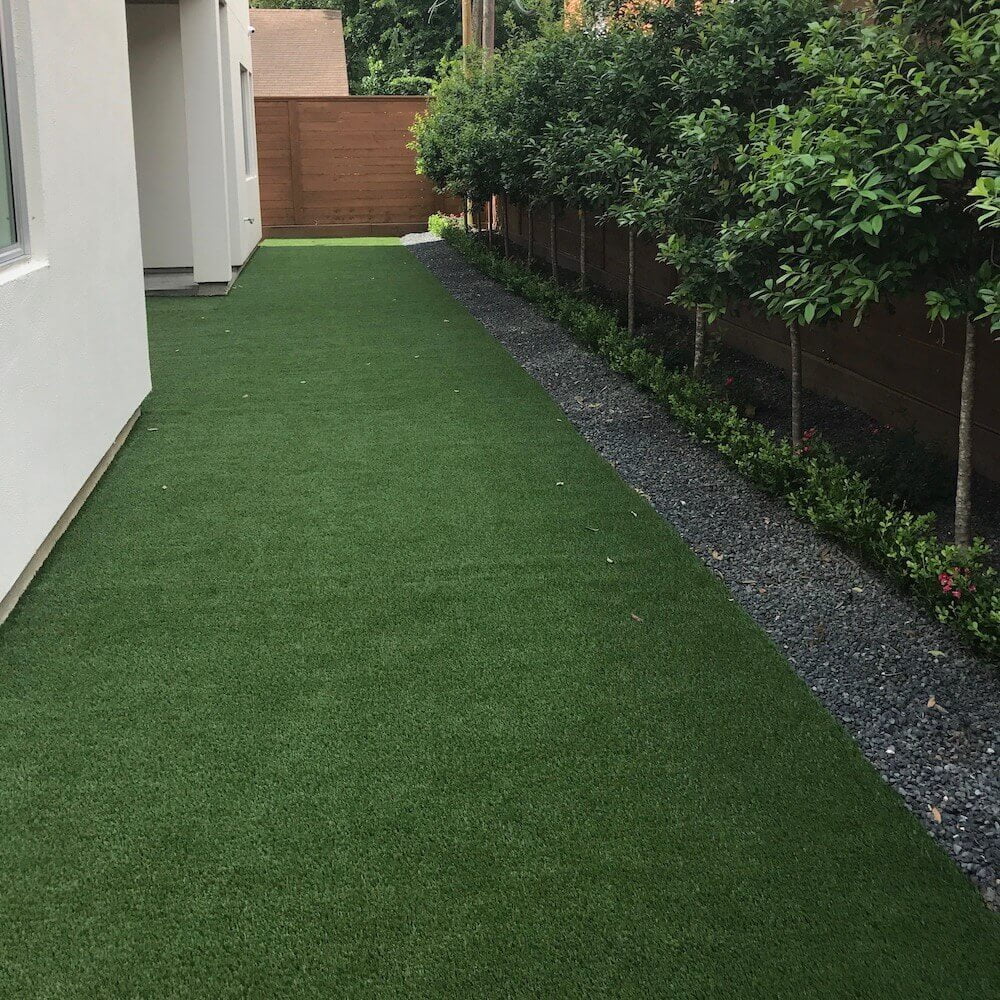 Landscape Outdoor Fountains
An outdoor landscape fountain could be the right touch for your landscape design. For example, those looking for a serene backyard focal point would find a fountain to be the perfect fit. If you want an entertaining, safe haven for kids or furry best friends, then a play fountain might be the best option. There are many options to choose from, like a pondless waterfall, water garden, and more. Houston Landscape Pros can help with these endless possibilities. Chiefly, we install fountains for your residential and commercial property in Cinco Ranch, Memorial, Bunker Hill, Bellaire, and more. Learn more by going to our fountains page.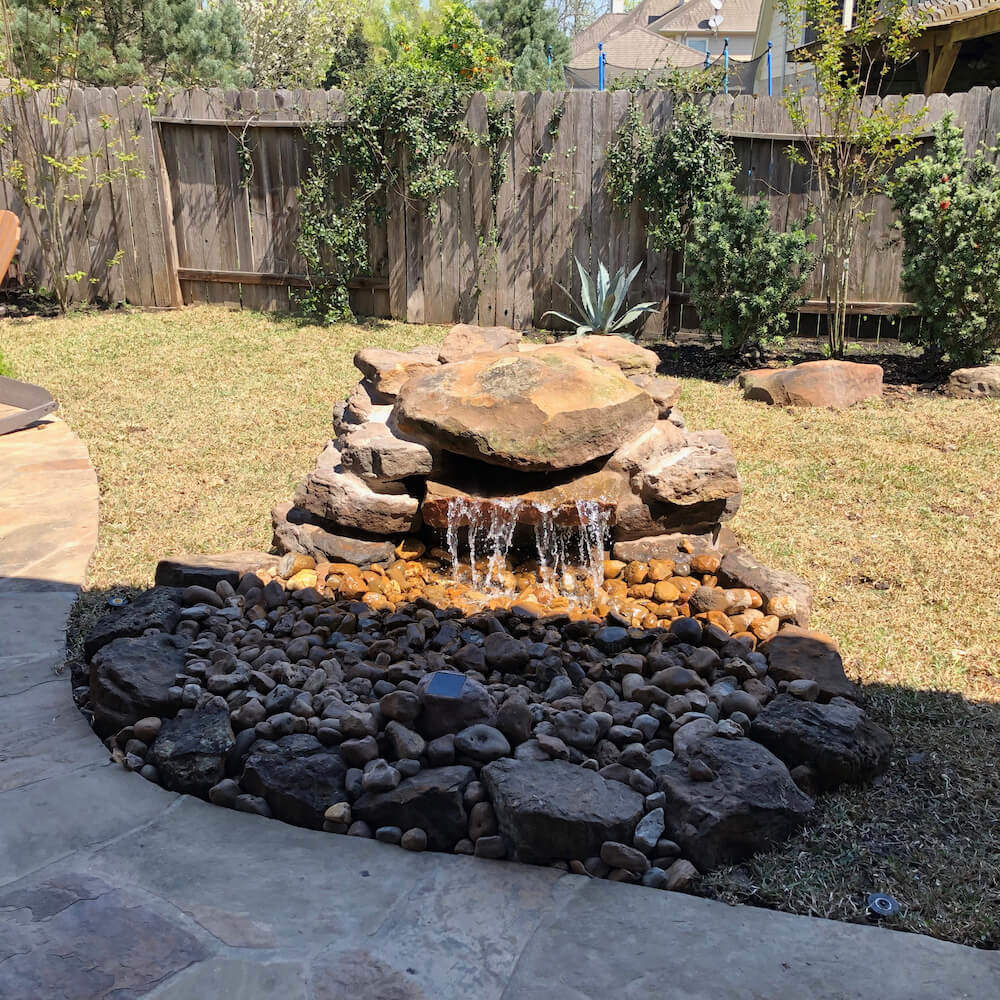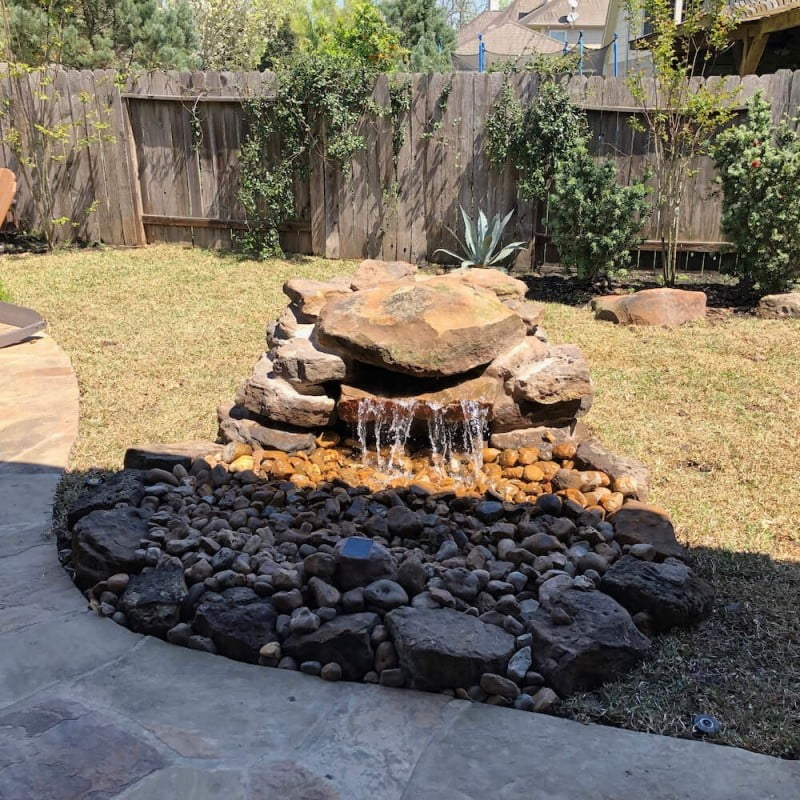 Landscape Flagstone Pavers
Are you looking into adding flagstone pavers? Is your home front yard and backyard or even in the side yard of the home functional? Houston Landscape Pros can transform those areas. We work with various types of materials for the walkway, edging/ border pavers, paver retaining walls, and paver patio. For instance, for the walkway and patio, we can recommend natural flagstone with black star gravel or River rock. Go to our landscape flagstone paver page to see more ideas. Most importantly, some of our service areas are Westchase, Mid-west, Bellaire, Pearland, Missouri City. For more information, refer to our service map.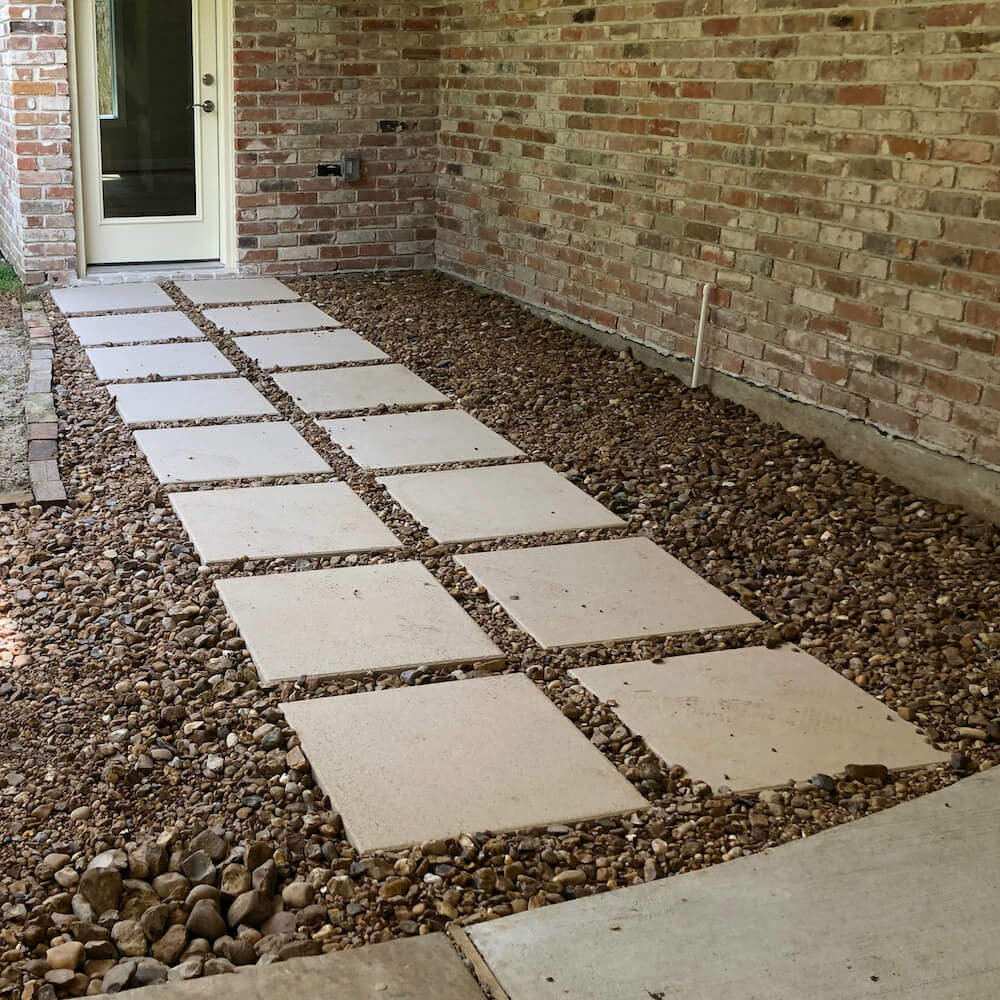 Why Tree Trimming helps the Landscape?
Homeowners may neglect tree trimming, thinking they are saving money or that this service is not critical. The reality is that giving your trees a regular trim is an investment in their health and longevity. It will also help your grass and plants because it adds sunlight. Also, maintaining the structure of the tree helps to mitigate the risk of broken limbs and falling branches. Moreover, structural pruning can also significantly improve the general look of the tree. In addition, trees in your front or backyard add beauty and value to your property, and maintenance is essential to protect that value.
If you are tempted to skip regular tree trimming services, take a moment to consider all the reasons you should resist that temptation. Below are three reasons why not Houston Landscape Pros recommends tree trimming. To learn more about tree trimming or removal, click on the tree trimming link.
Tree Appearance
Landscape Aesthetics
Tree Health
Safety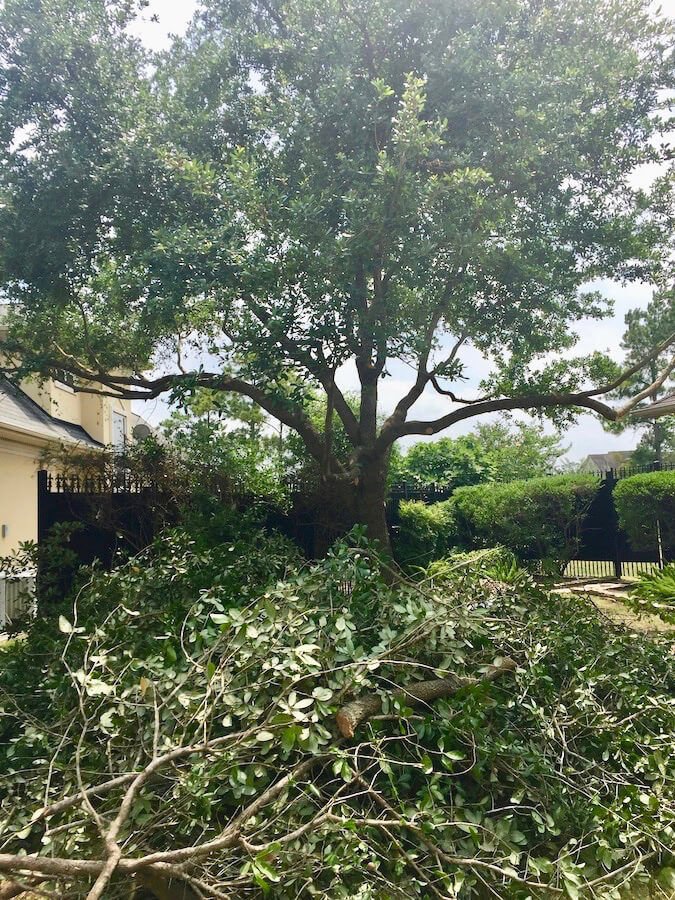 Why Is Landscape Design Important:
Have you thought to yourself, "Why is landscape design important?" 
Firstly, the landscape design is crucial to any landscape project because it demands lots of forethought for best execution. Secondly, plants are living beings that require an understanding of their upkeep. Thirdly, the landscape design includes not only the flowerbeds and grass but also consists of all elements of a yard. To name a few, hardscapes, landscape drainage, and underground watering systems are all parts of the design. Thus, you have to consider the interplay of these different elements carefully.

Experienced landscapers will dedicate careful thought to the landscape design. They use their expertise to include features in their design that the average person would not consider. For your consumer benefit, the experts at Houston Landscape Pros are sharing several tips to consider in your landscape design. Included below are three key pro tips.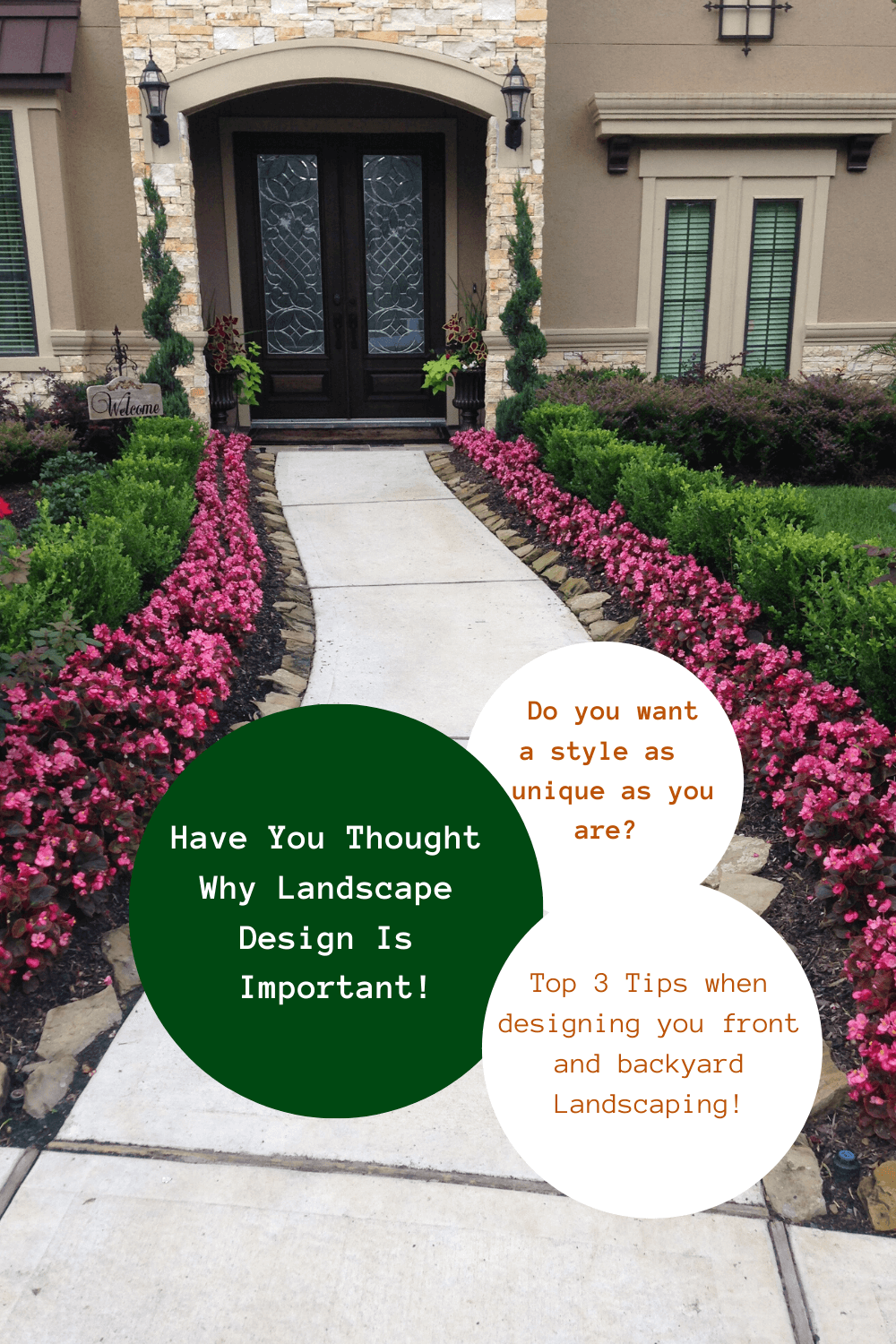 First Tip: Ask Yourself the Right Questions
here are endless possibilities for your landscape design. With countless ideas for your front yard and backyard landscape, the first thing we recommend is narrowing the options. Asking yourself a few questions from the start will help bring the vision together easier. The questions below will help you target the right elements for your landscape design. We include questions ranging from lifestyle to specifics of the property to outdoor living preferences and more.
What's my lifestyle like?
Do you love entertaining guests in your backyard? Do you have kids? Do you have dogs? Do you have time to dedicate to maintenance or are you a busy bee? These questions will help determine what kind of plants to buy, what products to use, and which hardscape elements to use. For example, if you are a busy person who would like a green yard without having to worry about maintenance, then artificial turf might be the perfect solution for you. However, the kind of artificial turf used in your property would change depending on whether you have dogs or kids. Another example could be how often you entertain guests. If you would like to extend the availability of your outdoor space, then well placed landscape lighting would perfect to entertain guests at night.
What is the size of my property?
Knowing the size of your property upfront will make the planning process go smoothly. After identifying which landscape elements to implement, it will determine everything else in the design. Use your property survey to help plan the location of your patio, outdoor kitchen, pool, playground, or even lawn sprinkler system.
Does my property need landscape drainage?
Landscape drainage is one thing that many people put off, but it should be the number one concern if required. Landscape drainage is especially important for homeowners in the Houston area with the frequency of flooding and hurricanes we experience. Consider installing landscape drainage, whether it is a french drain or a catch basin drain system, to stop foundation issues or flooding around the property. Also, retaining too much moisture in the garden beds is a "big no-no." Make sure your landscape design lasts by ensuring your property is protected.
What direction is my house facing?
Knowing what side the house is a very important thing to know. This fact determines whether your front yard or backyard landscape will experience full sun, partial sun, or shade. Plants have varying sunlight needs. Thus, this question will dictate what plants to install.
What plant zone is Houston TX?
Many people may not know that the greater Houston area is composed of different plant zones. Knowing what zone you are located in will help you choose plants that will do best in your yard.
Second Tip: Know Your Budget
It is essential to know the budget of the landscape project before starting. Above all, it will dictate what landscape elements you can afford. Having a landscape professional assess your property will help you identify everything you may need to include in the budget. If they identify drainage problems or you want a sprinkler system, then you will need to factor the cost of these systems first. It's tempting to spend money first on the beautifying aspect of the landscape. However, we recommend budgeting for essential functionality aspects first. This provision will ensure that your future front and backyard will be long-lasting and protected. Everything else in the landscape design should be budgeted according to your priorities.
Third Tip: Create Design in the Proper Order
Most of us visualize a beautiful landscape that includes all the fun elements of landscape design, such as the flowers, the patio, the fountains, the pergola, etc. It is important to imagine the yard as it will look at the end of the process. However, the order of creating and installing the landscape design will be as follows: landscape drainage, hardscape fake grass/ patio, sprinkler, plants/bed installations, landscape lighting.
First, we begin with landscape drainage if it is necessary for your property. This process requires trenching and removing sod. As you can imagine, it's a messy process that should be done first to avoid ruining any other landscape elements implemented.
Second, make decision regarding hardscape elements which include patios, pavers, and artificial grass. Knowing the area where the hardscape comes before being able to plan sprinkler system placement or plant installations.
Third, determine whether your area needs a sprinkler system. Now that you know where the patio or fake grass will be, the planning of the underground watering system can begin. Sprinkler heads will be placed according to what areas the plants will be with respect to the hardscape.
Fourth, plan which plants you would like to use and where all landscape beds will be located. Lastly, plan the landscape lighting. Outdoor lighting will be the last element of the design because it is largely determined by what kind of plants are used. There are several different fixtures that work best according to plant heights and other factors to create the best visible effect. Landscape lighting is also the last part of the installation process because the installation is practically surface level. This fact makes it harmless to the other aspects of your landscape project.
Fence With Houston Landscape Pros VS Other Companys
Houston Landscape Pros guarantees affordable fencing without sacrificing quality. Given our demonstrated history in high-quality fencing, we will offer our professional insight that will help you make informed choices in choosing your fencing company. For one thing, many Houston fence companies will provide you with lower-priced fences by using bad fencing techniques and materials. For example, some companies use two instead of three frame support boards. Using two frame support boards will cause the fence to be unable to withstand stronger winds and will cause the boards to bend.  
Additionally, companies may use untreated pine pickets that leaves the wood susceptible to rot. Cheaper fences are often less attractive due to the nails stains on the pickets because they use natural nails instead of galvanized nails. Other bad techniques include less cement per post, more space between pickets, and more space between posts. Greater gaps provide less privacy, which is one of the main purposes of fences. 
To sum up, these techniques make the fences less structurally sound, reduce the curb appeal, and compromise privacy. When you are getting prices from other Houston Fence companies, make sure you ask how the fence will look and what type of materials they will use. In this situation, it makes a considerable difference in the longevity of your wood fence. Houston Landscape Pros quote descriptions will list the materials we use to build each fence offered. Don't pay more for less! Check out our fence page link or Call us Today at (713) 396-3320.