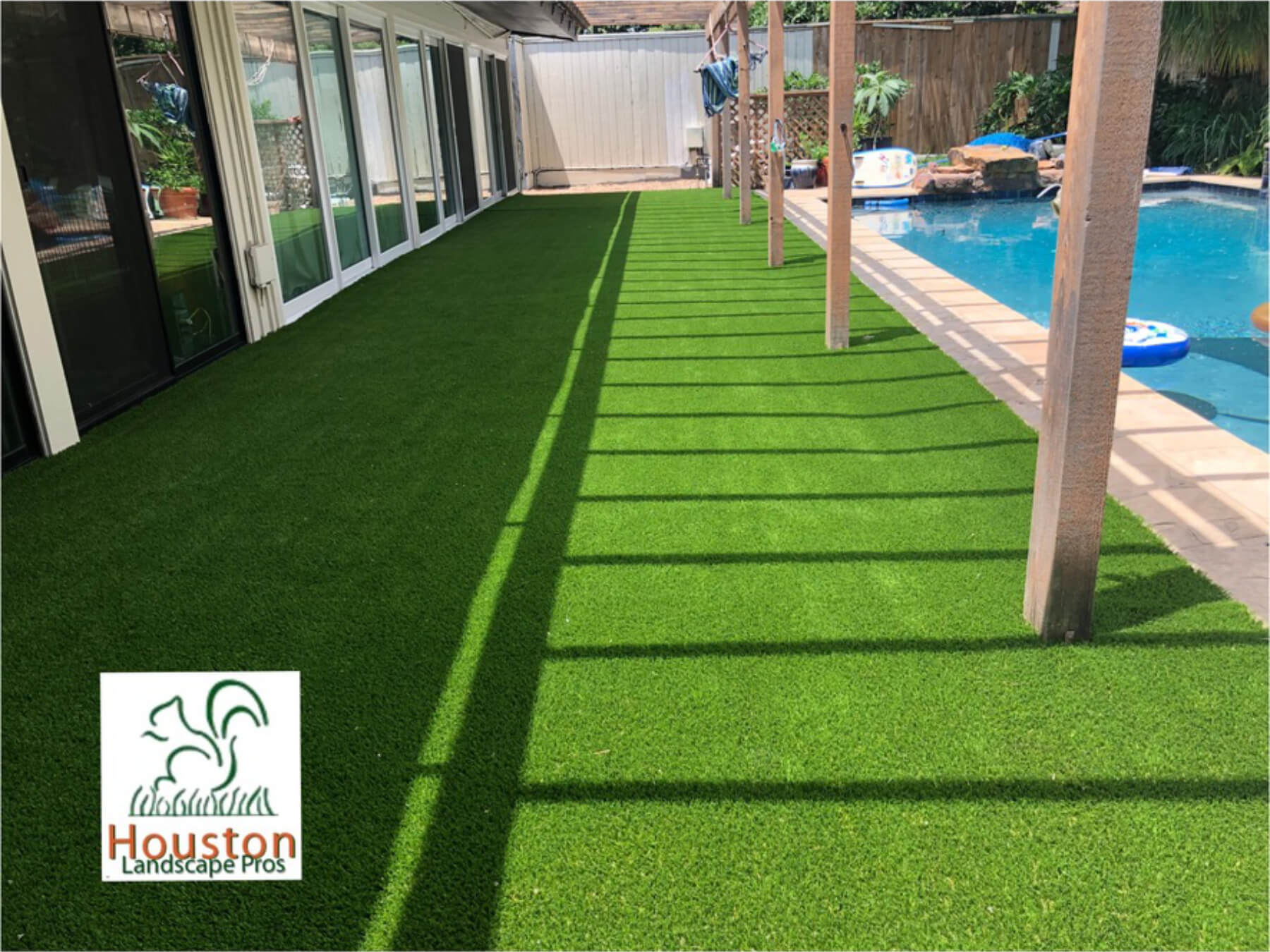 Houston Landscape Pros is proud to present Artificial Grass Houston, the new alternative to natural grass. Artificial turf has a consistent modern look, reliable installation, and provides ultimate customer satisfaction. Fake grass, made in the USA, is created from 100% lead-free recycled materials to support an eco-friendly America. Conveniently, it does not require lawn fertilization, a lawn sprinkler system, or heavy maintenance.
Artificial grass drains at a rate of about 30 inches per hour per square yard, which is much faster than real grass! It is a pet-friendly grass that is also 100% safe for kids, sports, and landscape drainage. Also, Artificial Grass goes very well with landscape pavers. Houston Landscape Pros offers padding options for security and comfort along with air drainage that better directs water flow. This product is excellent for investors searching for a one-time investment that raises the home's value. Our company motto: "Always done right the first time" will guarantee customer satisfaction of proper artificial grass installation. For a free consultation, call us at (713) 396-3320 or fill out a free landscape quote to get artificial grass on your lawn today!
Artificial Grass Installation
How is artificial grass installed? Our step-by-step guide includes our four-step installation process: Planning, Preparing the Base, Cutting and Placing, then lastly, Laying the Infill.
The planning process begins by first determining what type of turf our customer needs for their property. Will we be installing fake grass for pets to run around on? Or will we be introducing a new sport field (like soccer, practice your batting for baseball or softball or even football player such as quart back)? We need to determine this information to ensure we bring the right artificial turf to the project.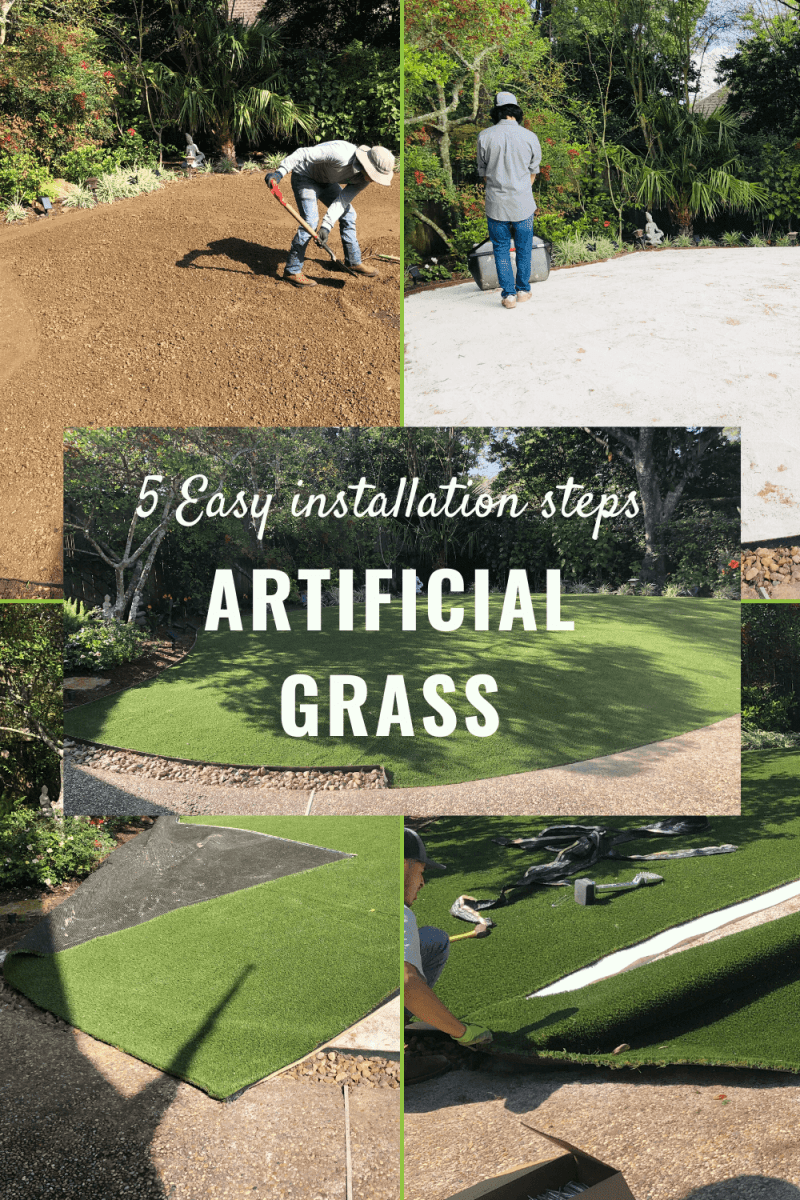 Installation: Preparing the Base
When creating our foundation for synthetic grass, we must first remove the existing vegetation surface. It includes any remaining grass, hard surfaces such as concrete, bricks, and anything else. We will then cap existing sprinkler systems and install any drainage necessary at this time. Secondly, we will dig out 2-4 inches into the surface, depending on the work area. Thirdly, we will make the foundation even and set grade using a landscaping compactor and lawn roller, and other necessary equipment. Now the base is complete and ready for cutting and placing the artificial grass. However, in some cases, the customer wants to lay the synthetic grass on top of the concrete area.
Installation: Cutting & Placing
With a clean and even base setup, we are now ready to unroll the turf. Since the artificial turf has been rolled up for some time, the fibers tend to lay at an angle. To avoid this problem, we allow the fake grass to sit in the sun for a few hours. The sun helps the grass fibers return to a standing position, and helps the backing even itself out.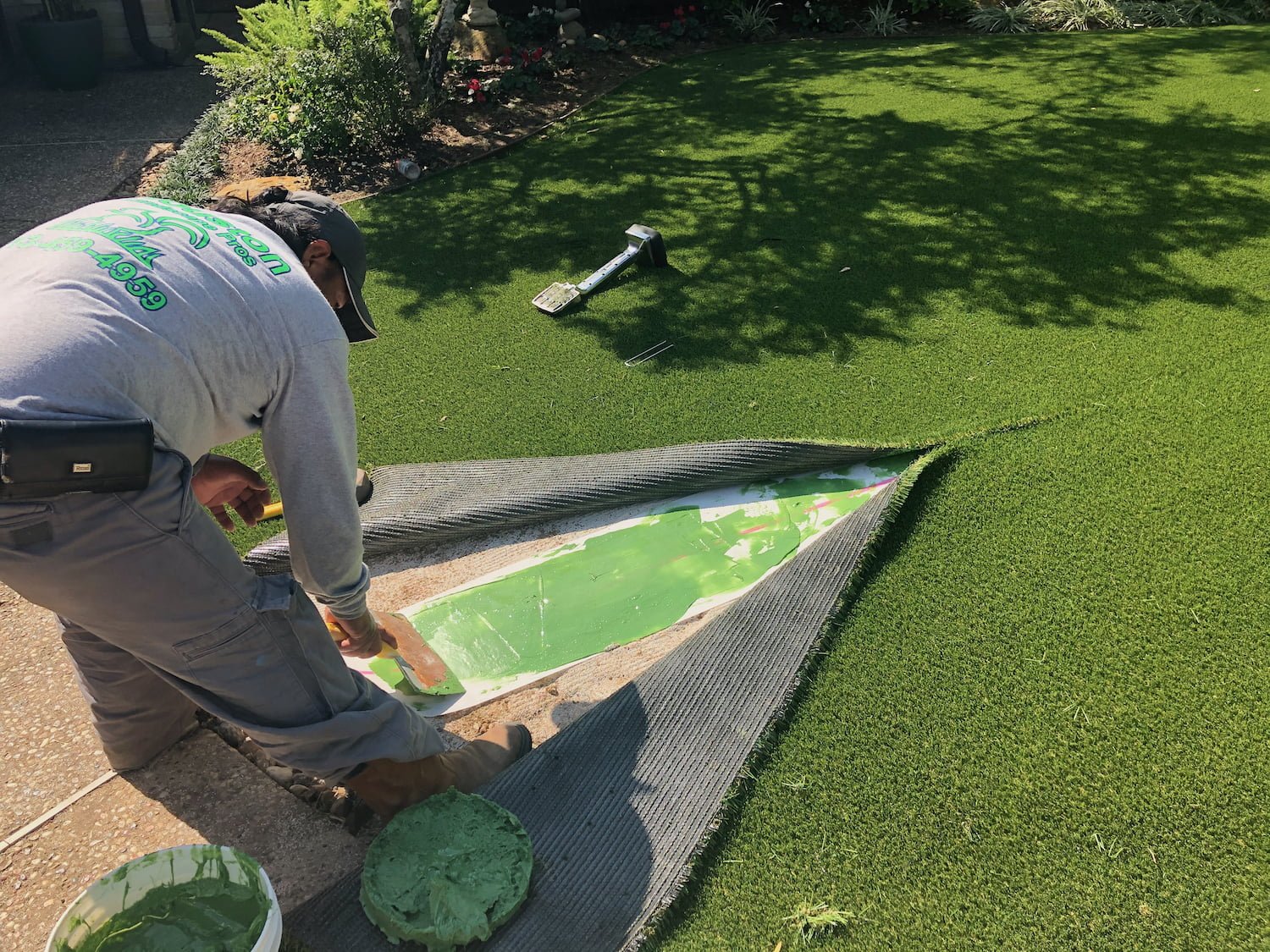 Once the fake grass blades return to their normal position, we begin cutting our artificial grass. We use our measurements, which we established during our planning phase of the installation process. Then we make the proper cuttings to start placing the synthetic grass on the property. Once the artificial turf is all set in the appropriate spots, we will secure the seams. This step binds each cutting of the fake grass together. We will use a mechanical f