A properly built wood fence will last 20 to 25 years. The standard pickets used for these fences is a treated yellow pine, but you can also use cedar. Although the treated pine will last for a long time, it will tend to discolor over time, and eventually it will look brownish due to decay. Many improperly installed lawn sprinkler systems (sprinklers) will spray water on the fence and mark the fence where the water hits. We recommend that you use a water sealant at the time we install the fence, but we sell it as an option.
Houston landscape pros vs Other Companys
Many Houston fence companies will offer you lower priced fences by using two vs. three frame support boards, untreated pine pickets, natural nails vs. galvanized nails, less cement per post, more space between pickets and more space between posts. It reduces the material costs and lowers the overall cost, but it also makes the fenceless structurally sound and provides less privacy due to significant gaps between pickets. Cheaper fences are often less attractive due to the nails stains on the pickets. When you are getting prices from other Houston Fence companies, make sure you ask how the fence will look and what type of materials they will use. It makes a considerable difference in the longevity of your wood fence. Houston Landscape Pros quotes descriptions will list the materials we use to build each fence offered. Don't pay more for less! Call us Today at (713) 396-3320.
Type of Fence Installations
We offer various types of privacy fence installation for Houston, Katy, TX and surrounding communities. Below, you will be able to find various types of wood fences that may interest you. We are proud of our competitive pricing and high quality workmanship.
The Privacy Fence is the most common wooden fence in Houston, TX. It is a wooden fence with the pickets on one side. It can be optionally installed with different picket sizes such as 4"x6', 6"x6", 6"x8' treated yellow pine. You can also use Cedar with the 6"x6", 6"x8' picket size options. Many Houston Fence Companies build it with different support structures but we offer it at a standard of three frame supports. This is done so the fence will last much longer as it will have a better support structure. You can achieve different looks by using different size rot boards under the pickets. It makes the fence taller, structurally stronger and it will allow the pickets to last longer.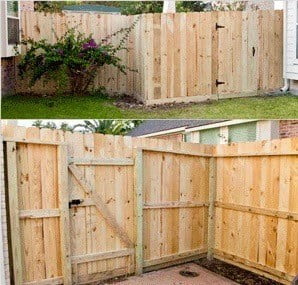 Classic wood privacy fence with 3 frame support boards for stronger structure.
Material List for Classic Privacy Fence
Wood Pickets: 6″ Treated Yellow Pine or Cedar.
Wood Rot Board: Deck board that runs horizontally at the bottom of the fence. This makes the fence taller and adds privacy. Size options for the deck board are from 4-inch, 12-inch or 24-inch.
Wood Posts: 4″x4″ Treated Pine spaced at 7 ft.
Cement: 40-80 lbs. of cement per post depending on picket height chosen.
Nails: Hot Dipped Galvanized shank nails.
One Gate: 36 inch gate for better access.
Debris: We haul away all debris from the old fence.
Please note that a classic privacy fence is constructed with the exact same materials as a good neighbor fence.
A good neighbor fence is the same as a regular privacy fence, but the pickets alternate from one side to the other after every post. This style fence is becoming much more common in new Houston single family home construction in order to emphasize the fact that the fence is owned by both neighbors. It is built structurally the same as the regular wood privacy fence and it will cost the same to build. A good neighbor fence has rot board options and different picket size options that will allow you to achieve different looks.
Good neighbor wood privacy fence with 3 frame support boards for stronger structure.
Board on Board Wood Fence
A board on board wood fence is also know as a "batten wood fence". This type of wood fence is often chosen to achieve total privacy. It is constructed by placing wood pickets over wood pickets making sure you cover the separation of the two adjacent pickets. This blocks the line of sight from picket separation due to wood shrinkage. Because the additional material needed to make this fence, it tends to be more expensive. Of course, we can use different picket sizes, rot board sizes and even cap and trim options to make the fence look different. Also, there are variations of this fence that use smaller boards to cover the spaces between the two adjacent pickets. It achieves the privacy concerns while making the fence look elegant. Board on Board wood fences are usually constructed with the cap and trim as show on the picture.
Board on Board Wood Fence is Stylish and prevents gaps between the pickets.
A cap and trim wood fence is just a name given to fences that have a 2" x 6" board on top of the fence and a 1" x 2" trim under it. This is often selected for fences facing major streets. The fence tends to look stronger and is often built with rot boards to make it taller. Basically, it ends up looking like a tall strong wall. The cap and trim fence can be built as a variation of the regular privacy fence and a board on board wood fence.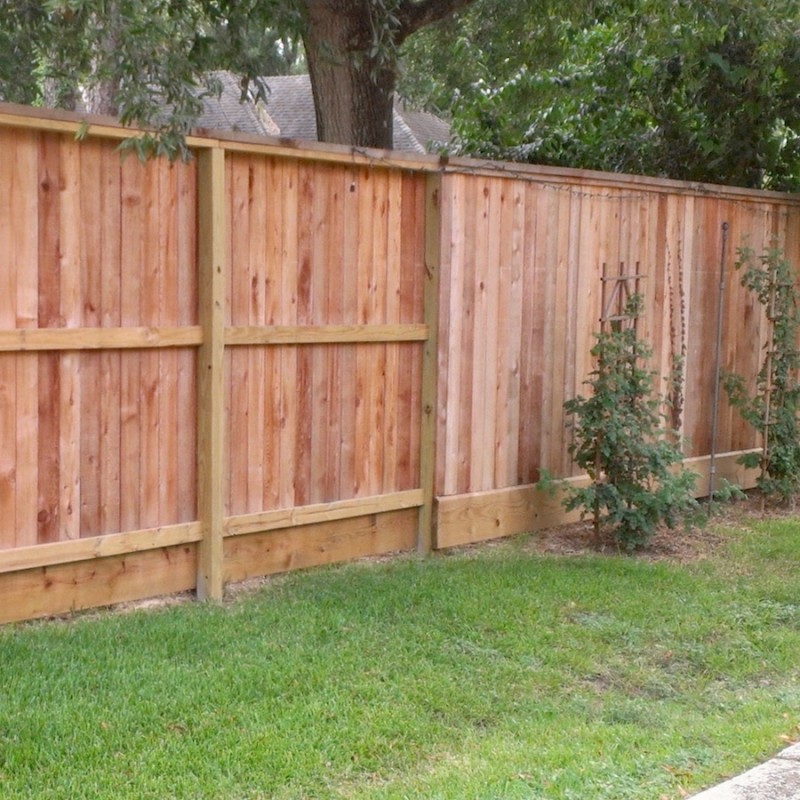 Notice: If you are looking for a reputable Houston fence company we hope you choose Houston Landscape Pros. We are here to help you build your next privacy fence at affordable prices and done correctly. Call us today at (713) 396-3320.